When you come to the Limited Metastatic Cancer Program at the UChicago Medicine Comprehensive Cancer Center, our multidisciplinary cancer team has the experience to optimize and individualize your treatment based on your particular needs and goals. Our cancer experts treat the full range of cancer types and routinely manage the most complex cases of metastatic cancer — that's why patients from throughout the United States and from overseas come to us for their care.
The Leading Authority on Oligometastatic Cancer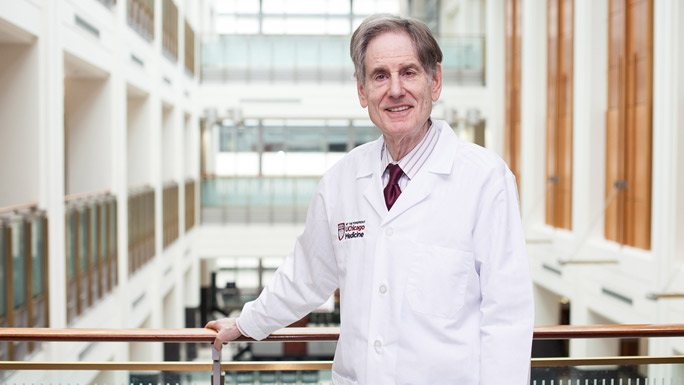 Cancer experts at the UChicago Medicine were the
first to propose the idea
of treating a state of metastatic cancer called oligometastasis with the intent to achieve long-term survival. Our team was also the
first to publish a clinical trial
on using a stereotactic radiotherapy approach for patients with oligometastasis. Since then, their findings have been replicated in
other
randomized trials.
As an
NCI-designated Comprehensive Cancer Center,
UChicago Medicine Comprehensive Cancer Center has been recognized by the National Cancer Institute for providing innovative research and treatments. Unlike other centers that do not routinely treat metastatic cancer with a curative intent, our radiation oncology team has unrivaled experience delivering radiation to multiple tumor sites simultaneously while sparing healthy tissue. Our team has also pioneered the use of a type of advanced radiation called stereotactic body radiotherapy (SBRT) for treating oligometastatic cancer and is
leading national trials
in this area.
Our surgical oncologists are highly skilled in using innovative surgical approaches and techniques to provide the best possible outcomes for patients with cancer that has metastasized to difficult-to-treat sites, including the liver, lung, brain and peritoneum. Additionally, our medical oncologists have the experience needed to build a personalized plan with the latest chemotherapy, targeted therapy and immunotherapy drugs that offer the best chance of success against metastatic cancer.
A Top Center for Metastatic Cancer Research
UChicago Medicine is home to the
Ludwig Center for Metastasis Research
, where a team of experts from various disciplines use the latest approaches to better understand how cancer spreads. Our researchers were also the one of the
first to identify which patients with metastatic cancer are most likely to achieve long-term survival
based on the biological characteristics of their disease.
Today, researchers at UChicago Medicine
continue to study
the biological makeup of metastatic cancers, with the goal of offering even better treatments for this disease.
Comprehensive Care and Convenience
We offer locations in Hyde Park, Orland Park and River East for you to meet with our team after your initial visit, as well as many other locations across Chicago and the suburbs to receive treatment.
If you live outside of the Chicago area, our
Destination UChicago Medicine
team can assist you with your care and travel arrangements.
As a patient, you have access to a dedicated,
supportive oncology team
that can help with mental health, social services, nutrition, physical therapy and other services. We also offer translators and interpreters if you would like help communicating with your physicians and other members of your care team.
Convenient Locations for Cancer Care
Request an Appointment
This secure form to request an appointment will enable us to assist you as efficiently as possible. A representative will contact you within one to two business days to help you schedule an appointment.
You may also request an appointment by calling our Limited Metastatic Cancer Program intake coordinator at 855-702-8222.
If you have symptoms of an urgent nature, please call your doctor or go to the emergency room immediately.
For Referring Physicians
To refer a patient to the Limited Metastatic Cancer Program, please call 855-702-8222.