Physicians describe cancer based on how it has spread in the body.
When cancer is limited to the area where it started, it is called localized cancer.
In metastatic cancer — also known as stage 4 cancer or stage IV cancer — cancer cells from a tumor have spread to other areas of the body (for example, people may have metastatic colon cancer that spreads to their liver). Typically, people with metastatic cancers have lower survival rates. But for some people with certain metastatic cancers, long-term survival is possible with a tailored and appropriate treatment plan.
This more treatable type of "limited" metastatic cancer is called oligometastatic cancer. If you have oligometastatic cancer, your cancer has only spread to either one or a few sites in your body.
Each person's cancer is different in how it spreads and how quickly it spreads. That's why it's important to have an assessment as soon as possible to determine where your cancer is on the spectrum of disease. Then, we can help you understand your options.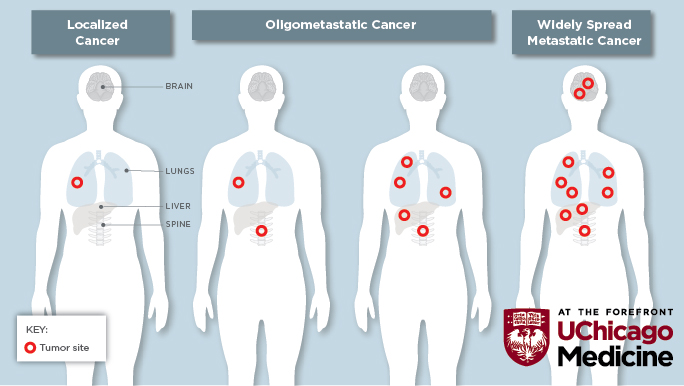 The graphic above illustrates just a few of the different ways that cancer can spread in the body:
Figure 1 illustrates localized lung cancer.
Figure 2 shows oligometastatic lung cancer that has spread to the bone.
Figure 3 shows another type of oligometastatic lung cancer that has spread to the bone, liver and lung.
Figure 4 illustrates diffuse, widely spread metastatic cancer.
Optimizing Care for Oligometastatic Cancer
Nearly three decades ago, University of Chicago cancer experts
Ralph Weichselbaum, MD
, and Samuel Hellman, MD, first described oligometastasis and suggested that it could be controlled long term, and even eliminated with appropriate aggressive treatment. Since then, Weichselbaum and other cancer experts at the UChicago Medicine Comprehensive Cancer Center have been
leading the way
in identifying which types of metastatic tumors are most likely to respond to treatments and result in a long-term, disease-free state.
At UChicago Medicine Comprehensive Cancer Center, we have the expertise and technology to accurately stage your metastatic cancer and determine if your disease can be treated with the goal of long-term survival. We also have a highly collaborative, multidisciplinary team of physicians that has the combined expertise to optimize treatments for metastatic disease, potentially eliminating some cancers that were once considered untreatable.
Convenient Locations for Cancer Care
Request an Appointment
This secure form to request an appointment will enable us to assist you as efficiently as possible. A representative will contact you within one to two business days to help you schedule an appointment.
You may also request an appointment by calling our cancer scheduling team at 855-702-8222.
If you have symptoms of an urgent nature, please call your doctor or go to the emergency room immediately.
For Referring Physicians
To refer a patient to the Limited Metastatic Cancer Program, please call 855-702-8222.