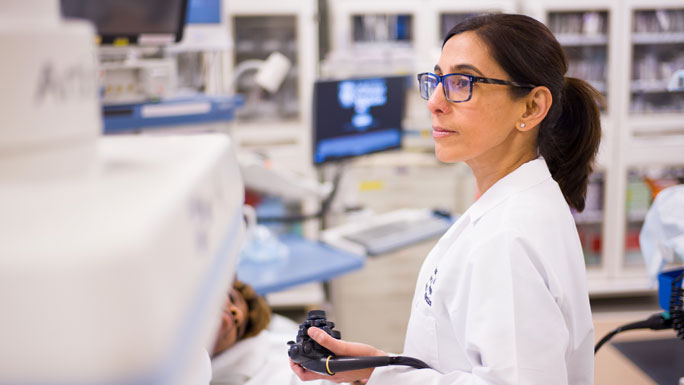 A gastrointestinal stromal tumor (GIST) is a relatively rare type of cancer that most commonly develops in the stomach. However, these tumors can occur anywhere along the digestive tract — from the esophagus (swallowing tube) to the stomach, small intestine, colon and rectum.
GISTs grow in the muscle of the digestive tract wall and are derived from pacemaker cells, the cells that stimulate movement of the gut. They are classified as sarcomas — tumors of connective tissue — and are different from adenocarcinomas, which are more common in the digestive tract. The discovery of a molecular switch that turns on the growth of these tumors has made it possible to diagnose GISTs and target their growth with specific drugs.
Because this cancer is uncommon, it's important to find a care team that's experienced in identifying, treating and researching GISTs. The University of Chicago Medicine GIST team is led by physicians with extensive experience and expertise with these tumors.
We also understand how a maze of tests, doctor's visits and consultations can be overwhelming. Our medical and surgical oncologists, interventional endoscopists, pathologists and nurses work together to address each patient's needs every step of the way. We'll help you obtain all of the necessary tests you need as quickly and efficiently as possible.
Convenient Locations for Cancer Care