Transitioning New Nurses into Practice
The Nurse Residency Program at UChicago Medicine is an accredited 12-month program designed to support new graduate nurses in the transition from professional student to professional nurse during the nurse's first year of practice.
Our program is based on Patricia Benner's Novice to Expert theory, which has new nurses entering their practice as an advanced beginner and progressing to a competent professional in the clinical environment.
Throughout the course of the program, our newest nurses learn skills that allow them to be successful in their new roles.
Program Objectives:
Transition from advanced beginner to competent professional in the clinical environment
Develop critical thinking skills related to clinical judgment and performance
Provide clinical nursing leadership at the point of care
Strengthen commitment to the nursing profession
Formulate an individual professional development plan Incorporate research-based evidence linked to outcomes in practice
Clinical practice in an environment with a commitment to learning
Structures educational experiences designed to develop competence in clinical practice
Participation in a supportive cohort that allows for professional growth through a nurturing network of fellow nurses
Special emphasis on developing humanistic nursing practice
Curriculum Content:
Patient care delivery and resource management
Evidence-based practice Introduction to quality improvements in nursing
Communication between nurse, care team and physician
Professional development
Management of the changing patient condition
Conflict resolution
Organization of data/shift report
Patient/family teaching
Ethical decision making
End-of-life care
Skin and wound care
Cultural competence
Fall prevention
Medication administration Infection prevention
Program Eligibility:
Newly graduated nurses are invited to apply to any staff nurse position
Nurses who have worked for six months or less as a Licensed Registered Nurse are automatically enrolled into the Nurse Residency Program
View our current staff nurse position openings and apply online
Highlights of the program include:
Peer support
Collaboration with nurse leaders
Application of evidence-based research into your own practice
Evidence-based Practice Project (EBPP)
As part of the Nurse Residency Program, all residents are required to complete an evidence-based practice project (EBPP). Residents work together as a small group on an agreed upon topic with a Clinical Nurse Specialist to guide them through the process. The projects are presented at the completion ceremony and can be submitted as poster or podium presentations at the Vizient Nurse Resident Program Annual Meeting.
For more information about the Nurse Residency Program, contact the team below.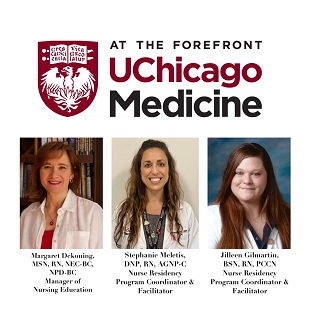 Margaret DeKoning, MSN, RN, NE-BC, NPD-BC
Central Education Program Manager & ANCC Practice Transition Program Director
Stephanie Meletis, DNP, RN, AGNP-C
Nursing Residency Program Coordinator
Jilleen Gilmartin, BSN, RN, PCCN
Nurse Residency Program Coordinator