An Environment of Nursing Excellence
At the University of Chicago Medicine, we strive to create a culture of nursing excellence. Our nurses work at the forefront of medicine — providing the best and most advanced care available. Our quality and patient safety outcomes are rigorously monitored to ensure our ability to deliver exceptional patient outcomes. Nurses are an integral part of our acclaimed care teams. Our nurses work side-by-side with internationally recognized physicians, scientists and other health care professionals.
Our long tradition of innovation means nurses are exposed to leading-edge technology and research every day. Our nurses regularly take part in the implementation of advanced patient care protocols that often become the standard for care nationwide. In addition, our nurses have the expertise to handle cases at every level of complexity. Such advantages go unmatched in the greater Chicago area.
Magnet Recognition Program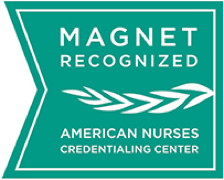 UChicago Medicine achieved renewed Magnet designation in 2022. As the highest possible organizational credential granted by the American Nurses Credentialing Center (ANCC), Magnet Recognition is a testament to an institution's continued dedication to high-quality nursing practice. Less than 10% of U.S. hospitals earn Magnet designation just one time and even less receive repeat designations.
The Magnet Recognition Program provides a roadmap to nursing excellence. For our nurses, Magnet Recognition reflects the increased autonomy, professional development opportunities and a supportive, collaborative environment in which our nurses thrive and advance their careers. For our patients, Magnet Recognition gives them the confidence that our institution can provide higher quality care, lower mortality rates and improved patient satisfaction.
Professional Practice Model (PPM)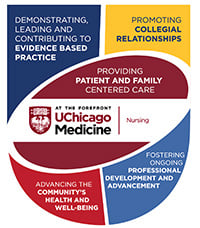 The Professional Practice Model (PPM) is the driving force of UChicago Medicine nurses and the care they provide.
The PPM schematic depicts the professional nurse and how he/she practices autonomously based on the unique needs and attributes of the patient and family. The shield depicts how the nurse serves as the patient advocate and protects them from harm.
UChicago Medicine nurses use evidence based knowledge, and interprofessional collaboration to advance their knowledge through education and national certifications.
Care Delivery Model (CDM)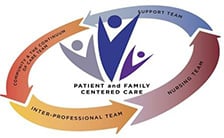 UChicago Medicine's Care Delivery Model (CDM) places the patient and family at the center of all aspects of care and keeps us focused on delivering the care most appropriate to our patients.
Nursing Shared Governance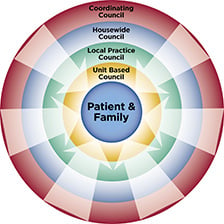 The Shared Governance model outlines how nurses are organized, supported and empowered to collectively make decisions about clinical practice standards, quality improvement, staff and professional development, and research (Magnet Application manual, 2019).
The various interwoven institutional councils all work together to provide the most informed decision-making and ensure delivery of the best care possible.