Skip to content
Sarosh Rana named UChicago Medicine's inaugural Chief Obstetrical Transformation Officer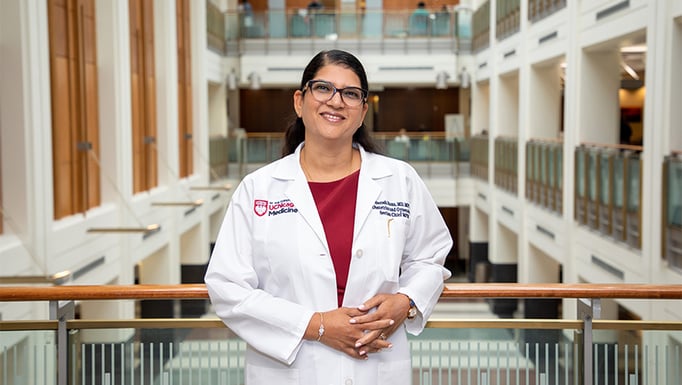 Sarosh Rana, MD, MPH, a Professor of Obstetrics and Gynecology at UChicago Medicine and Section Chief of Maternal-Fetal Medicine, has been named the health system's inaugural Chief Obstetrical Transformation Officer.
Sarosh Rana, MD, MPH, an acclaimed specialist in high-risk pregnancy care, has been named the inaugural Chief Obstetrical Transformation Officer for the University of Chicago Medicine health system. Rana, who is a Professor of Obstetrics and Gynecology at UChicago and leads the Section of Maternal-Fetal Medicine, began her new role November 1, 2023.
As Chief Obstetrical Transformation Officer, Rana will work closely with the South Side Healthy Community Organization (SSHCO), a not-for-profit collaboration of 13 partner organizations working to transform and improve healthcare for residents of the South Side. UChicago Medicine is one SSHCO's 13 partner institutions.
In her new position, Rana will engage with safety net hospitals and community health centers on the South Side and in the Southland to develop care systems and processes to improve access to obstetrical care and patient support services. She will also work to build collaborative partnerships with obstetrical hospital providers in the Chicago region to support patients needing in-network obstetrical care.
One of SSHCO's key goals is helping pregnant people achieve the highest level of prenatal care, delivery care and postpartum care. Since 2021, Rana has supported the SSHCO as the group's Maternal Child Health physician leader. Her efforts enabled the SSHCO to launch its first maternal-fetal medicine/federally qualified health center model to help women with high-risk pregnancies at the medical home site.
Rana first joined UChicago Medicine in 2005 as an OB/GYN resident before leaving for a fellowship at Brown University. The early part of her career was spent at Harvard. She was appointed UChicago Medicine's Maternal-Fetal Medicine chief in 2014.
Rana is an internationally recognized expert in managing hypertensive disorders of pregnancy. She cares for pregnant and postpartum patients with high-risk conditions such as preeclampsia, hypertension, kidney transplant, heart failure and obesity. For the past 15 years, her research lab has investigated angiogenic biomarkers and the treatment of preeclampsia.
Rana has won national and international awards and accolades for her work, including The Joint Commission's Bernard J. Tyson National Award for Excellence in Pursuit of Healthcare Equity in October 2023 and a Citation of Merit from the American Hospital Association in July 2023 in the organization's annual Quest for Quality competition.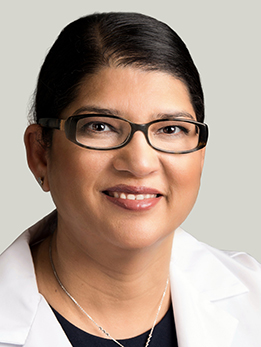 Sarosh Rana, MD, MPH
Sarosh Rana, MD, MPH, is a maternal-fetal medicine physician and an expert in preeclampsia. She manages patients with high blood pressure, prior poor pregnancy outcomes related to preeclampsia, kidney and heart disease, and pregnant transplant recipients.
Learn more about Dr. Rana
Obstetrics and Gynecology Articles