Skip to content
Physicians join lawmakers in support of bill to lower maternal mortality rates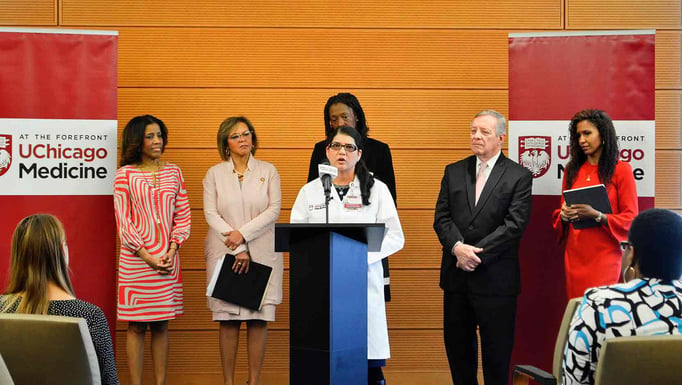 Sarosh Rana, MD, chief of maternal-fetal medicine at the University of Chicago Medicine, speaks at a March 18 news conference to announce new federal legislation aimed at reducing maternal mortality.
Two University of Chicago Medicine physicians joined U.S. Sen. Dick Durbin (D-Illinois) and U.S. Rep. Robin Kelly (D-Illinois) to announce the reintroduction of legislation to help lower America's rising maternal and infant mortality rates as well as reduce racial disparities in health outcomes.
Sarosh Rana, MD, chief of maternal-fetal medicine, and John M. Cunningham, MD, chair of the Department of Pediatrics and physician-in-chief at Comer Children's Hospital, spoke at a March 18 news conference to discuss the Mothers and Offspring Mortality and Morbidity Awareness (MOMMA) Act. The measure, which will be formally introduced by Kelly and Durbin in the House and Senate next week, aims to improve care women receive before, during and after pregnancy.
"New mothers deserve to spend those first days, weeks and months bonding with their newborns, not fighting for their lives," said Rana, who is also an active researcher in hypertensive disorders of pregnancy, such as preeclampsia. "It's a complex problem with no easy or singular solution. That's why I am so supportive of this federal legislation – because it deals with a number of factors that ultimately lead to a reduction of this excess maternal morbidity and mortality in the United States."
While the global maternal mortality rate is on the decline, the rate in the U.S. is rising. Each year hundreds of American women die from pregnancy-related complications; tens of thousands suffer pregnancy-related complications, known as maternal morbidities. Furthermore, significant racial disparities exist in the rates of mortality in the United States.
African-American women are 3-4 times more likely to die from pregnancy-related complications than white women. This is extremely concerning for new moms and infants in a nation as medically advanced as the United States.
"Mommas are dying in Illinois and across this country," said Kelly, who is chair of the Congressional Black Caucus Health Braintrust and member of the health subcommittee. "In 2015, Illinois lost 93 mothers to maternal mortality and it's estimated that nearly three-quarters of these death were preventable. That's simply unacceptable. There is no reason it should be more dangerous to have a baby today than it was 25 years ago."
The MOMMA Act proposes five solutions to this problem:
Expand coverage for mothers up to one year postpartum versus 60 days in current law;
Improve coverage and access to doulas;
Improve hospital coordination and reporting on maternal outcomes;
Ensure adoption and implementation of best practices for improving maternity care; and
Create regional centers of excellence to improve implicit bias and cultural competency training among health care providers.
"We are grateful for Sen. Durbin and Rep. Kelly for their efforts to shine a light on this important and often overlooking women's health issue," said Cunningham. "Because more healthy moms and healthy pregnancies mean more healthy kids. We're proud to stand with them in support of the MOMMA Act."
To learn more about the legislation visit Rep. Kelly's website or Sen. Durbin's page.
Maternal-Fetal Medicine Articles & News