Skip to content
Pelvic surgery team helps woman reclaim her health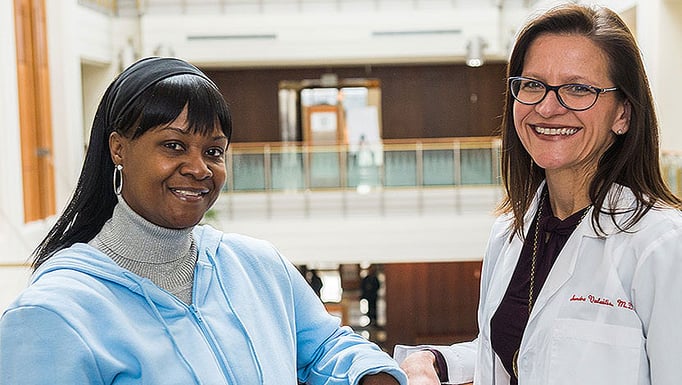 When Bonnie Fulgham had surgery to remove painful fibroids, little did she know that it would be the first of four major surgeries she would endure in a nine-month period.
Fulgham's story illustrates one of the University of Chicago Medicine's unique strengths in women's health: pelvic surgery and care provided by teams of experts in different specialties working together in highly complex cases to ensure patients have the best outcome.
In January 2012, then 53 years old, Fulgham underwent a laparoscopic partial hysterectomy at another hospital. The resulting complications were unthinkable: a bowel obstruction; a hole in her bladder; and two fistulas, which are abnormal openings connecting two organs. Upon release from the hospital the day after her surgery, Fulgham recalls not being able to keep food down, prompting her return to the hospital two to three days later. It was then that she learned she had a bowel obstruction, resulting from a post-surgical infection. Fulgham was readmitted, and emergency surgery was scheduled to correct the problem. What happened next blindsided her.
"I awoke from surgery to find out that not only did I have a hole in my bladder, but I also had two fistulas," she said. "My organs had joined together. A one-day surgery turned out to be a nightmare."
Fulgham spent intervals in and out of the hospital between January and April as a result of complications and the additional burden of having a foley catheter. She was in the hospital that Easter weekend when she received a call from a long-time friend of her husband, Chris. The friend, who works at the University of Chicago Medicine, was certain that urogynecology expert Sandra Valaitis, MD, could help. Fulgham, who worked as a patient advocate at another hospital, decided to take action and advocate for herself. She immediately contacted Valaitis' office and was scheduled for an appointment the next day.
"After reviewing my records she looked at my husband, then looked at me and said, 'We can fix it. We have seen it before, but it's very complicated.'"
The Fulghams were immediately comforted and impressed by Valaitis' assurance that she could help them find relief.
"When I think of Dr. Valaitis, I think of her as the unforgettable doctor," Fulgham said. "From the moment we met her, her spirit and energy caused an instant connection between the three of us. She was confident, and, most importantly, she had a plan."
Fulgham had two vaginal fistulas. One was vesicovaginal, connecting the bladder and the vagina. The other was a rectovaginal fistula, connecting the upper part of the rectum to the vagina.
"Her case was complicated," Valaitis said. "She developed a bowel obstruction and pelvic abscess, and was treated conservatively at the other hospital. A few weeks after her original surgery, she was leaking urine through her vagina. She saw her doctor, but they didn't know what to do."
Feeling it was too soon after Fulgham's surgery to move forward, Valaitis gave her three months to allow for the swelling to go down, which is protocol in this situation. When Valaitis saw Fulgham in April 2012, the first order of business was an exam.
The exam results confirmed what Valaitis already knew: It would take a team to accomplish the best possible outcome for Fulgham. Valaitis went to work assembling the experts, which included urologist Gregory Bales, MD, in addition to a radiologist and a colorectal surgeon. The first surgery at the University of Chicago Medicine was scheduled for early July, six months after Fulgham's partial hysterectomy.
"Because of the nature of her problem, the surgery was quite complicated," Valaitis explained. "That's why there were so many different doctors involved. She needed an abdominal incision to explore her abdomen. There was a lot of scar tissue in there because all of the organs had stuck together from the inflammation and the problem she had."
Fulgham's colon was stuck to the bladder and vaginal walls, in addition to adhesion in the area of her small intestine. The surgical team was charged with freeing up affected tissue to return the area to its proper alignment. Additionally, holes in her colon and bladder had to be repaired.
Because the fistulas were so close to Fulgham's ureters, Bales placed stents to help avoid injuring them. He explained that having access to a multidisciplinary team under one roof offers a significant advantage to patients.
"Due to the complexity in a surgery like this, it's imperative that you have the ability to work with several specialties," Bales said. "It leads to better outcomes for our patients."
The surgery took 11 hours, but this time Fulgham woke up with organs that had been separated and properly aligned, along with the assurance that she would no longer need a foley catheter once the bladder healed completely. In October 2012, she had her last surgery, which guaranteed that she would not need a colostomy bag any longer either. After seven months with a foley catheter and three months with a colostomy bag, Fulgham was grateful to go home with neither one.
"Finally, my journey was over," she recalled.
"The University of Chicago Medicine was so great," Fulgham said. "While my husband and some friends were waiting, Dr. Valaitis came out and updated him repeatedly. Not only was Dr. Valaitis wonderful, but the whole medical staff was wonderful."
In addition to Valaitis and her team, Fulgham also credits her strong faith in God, her positive attitude, and the love of her husband for her recovery.
"Mentally and physically, there was a lot of suffering on all levels," Fulgham said. "I had to fight and keep the right attitude. I went through four major surgeries in a nine-month period."
Valaitis agreed that Fulgham's outlook played a major role in the treatment and healing process.
"She did remarkably well," Valaitis said. "What was so wonderful about her was her attitude the entire time. She was so optimistic. She put a lot of trust in our entire team and was so appreciative of all the help she received in the hospital."
Fulgham is now back to enjoying walking, working out, and serving in church ministries. She enthusiastically shares her story to inspire, bless and give hope to others who may have similar experiences.
"The care she received is really a great example of how we're able to take care of patients like her," Valaitis said. "Working with a team of people who communicate with each other and assist each other in taking care of complex patients is so important. It provides patients with a really wonderful outcome and helps them get on with their lives and get back to functioning normally."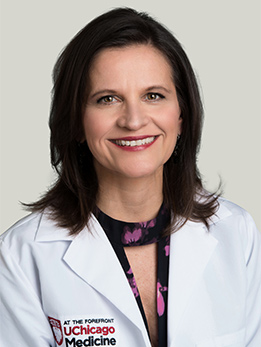 Sandra Valaitis, MD
Sandra Valaitis, MD, is an expert in treating women with pelvic organ prolapse, urinary incontinence, and other disorders of the urogenital system. Her areas of interest include suburethral slings, complex reconstructive pelvic surgery, robotic surgery, repair of genitourinary fistulae, and the treatments of mesh complications and erosion.
Read Dr. Valaitis' physician bio
Women's History Month
Lookin back at key discoveries in the biological sciences made by women at the University of Chicago and women who trained here.
1923 — Florence B. Seibert, PhD
Pathologist Florence B. Seibert, PhD, developed new lab equipment to reduce bacterial contamination in IV fluids and helped develop a reliable test to identify tuberculosis.
1923 — Esther Somerfeld-Ziskind, MD
Esther Somerfeld-Ziskind, MD, helped pioneer groundbreaking psychiatric treatments such as lithium for treating depression and was an early proponent of group psychotherapy.
1930s — Sara Branham Matthews, MD, PhD
Sara Branham Matthews, MD, PhD, studied the flu virus. While working at the National Institutes of Health, she isolated and identified Neisseria meningitidis, a bacterium that causes meningitis.
1961 — Frances Oldham Kelsey, MD, PhD
As a drug reviewer for the FDA, pharmacologist Frances Oldham Kelsey, MD, PhD, refused to approve the anti-nausea drug thalidomide for use in the U.S. without clinical safety data, despite considerable pressure. The drug was found to cause severe birth defects.
Read more about Frances Oldham Kelsey
1966 — Dorothy Hamre, PhD
Infectious disease researcher Dorothy Hamre, PhD, was the first to isolate a strain of a coronavirus, described in a paper she co-authored with John J. Procknow as "possibly associated with mild upper respiratory illnesses of man."
1967 — Lynn Margulis, PhD
Lynn Margulis, PhD, published a landmark paper arguing for endosymbiotic theory, which says that cellular components such as mitochondria and chloroplasts evolved from formerly free-living single-celled organisms.
1972 — Janet Rowley, MD
Janet Rowley, MD, identified chromosomal translocations linked to leukemia, providing some of the early evidence that chromosomal abnormalities play a role in some cancers.
Read more about Janet Rowley
1981 — Susan Lindquist, PhD
Susan Lindquist, PhD, studied how heat shock proteins play a role in the cellular response to environmental stressors, and pioneered the use of yeast as a model organism for studying protein biochemistry.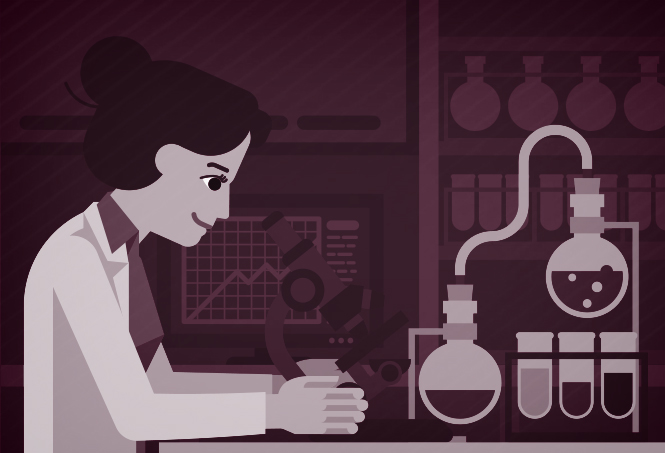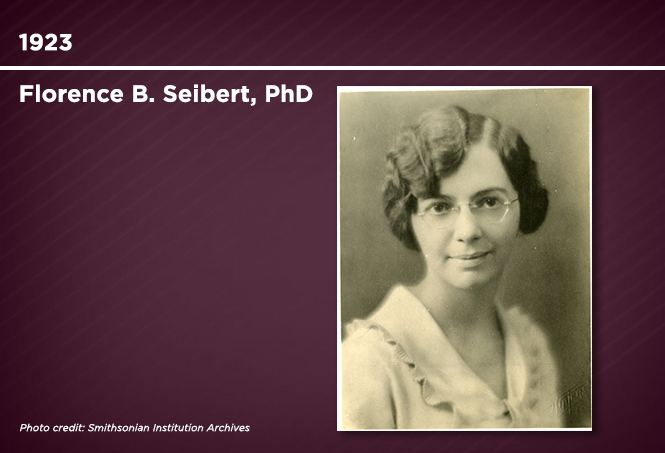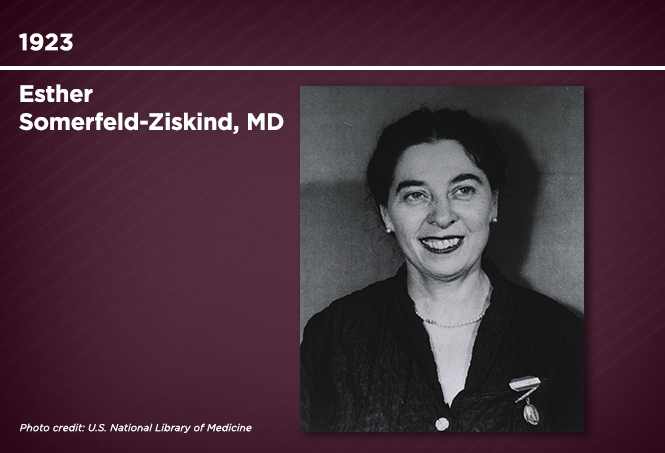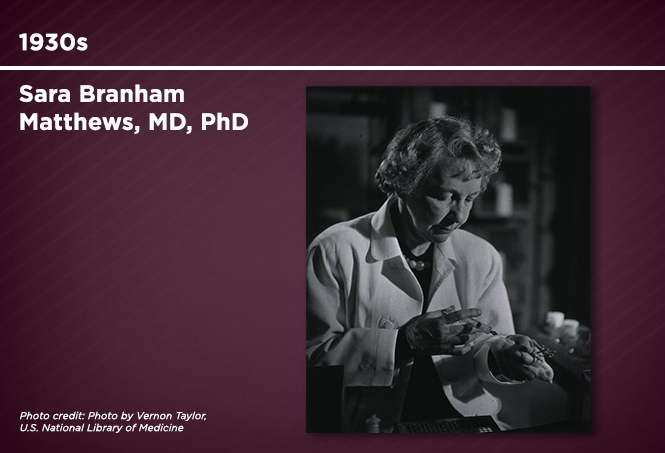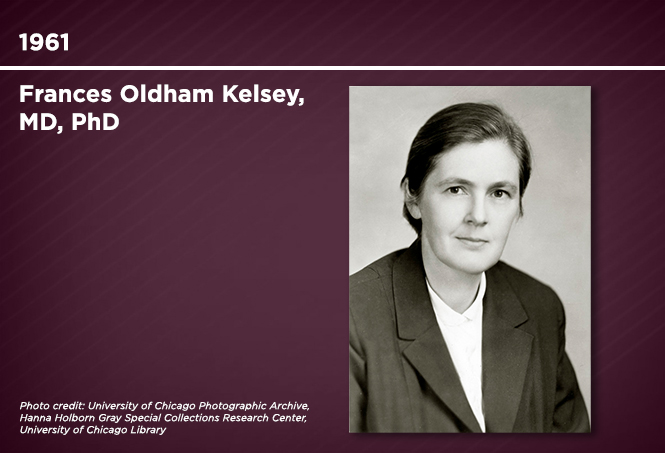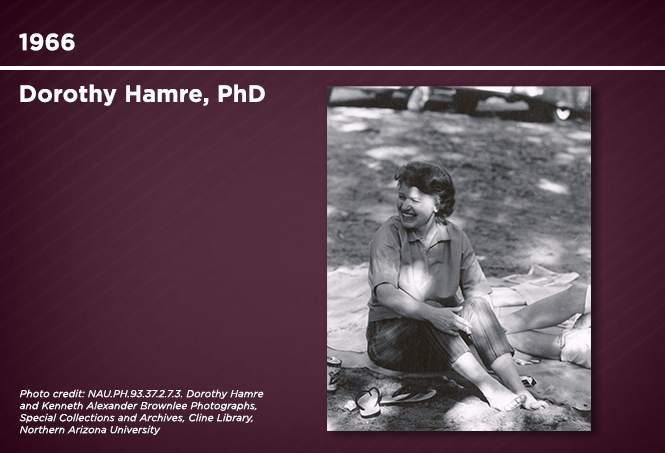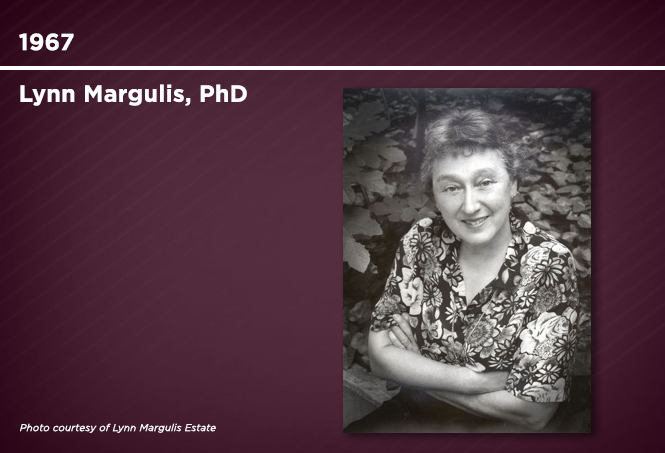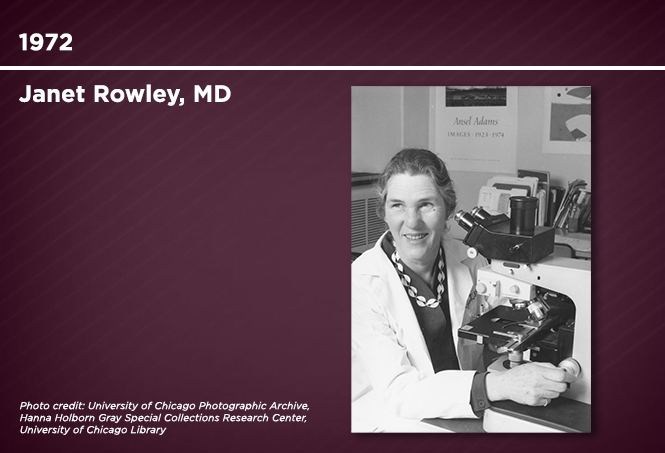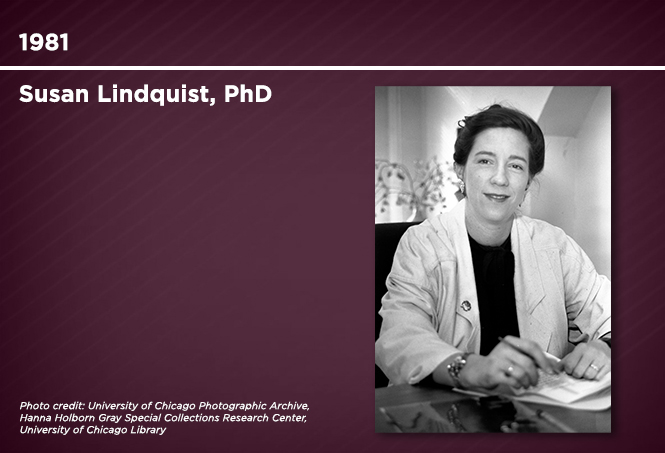 Obstetrics and Gynecology Articles