Skip to content
Fetal and neonatal care team provides support through critical health challenges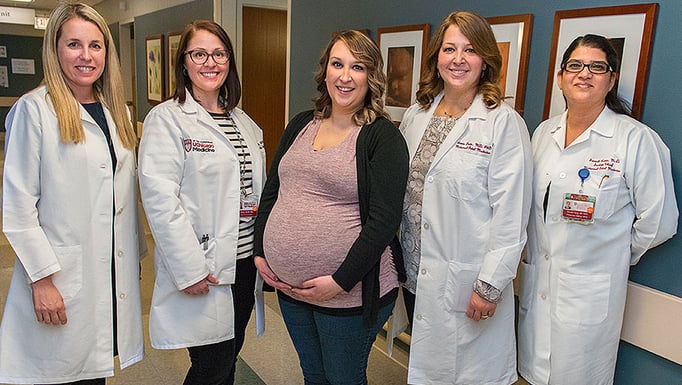 Jessica Darnell (center) with neonatologist Kelly Nelson, MD, nurse coordinator Amy Cuevas, BSN, RN, and maternal-fetal medicine physicians Julia Bregand-White, MD, and Sarosh Rana, MD, MPH (left to right)
After giving birth to a daughter, now 3, followed by two miscarriages, Jessica Darnell and her husband showed up at her obstetrician's office in Crown Point, Indiana, for her 20-week ultrasound in November 2018 ready to learn the gender of their baby. The couple found out they were having a girl, but the ultrasound showed the baby's stomach was enlarged.
"They didn't seem too concerned about it at first," Darnell said.
But the next day, the radiologist who read the ultrasound sent Darnell directly to the University of Chicago Medicine's obstetrics and gynecology location in nearby Schererville.
"Often, patients are referred to us for a deeper look or to transfer care," said Julia Bregand-White, MD, the maternal-fetal medicine specialist who cared for Darnell.
The UChicago Medicine Fetal and Neonatal Care Center opened in September 2018; the team has treated 150 women whose complex pregnancies require specialized diagnostic techniques and treatments along with personalized care coordination.
Most women are referred because they need specialized fetal ultrasounds. These includes exams such as nuchal translucency (NT) scans to determine if fluid is accumulating at the back of the baby's neck — a marker for Down syndrome or heart defect; 4D ultrasounds that offer a better assessment of a baby's body while in movement; and pediatric echocardiography, which evaluates the structure and function of the baby's heart.
The UChicago Medicine team suspected that Darnell's baby had duodenal atresia, a condition where the first part of the small intestine doesn't form properly, which creates a blockage that stops fluid from leaving the baby's stomach.
This complex diagnosis put Darnell's pregnancy in the high-risk category. Although UChicago Medicine's Hyde Park campus was an hour drive away, Darnell moved her care to the Fetal and Neonatal Care Center.
Coordinated Care
Amy Cuevas, BSN, RN, the FNCC care coordinator, begins working with patients after the team discovers an issue with the baby. Together with the patient and her family, Cuevas and the team of maternal and fetal medicine specialists create an individualized care plan.
Cuevas' role is part support and part navigation. She ensures women meet with the right specialists at the right time and that all necessary follow-ups take place. Patients may see genetic counselors and any number of other pediatric specialists — from neurology to nephrology to plastic and reconstructive surgery. She also helps them connect with social workers for emotional or psychological help.
From 22 weeks on, Cuevas worked with Darnell to schedule at least two appointments a week with the FNCC team. That included a weekly obstetrical visit with an ultrasound and nonstress test to monitor the baby.
"Every time that she met with me, she met with Amy," said Bregand-White. "Amy would make sure to tell Jessica, 'Today you're going to meet with pediatric surgeons' and 'Next time, you'll meet with the neonatal intensive care unit.'
At 28 weeks, an ultrasound showed Darnell had fetal ascites, a dangerous accumulation of fluid in the baby's abdomen that, along with an increased level of fluid around the baby, was causing abnormal blood flow between the fetus and the placenta. The condition can sometimes be fatal for the baby.
"Fetal ascites isn't normally seen with duodenal atresia, but it can be seen with Down syndrome," said Bregand-White.
Darnell declined an amniocentesis, the procedure necessary to confirm Down syndrome; so together, she and Bregand-White, watched and waited.
Comprehensive Services
At the beginning of Darnell's third trimester, her belly was so swollen with extra fluid, she looked full-term. Breathing and moving became difficult, and she began to feel frequent contractions. The FNCC team decided her baby could continue to grow and get closer to term if they drained some of the fluid, taking pressure off the placenta.
"By removing some of the pressure, she would be more likely to reach term and when it was time for delivery, the baby would be more likely to survive," said Bregand-White.
Darnell had an amnioreductions, which removed nearly four liters of amniotic fluid each time.
"We were almost sure she was going to have a stillbirth, but after the amnioreductions, it looked like a much better prognosis," said Bregand-White.
The care team sent samples of the amniotic fluid for testing, which confirmed Darnell's baby did have Down syndrome.
"That diagnosis didn't change anything," said Bregand-White. "But it helped her to know so that she could prepare herself and her family, and learn what to expect once the baby was delivered."
While Darnell met with specialists responsible for her care, on two occasions she was able to sit down with the entire multidisciplinary care team. "The pediatric surgeon, the neonatologist, Amy, the social worker and I were all in the room discussing what was going on, the next stage and the plan at delivery," said Bregand-White.
Streamlined NICU Care
When a mother-to-be becomes a FNCC patient, she has quick access to UChicago Medicine's pediatric surgical specialists. Since the Comer Children's Hospital team is under the same roof, they're available for rapid consultations, emergencies and follow-up care after a delivery.
That proved to be critical for Darnell, who gave birth to baby Elena at 36 weeks and 5 days. The baby weighed 5 pounds and 3.4 ounces and had to be resuscitated three times.
Elena was transferred to the NICU at Comer Children's where the team of neonatologists and other specialists took over her care, which included a number of surgeries. Six months later, she was discharged for transitional care as she and her family prepared to go home.
"Dr. Bregand-White was phenomenal. Meeting with her was meant to be. She was by my side the whole time," said Darnell. "It's awesome coming here and feeling like family. I definitely think that we were put in the right place."
Coordinated Care for Complex Fetal Conditions
Our Fetal and Neonatal Care Center provides prenatal consultations and the highest level of care for babies facing critical health challenges.
Fetal & Neonatal Care Center
Maternal-Fetal Medicine Articles & News