Skip to content
Tackling disparities in Black maternal health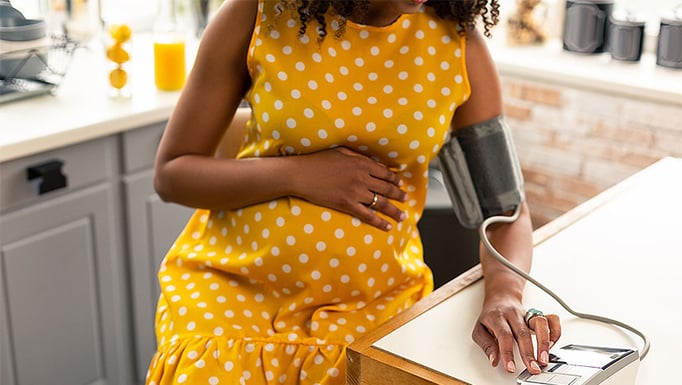 In this country, Black women are three to four times more likely to die from pregnancy-related causes than white women. As a Midwife and Advanced Practice Nurse at UChicago Medicine, I work to ensure all my patients receive the best possible care and have a safe and healthy pregnancy, delivery and recovery.
Why are Black women at a higher risk for pregnancy complications?
The short answer is that systemic racism impacts access to quality healthcare, which puts Black women at higher risk for pregnancy complications. The leading causes of maternal death and complications in the U.S. are heart disease, infection, embolism and hemorrhage. All of these conditions are treatable, but when you add implicit bias, income inequality, poverty and lack of access to quality healthcare, they can become life or death illnesses.
What can be done about Black maternal mortality rates?
First, we must listen to Black moms and patients. As medical care providers, we need to provide quality care to Black mothers at all times. It is also important to offer the full spectrum of care — from family planning and preconception to postpartum and into the first year of the child's life.
At UChicago Medicine, our multidisciplinary team cares for mom and baby through every phase of the pregnancy journey. We offer the full range of prenatal and postpartum care, from low-risk prenatal care with our diverse midwifery team, to high-risk care with our highly skilled Maternal Fetal Medicine physicians and neonatologists. We also have a wonderful team of lactation consultants and social workers. Our free prenatal classes assist parents as they prepare for delivery and parenthood.
On a national level, congressional leaders have established the Black Maternal Health Momnibus to comprehensively address every dimension of the Black maternal health crisis.
How can I advocate for myself as a pregnant Black woman?
Creating a birth plan can help you and your healthcare provider address your concerns and follow your wishes during delivery. Share your health history so that your provider is aware and poised to help if complications arise.
A trained birth coach, called a doula, can provide informational, emotional and physical support throughout the pregnancy journey. Doulas can help in creating a birth plan and make themselves available to the mother to discuss any issues or questions leading up to the birth.
It's not uncommon for doulas to assist as a birth partner: staying close to the mother during labor to respond to her needs; maintaining continuous support; and expressing her wishes to the medical team. After childbirth, doulas can continue to support the mom emotionally and physically and with feeding and bonding with the baby.
What are warning signs and symptoms of a medical emergency during pregnancy?
Some of the signs and symptoms of a medical emergency while pregnant include difficulty breathing, chest pain, heart-racing, persistent belly pain or pain under the right breast, a persistent headache, and feeling less movement from the baby. Visual disturbances like bright flashes of light, blind spots, and loss of vision can also occur. Reach out to your medical provider right away if you have any of these symptoms.
What are warning signs and symptoms of an emergency after giving birth?
If you experience headaches that won't go away with over-the-counter medicine, dizziness, blurred vision or blind spots, extreme swelling of the hands or feet, a persistent temperature of 101 F or higher, or thoughts of hurting yourself or your baby, seek medical help immediately.
Karie Stewart, MPH, MSN, APN, CNM
Certified nurse midwife Karie Stewart serves as director of Midwifery Services at the Family Birth Center in Hyde Park.