Skip to content
Racial justice in maternal health: How to reduce Black maternal mortality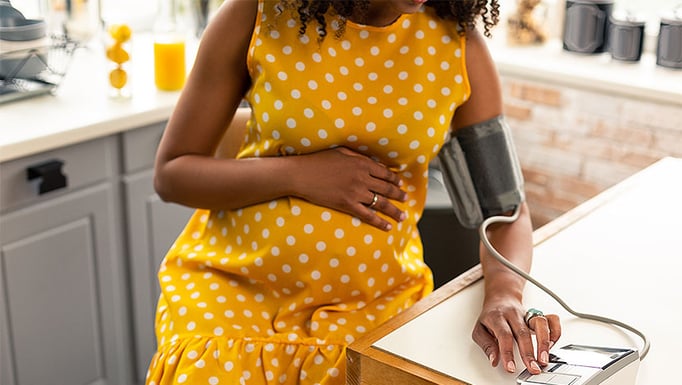 In the United States, maternal health is an important indicator of the overall health of our nation, states, cities and communities. Even though a maternal death is a rare event, this country's maternal death rate continues to increase and is three to four times higher than other developed nations.

All women are not at equal risk of dying in childbirth. In this country, Black women are three to four times more likely to die from pregnancy-related causes than white women. Black patients are also 2.1 times more likely to experience severe maternal morbidity and 1.5 times more likely to have a preterm delivery when compared to white women.
How to Advocate for Yourself as a Pregnant Black Person
Why is Black maternal health important?
Even though Black women and babies have been the most affected by adverse health outcomes in this country, this is a public health crisis for all people living in the United States. Discrimination and ill treatment have the potential to harm everyone. Mothers and birth parents are a community and what happens to one person's health affects the health of the entire community.

We need solutions that will helpoptimize and elevate the health of all people. We must improve trust and eliminate the power of systemic racism in healthcare. Distrust and mistrust in our healthcare system are among the biggest problems we face. We must reconnect with our community of birthing parents and develop an organized community-based infrastructure to support every individual in choosing a healthy lifestyle that will benefit all people.

As a Black mother, physician, obstetrician and gynecologist, I work to ensure all my patients receive the best possible care that will improve their overall health before, during and after pregnancy.
Why are Black women at higher risk for pregnancy complications?
The most straightforward answer is racism. The root causes of disproportionate pregnancy complications in Black women are driven by inequality, discrimination and long-standing racism deeply rooted in the U.S. healthcare system.

Systemic racism impacts every aspect of healthcare. It begins before birth and continues until death. Black babies are more than twice as likely as white babies to die at birth or in the first year of life. And life expectancy is shorter for Black women compared to white women.

Race is a social construct with significant impact on the health and well-being of Black people. At every stage of life, generations of structural racism impact Black people disproportionately in the form of social and health disparities, such as segregated housing, the digital divide, educational barriers, economic suppression and access to quality healthcare.
How do racism, inequality and discrimination lead to disparities in Black maternal health?
The leading causes of maternal death and complications in the U.S. are all treatable conditions, including:
Heart disease
High blood pressure
Infection
Embolism
Hemorrhage
There is nothing in a Black person's genes or anything inherently wrong with their body that raises the risk for complications. But treatable conditions can become life or death illnesses when implicit bias and systemic racism lead to:
Delayed or missed diagnosis
Delayed or withheld treatment
Disparities in access to health education
What can medical care providers do to reduce Black maternal mortality rates?
The short answer:

Control the things we can control by treating every patient we encounter with dignity and respect.

We must:
Listen to Black patients and change the culture of medicine.
Find out what our patients need and meet them where they are. We need to always provide quality care to Black mothers and birthing parents, and not just focus on maternal death and complications during pregnancy.
Improve the overall health of all women of reproductive age.
We need to provide a full spectrum of care during the entire reproductive life cycle — through family planning, preconception, conception and postpartum, as well as managing chronic conditions like heart disease, high blood pressure, diabetes, obesity and mental health disorders.

At the University of Chicago Medicine, our multidisciplinary team cares for both birthing parents and babies through every phase of the pregnancy journey. We offer the full range of prenatal and postpartum care, from low-risk prenatal care with our midwives, obstetricians and gynecologists, to high-risk care with our highly skilled maternal-fetal medicine physicians and neonatologists. We also have a wonderful team of lactation consultants, community health workers and social workers. Our prenatal classes assist parents as they prepare for delivery and parenthood.
How can everyone help to reduce Black maternal mortality rates?
Work together to end disparities in Black maternal health.
On a national level, congressional leaders have established the Black Maternal Health Momnibus to address every dimension of the Black maternal health crisis. On a state level, Illinois was the first state in the nation to extend full Medicaid benefits from sixty days to one full year postpartum. This is a major win in terms of improving the continuity of care for women after pregnancy. On a community level, we need community leaders and everyday people to raise their voices and demand better access to care and engage in collaborative efforts that focus on the needs of Black reproductive-aged women.
Be advocates for racial justice.
Lastly, we all must have the courage to speak up against racism and be willing to uncover and learn about the pervasive effects of racism in this country. We must realize how we are all harmed by systemic racism. We cannot think of our nation as having the most advanced medical technology in the world if we have the highest infant and maternal mortality rate in comparison with other well-developed countries.
How to Advocate for Yourself as a Pregnant Black Person
While these tips are especially relevant for Black birthing parents and others with elevated risk, they are also important reminders for anyone during and after pregnancy.


Find a healthcare provider and inform them of anything that does not seem right. Ask questions about anything you don't understand regarding your pregnancy. Do whatever you need to do to feel supported.
Bring a support person with you to your appointments or have them present when talking to your provider.
Review your visit notes and plan after your visit. Studies show that most patients retain only part of the information discussed during their visit. Now, with shared notes, you have an opportunity to review your electronic chart at any time.
Try to find birth classes to learn about the basics of labor and delivery and what options are available to you.
Create a birth plan and discuss with your provider what options might be best for you. Understand that sometimes it's necessary to adjust the plan based on what's safest for you and your baby. But it's helpful to have a starting point and clarify expectations.
Maintain social support systems during, before and after pregnancy. Also don't forget to support your mental and spiritual health. Connect with a therapist or a faith leader. Talk about the daily stressors and fears you may have about pregnancy.
What are warning signs and symptoms of a medical emergency during pregnancy?
Reach out to your medical provider right away if you have any of these symptoms:
Difficulty breathing
Chest pain
Racing heartbeat
Persistent belly pain
Persistent pain under the right breast
Persistent headache
Heavy vaginal bleeding
Feeling less movement from the baby
Visual disturbances, such as flashes of light, dark spots or loss of vision
What are warning signs and symptoms of an emergency after giving birth?
Remember, you know your body better than anyone else. If something doesn't feel right or you are just having a hard time adjusting to having a baby, reach out for help.

Seek medical help immediately if you experience:
Headaches that won't go away with over-the-counter medicine
Dizziness
Blurred vision or blind spots
Extreme swelling of the hands or feet
Persistent temperature of 101 degrees Fahrenheit or higher
Thoughts of hurting yourself or your baby
Please call your provider and seek help even if the only thing you need is additional support with caring for your newborn baby.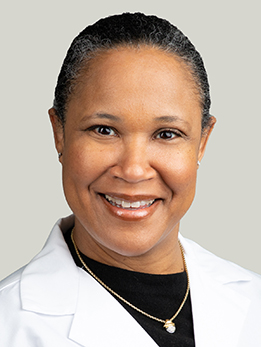 Jana J. Richards, MD
Jana J. Richards, MD, provides expert obstetric and gynecologic care, including annual exams, preventive care, prenatal care and more. She works with her patients to diagnose a wide range of conditions, such as abnormal uterine bleeding, uterine fibroids and abnormal pap smears.
Learn more about Dr. Richards