Skip to content
Not your grandmother's midwife: Common misperceptions about modern midwifery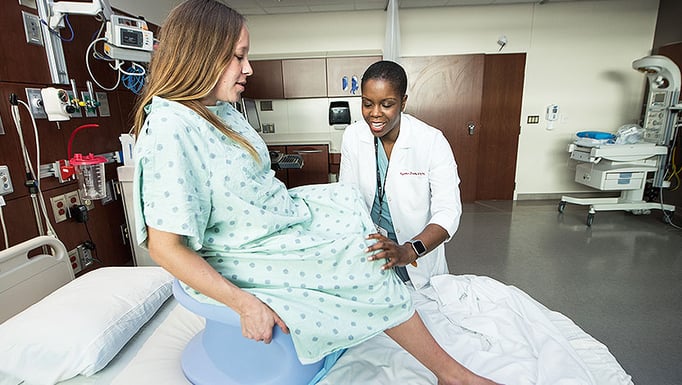 Certified nurse midwife Cynthia Jacinthe coaches a pregnant patient through labor exercises on a birthing stool
More women today are choosing certified nurse midwives for safe and more comfortable labor experiences, but there are misconceptions about the care midwives provide other than home births. Experienced nurse midwives often find patients are surprised to learn that services may include in-hospital pain management, support during cesarean sections, and general gynecological and prenatal care.
Q: What is a certified nurse midwife, and how are they different from other providers who assist during pregnancies?
A: Nurse midwives are advanced practice nurses (APNs) who have specialized training in women's health care needs. We often care for healthy women throughout their lives, addressing general gynecologic issues, birth control, preconception planning, and, of course, pregnancy. In many ways, midwives provide care for uncomplicated problems that is very similar to the care provided by an obstetrician/gynecologist. Some differences, however, include less intervention, more patient education, and shared decision-making around alternative treatments. In fact, studies have shown that midwifery care of low-risk pregnancies lowers the rates of cesarean sections and the use of vacuum or forceps to deliver a baby. Often, we have more time than physicians to spend with pregnant women at low risk for complications, and are able to more holistically address both the patient's mind and body.
Q: What does prenatal education by midwives look like?
A: Prenatal care comes in many forms and is adapted to what a woman needs. We provide prenatal care similar to that provided by doctors, but with a preference for less intervention in labor. Midwives are very supportive of a patient's decision to engage in methods for low-intervention prenatal preparation, such as Lamaze and the Bradley method. We try to inform women of all their options, including pain medication or an epidural. We encourage parents and other loved ones to take prenatal classes and tour the birth center to be prepared for everything — from breastfeeding and infant CPR safety to proper car seat installation and sibling preparation.
Q: What else might expectant parents want to know about your services?
A: We have experience using supportive tools that women might need for pain relief and to facilitate labor. We use birthing and "peanut" balls to assist with position changes that can be critical for labor progress and managing discomfort. We even offer aromatherapy and wireless fetal monitoring. All of this means that our patients can be up and walking, rather than staying in bed during labor. Midwives also work closely with anesthesiologists in the event a woman chooses an epidural for pain relief, and are in continual contact with obstetricians, should a complication arise.
Q: What can a first-time patient expect when they visit your birth center?
A: Patients who want a midwifery approach will see one of our midwives for prenatal care, and one of us will support them during labor and delivery. This means that a midwife will be with them throughout the whole birth process. There tends to be a special relationship between an expectant mother and her midwife. Patients have spoken of an emotional connection when they hear their baby's heartbeat for the very first time with their midwife, and felt confident that they could ask all their questions about why they feel the way they do during the pregnancy. It is important to know that you have someone who supports and understands your plan for labor. This trusting relationship can lead to a healthier, calmer labor, reduce rates of postpartum depression, and may increase the chance of a normal spontaneous delivery. It can also make women feel more empowered about their experiences, regardless of the outcome.
Q: What types of postpartum care do midwives offer?
A: Midwives help assist new parents with breastfeeding and proper skin-to-skin contact for healthy development and bonding. Traditionally, parents are told to check in with their care team six weeks after the birth. We like to see patients sooner, between one and two weeks, to quickly address any physical issues or mental health conditions such as postpartum depression. We feel that it is especially important to check in sooner with moms who have had a rough labor, to make sure that they are healing well, both in mind and body.
Our Certified Nurse Midwives
With expertise in evidence-based practices, personalized prenatal care, and hands-on labor support, our certified nurse midwives play a unique role in optimizing birth experiences.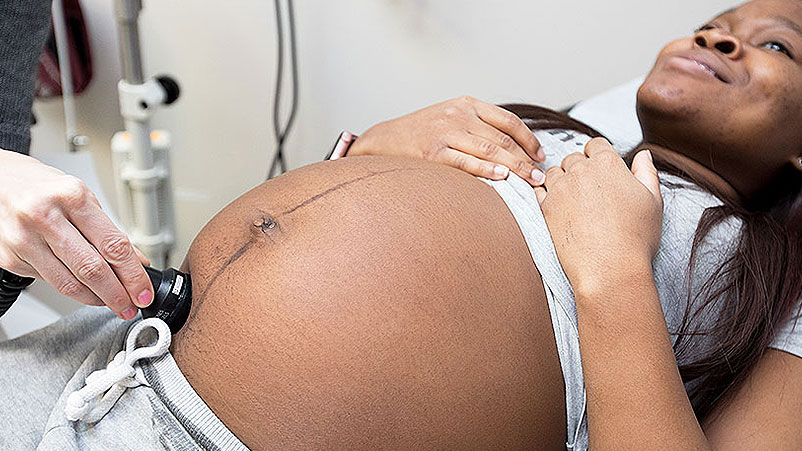 Pregnancy and Childbirth Articles