Skip to content
UChicago Medicine emergency room doctor assists after Haiti earthquake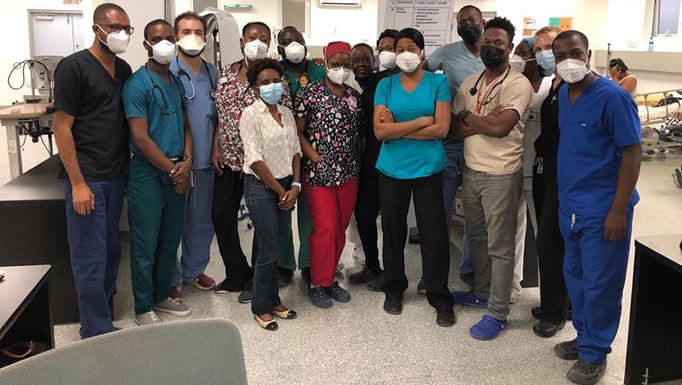 Dr. Ludmer in Haiti
Days after a magnitude 7.2 earthquake devastated Haiti, University of Chicago Medicine emergency department doctor Nicholas G. Ludmer, MD, arrived on the Caribbean island.
Working with the nonprofit global health organization Partners in Health (PIH), Ludmer volunteered his time to cover the emergency room shifts of Haitian doctors in the town of Mirebalais, freeing them up to travel to the hardest hit areas and treat patients there. More than 2,200 people died in the Aug. 14, 2021 earthquake. Another 12,000 were injured.
Ludmer was already familiar with Haiti and the hospital, the Hôpital Universitaire de Mirebalais, having worked there during his emergency medicine fellowship. UChicago Medicine emergency medicine doctor Keegan Checkett, MD, had been his fellowship director in Haiti.
"I'd respond to wherever PIH needed me, but Haiti is a special place to me," Ludmer said. "I stopped going there in 2019 because of political unrest. So it was great to be able to go back down, work in the hospital, and see the emergency medicine team again. A lot of the residents I worked with in my fellowship are faculty there now."
After the earthquake, Ludmer worked 12-hour shifts, six days a week, treating a handful of Haitians with earthquake-related injuries such as wound infections or fractures. A few badly injured earthquake victims were transported to the hospital by helicopter or ambulance. But since the facility was a two-hour drive from Port-au-Prince, where most earthquake victims were being brought, Ludmer spent the majority of his time handling typical emergency room cases.
Ludmer got a call from PIH on a Thursday morning. Thursday night, he worked an overnight shift in UChicago Medicine's busy adult Emergency Department (ED). Friday afternoon, he was on a plane to Haiti.
It would have been impossible for Ludmer to go to Haiti without the support of his UChicago Medicine colleagues who stepped up to cover his shifts on short notice.
It would have been impossible for Ludmer to go to Haiti without the support of his UChicago Medicine colleagues who stepped up to cover his shifts on short notice.
"They were, like, 'Happy to take your shift. No need to pay me back. Just happy you're going down there to help,'" Ludmer said. "My coworkers in emergency medicine were really great."
Ludmer is among several UChicago Medicine's ED doctors who specialize in global or local emergency medicine. Checkett, for example, recently worked with the World Health Organization (WHO) to create COVID-19 educational and training materials for doctors and healthcare workers around the world. Besides volunteering in Haiti, Ludmer and Checkett have both worked in different parts of Africa as well.
UChicago Medicine ED doctors Katie Tataris, MD, and Michael McCartin, MD volunteer with the Illinois Urban Search and Rescue Team.
PIH built the hospital in Mirebalais, which opened in 2013. Checkett designed and implemented the curriculum for the first-ever emergency medicine residency program in the country, which is based at that hospital and now training its eighth class. The medical education program has been so successful that Haiti's emergency medicine response was notably improved since the 2010 earthquake that killed more than 200,000 people, Ludmer said.
"This time, it was Haitian doctors who were responding, rather than having foreign aid physicians from all over the world come in," he said. "There's been so much growth in the emergency medicine program."
Ludmer humbly downplayed the role he played in helping after this earthquake.
"I'm just a guy. PIH organized the response and built that hospital," he said. "But I was glad that I could help in some way."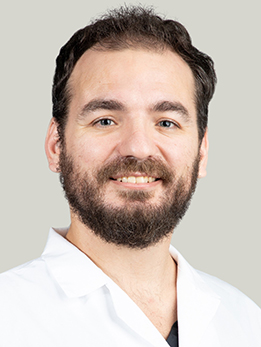 Trauma and Violence Recovery Articles