Skip to content
​Runner back on track after a kidney donation from a friend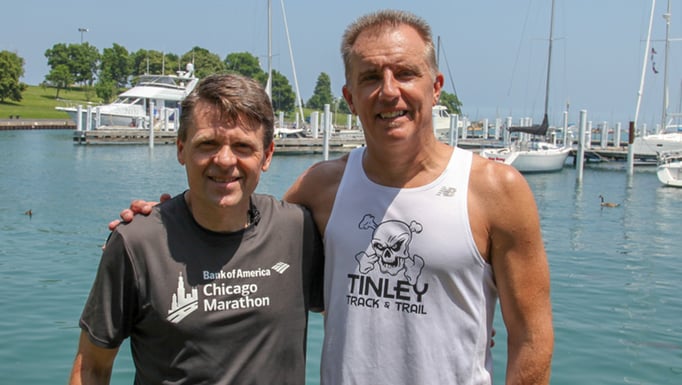 Donor Mike Blake (left), with kidney donation recipient Rich Matula.
Running club coach Rich Matula noticed that something was wrong when his runs were much slower. Matula has polycystic kidney disease, a painful disorder which leads to infection, bleeding and pressure symptoms that slowly stop the function of the kidneys. After years of treatment, Matula needed a new kidney.
Waiting for a kidney on the transplant list can take time. Matula came to the University of Chicago Medicine and participated in the Living Kidney Donation Program. This unique program helps patients who need a life-saving kidney donation educate others about live donation. To be a living donor, a person must be at least 18 years old, in good health, not have any major health problems, and be willing to give up a kidney.
Rich Matula's Kidney Transplant Story
[MUSIC PLAYING] We're both back running. We both feel really good.
You can really tell easily is my time's gotten a lot slower. That's one of the first symptoms that showed up. I have polycystic kidney disease. And it's a hereditary disease. And cysts grow on your kidneys and eventually choke out the actual real function of the kidneys. It's just an amazing sacrifice. It's humbling to see him to be willing to do this. And just a great friend. And it's just amazing.
He's a really great guy. And like I said, he never put any kind of pressure on you, you know? And he's never complained. So yeah, he's a really good guy. So my kidney has found a nice home.
Rich not only participated by taking care of himself, in terms of eating healthy and keeping his weight at a healthy state and staying active. He also participated in our living donor champion program. That is a program that is unique to the University of Chicago.
And what we do is we teach the recipients how to tell their story and how to go about asking others to potentially donate an organ. That's a very difficult thing. I mean you're not asking somebody to loan you a cup of sugar. You're asking somebody to go through a surgical procedure.
The surgery went very well, successful. We're both back running. We both feel really good. And we're both really happy at everything that transpired at the University of Chicago.
This is really one of the truly altruistic things that is done. It's the gift of life. And it is the ultimate altruistic gift.
"Asking for a donation is a very difficult thing. You're not asking for someone to loan you a cup of sugar; you're asking somebody to go through a surgical procedure," says Yolanda T. Becker, MD, director of the Kidney and Pancreas Program at UChicago Medicine.
Fortunately, Matula didn't have to look far to find a match.
Mike Blake, a member of Matula's running club, heard that his coach needed a transplant. Concerned, Blake decided to do some research on living donations. His concerns allayed, he took a test to see if his kidney was a match. A year later, he was in UChicago Medicine preparing for surgery.
Just a few weeks later, Blake and Matula laced up their sneakers and were running again.
"It's an amazing sacrifice," Matula said of the donation from his friend. Blake has no regrets: "My kidney found a nice home."
In the News
"'An amazing sacrifice': Runner to donate kidney to Homewood coach" (Chicago Tribune - Daily Southtown)
Kidney Transplant Program
UChicago Medicine's Kidney Transplant Program is dedicated to offering the highest level of care. We continue to improve transplant medicine through our research, providing patients access to the newest therapies and treatments.
Learn more about the kidney transplant program