Skip to content
Celebrating courage and innovation at the second heart transplantation gala
Courage and Innovation: Celebrating heart transplantation
More than 500 people, including 150 heart transplant recipients, gathered for the Courage and Innovation: Celebrating Heart Transplantation gala at the Art Institute of Chicago. Hosted by the University of Chicago Medicine's Heart and Vascular Center, the Feb. 23rd gala highlighted patients Sarah McPharlin and Daru Smith, recipients of the first-ever back-to-back heart, liver and kidney transplants.
In its second year, the event was created to support UChicago Medicine's heart transplant recipients while giving their families a chance to connect — and inspire — each other.
Sharon O'Keefe, president and chief operating officer of UChicago Medicine, all but echoed the sentiment as the evening began and guests took their seats in the auditorium.
"Obviously we are here for a celebration, but watching everyone enter the auditorium tonight feels more like a family reunion than a presentation," said O'Keefe. "It has a different feeling. Seeing you all come in, and I actually know a few of you. We are so incredibly proud to welcome you tonight."
The event was hosted by Nir Uriel, MD, and Valluvan Jeevanandam, MD, chief of cardiac surgery.
To showcase the very special work that has been done at UChicago Medicine, guests kicked off the evening by watching a video showing an in-depth look into the triple-organ transplant and then heard a round table discussion with McPharlin and Smith, which was facilitated by Uriel and Jeevanandam.
In order to honor the important work that is done outside of the operating room, Cathy Murks, APN, PhD, was honored as the Courage and Innovation 2019 Service Award recipient. Murks has been with UChicago Medicine for 29 years and is an integral part of the heart failure team.
After closing remarks guests were invited to enjoy an evening of networking, food and an auction that supported patients in need.
As patients and their families enjoyed the night, a feeling of resounding camaraderie filled the air. In attendance was a group of heart transplant recipients who have developed an everlasting bond. Calling themselves the "Four Kings and a Queen," the recipients all had their transplants within two weeks of each other and stuck together every step of the way during recovery.
One of the kings, Eric Donaldson, talked about the significance of their group. "I think it's great, Heather (the queen) and I text each other all the time, at least a couple times a week, and then usually Keith and I keep in touch pretty good. We all stay in touch. It's a family; we call the other Eric, little Eric."
Gaining a family through a tragic experience is certainly a silver lining. According to Donaldson, the transplant experience coinciding with celebratory events like the gala brings something very important full circle.
"New life, it's all about this new life," said Donaldson. "My grandson loves his birthday parties and I said, 'Miles I have two birthday's now' and he says 'what do you mean?' and I said 'I have my regular birthday and with my new heart I have a new birthday in October!' and he goes, 'You're so lucky!'"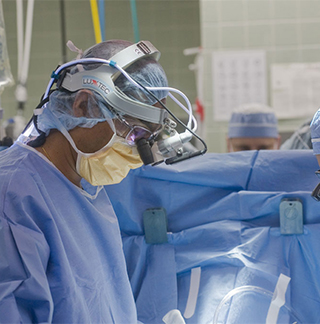 Heart Failure and Transplantation
At the University of Chicago Medicine, we bring the best minds in medicine together to meet the needs of patients facing heart failure and transplant.
Read more about our heart failure expertise