Skip to content
Bilateral lung transplant allows young cystic fibrosis patient to breathe freely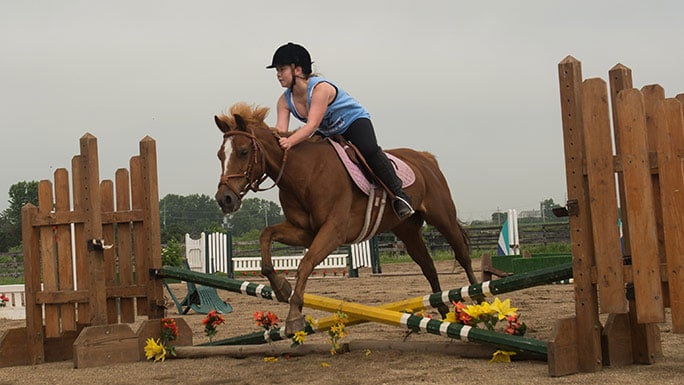 When Josette (Josie) Nordman was a junior at Northwestern University, she juggled the demands of her theater major, a sorority, serving as president of the campus equestrian team and spending time riding her horse, Loki. The winter before, she won her first role in a mainstage theater production, playing a starring role in a student production of "Peter Pan."
But a year before, all that activity was unthinkable.
"To have the chance to really live and breathe and do things I always wanted to do has been incredible."
Nordman was born with cystic fibrosis (CF), and since childhood her illness has been managed by the pediatric pulmonology team at University of Chicago Medicine Comer Children's Hospital. The disease, which affects the lungs with persistent and recurrent infections — eventually leading to respiratory failure — reached a critical stage in July 2012. Nordman's lung capacity was down to 15 percent. Even with an oxygen tube in her nose, she couldn't walk across her hospital room because it was so difficult to breathe. Her physicians decided the best option was to list her for a transplant.
The following summer, the Homewood, Ill., native received a bilateral lung transplant at the University of Chicago medical center. Five days later, she went home. And three months later to the day, Nordman was back on her horse.
The transplant process
The three months prior to transplant Josie was a frequent visitor to the hospital to deal with infections. Her lung function was deteriorating but she was still going to school and trying to lead a normal life.
The young woman who lived life to the fullest — despite three-to-four hour daily breathing treatments and other limitations — could no longer force her body to do what she wanted it to do. "My first year in college I was in the hospital a lot and had an IV antibiotic port attached (to administer antibiotics)," she said. "The end of my freshman year I ended up in the hospital on oxygen and that's when the doctors discussed a transplant."
Nordman and her family met with Edward Garrity, MD, in mid-2012 to discuss the transplant. The medical director of UChicago Medicine's lung transplant program, Garrity collaborated in Nordman's care with her pediatric physicians and surgeon and managed the day-to-day treatment of her disease, pre and post-transplant.
"I had faith that my doctors would do what they needed to do to get me better."
Along with Garrity, the lung transplant team of multidisciplinary specialists meets weekly to discuss patients who are either transplant candidates or those who've already undergone transplant. In addition to surgeons, the team includes adult and pediatric pulmonologists, a CF infectious disease specialist, a psychiatrist and psychologist to evaluate the patient's mental status, nurses and nurse practitioners who have participated in the patient's ongoing care, organ procurement personnel, and financial experts who make sure there's support for transplant and medications.
Nordman wasn't afraid of the procedure, but she was worried about limitations afterward. "I had faith that my doctors would do what they needed to do to get me better," she said. But she was warned she might no longer be able to ride her horse or spend time in the barn, that she'd have to avoid crowds and could no longer handle reptiles or other animals, all to protect her immune system.
The procedure and Nordman's progress went so well that she was allowed to visit her horse — outside the barn, just for a quick look — a week after surgery. Three months to the day after the transplant, she received approval to ride Loki. Last fall she moved back to her Evanston apartment and, though she was restricted from attending classes full-time until this past spring, Nordman was cleared to see friends and take one class.
A second family
Over the years, Nordman has developed a second family at University of Chicago Medicine Comer Children's Hospital, especially among the nurses and therapists who encouraged her and kept her company when her own family couldn't be nearby. "Almost every night a nurse would come and hang out with me. They were so fun and so caring."
In fact, two days after the transplant, Nordman was walking down a hospital hallway with one of her longtime therapists when the two decided it was time to remove the tubes and mask from Nordman's face so she could breathe on her own. "It was very emotional — we both cried," recalled Nordman. "That's a moment I'll never forget. I hadn't been free of having tubes on my face for eight months. I wasn't going to be tied to an oxygen mask anymore!"
The time that's passed since the transplant, said Nordman, has been amazing. "To have the chance to really live and breathe and do things I always wanted to do has been incredible. I never really knew what normal was, and now I get to do the things I always saw people around me doing and enjoying."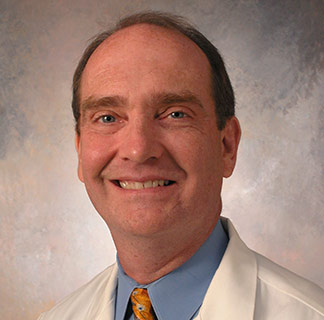 Edward Garrity, MD
Dr. Edward Garrity is an internationally recognized expert in the treatment of advanced lung disease, and has a special interest in treating cystic fibrosis with medications and lung transplantation.
See Dr. Garrity's Bio