Skip to content
Art therapist draws children down a healing path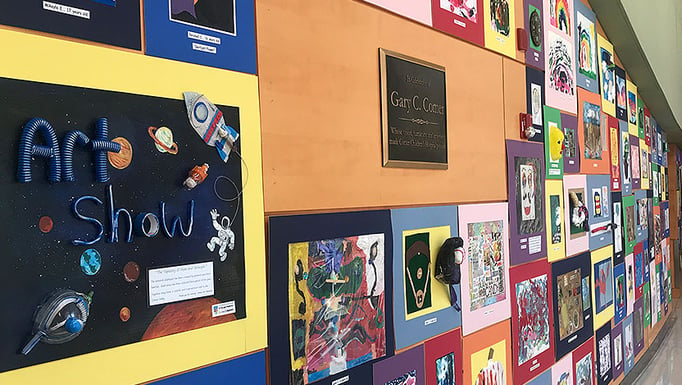 Crayon portraits of Remoc, Pikachu and SpongeBob SquarePants brighten the south wall of the Comer Children's Hospital lobby.
More serious artworks demand scrutiny. A yellow mask with severe red features boldly meets visitors' eyes. "Beautiful. I am beautiful," advises the inscription by the artist, a 13-year-old girl.
Art therapist Yasuko Yoshihara, curator of the 15th Annual Comer Children's Art Show, takes a big-picture approach to the annual exhibit. The 100 pieces, on view through June, represent the ages and interests of patients ages 2 to 18 as well as diverse materials and media.
Their artworks — serene, defensive, searching — give the children voices. She weaves these internal landscapes "into a colorful and inspirational tapestry," said Yoshihara, ATR-BC, LCPC, a member of the Child Life and Expressive Therapy teams. "Each has a unique way of expressing themselves."
Mixed-media attractions this year include a clay Minion, a unicorn fashioned from cotton balls and tongue dispensers, and a SpongeBob that owes a debt to swabs. A teen boy's vision of his brain features a disconnected IV line as his spine.
For young children, finger-painting and coloring are fun distractions to hospital routines. Teens often address their diagnoses and lives with metaphoric content. Collages are a popular medium. Yoshihara, mindful of adolescent yearnings for self-reliance, provides age-appropriate materials and suggests projects "that foster their independence."
We treat the whole child. We're talking about the whole child — not a disease or a diagnosis.
"Miss Sue," as she is known, always presents art therapy as an option, assessing each patient's interest during a bedside visit. Some children work in solitude while others join her twice-weekly art groups.
Art is more than an emotional outlet, the therapist said. Self-expression also promotes physical and mental well-being. "Art-making enhances mobility and coordination, reaffirming a sense of independence and control," Yoshihara said.
This approach underscores the Medical Center's holistic approach to health and recovery. "We treat the whole child," said Emily Lowder, vice president of Comer Children's Hospital. "We're talking about the whole child — not a disease or a diagnosis."
She enjoys stopping by the Child Life Playroom and seeing Yoshihara and her young artists bonding over paints and modeling clay. Parents are often involved, too. "It's nice for the parents, to see their child being creative and doing something normal for a kid their age," said Lowder, PhD, RN, NE-BC. "That's the true nature of art therapy."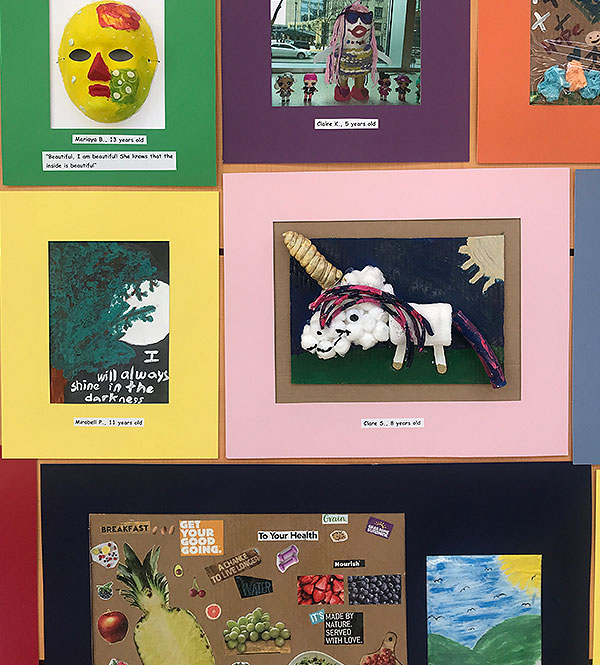 Five-time art show exhibitor Monroe, 9, who regards Miss Sue's visits as highlights of inpatient stays, is currently focused on still lives of fruit. "I get frustrated when I don't do it right," she admitted. But Miss Sue is a supportive mentor. "We talk about the materials we're using and what we're doing," the Chicago girl said.
When Marcus Brooks, 8, yearned for a haunted house at Halloween, Miss Sue created a cardboard model. The sickle cell anemia patient and his family decorated it with paper ghosts and spiders and medical-gauze webs. "It looked like Barbie's DreamHouse Goes Haunted," said mom Ashley Smith, laughing.
Yoshihara, whose trademark vest is stuffed with pastel crayons and paintbrushes, graduated from Zokei Art University in Tokyo. When she relocated to Chicago, she channeled her twin passions for creativity and counseling into art programs for at-risk youths.
A brochure on art therapy inspired her to formalize her vocation. Yoshihara earned a master's degree in this field at the Art Institute. An internship followed at the then-Wyler Children's Hospital and Yoshihara was recruited by UChicago Medicine as an art therapist in 2003. Miss Sue launched her first exhibit of young patients' work the next year.
Yoshihara takes pride in watching staff, patients and visitors view the exhibit. Yet there's no resting on laurels. She promptly begins to collect artful donations from children for next year's show. "I need to be mindful and maintain consistency," she said. "But that's keeping me doing what I do."
Pediatric Articles & News