Skip to content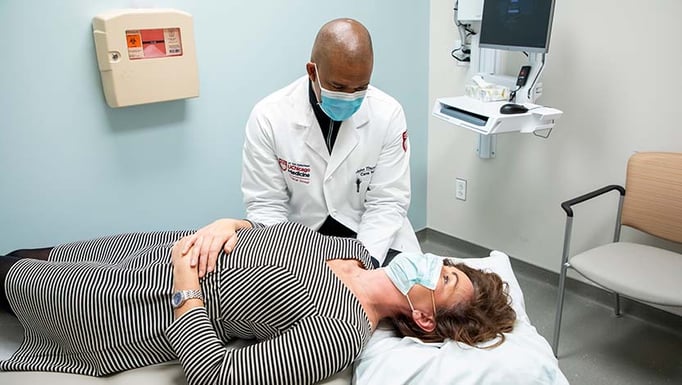 John R. Thurman, Jr., DO, with a patient.
Osteopathic medicine is one of the fastest growing fields of medicine in the United States.
In the past decade, the number of practicing osteopathic medicine doctors has increased by 80%, according to the American Osteopathic Association. Roughly 25% of all medical school students are enrolled in colleges of osteopathic medicine.
What is osteopathic medicine?
It's a branch of medical practice which emphasizes treatment of medical disorders through the manipulation and massage of the bones, joints and muscles. It treats the patient as a whole person, recognizing that everything is interconnected – body, mind and spirit.
Osteopathic medicine doctors earn a Doctor of Osteopathic Medicine (DO) degree rather than a Doctor of Medicine (MD) degree and are fully trained and licensed to do everything an MD can.
How is osteopathic medicine different?
In addition to medical school, DOs do an additional 200 hours of instruction in osteopathic manipulation training (OMT). The hands-on therapy manipulates the body by applying gentle pressure on muscles, tissues and joints to reduce pain and stress and promote healing. There is evidence-based research on osteopathy to show that it does help.
I incorporate osteopathy into my family practice at River East on an as-needed basis. It's not for every patient. It tends to work best when a patient comes in with back pain, migraines, neck pain, joint inflammation or stress.
What does an osteopathic doctor do?
If a patient comes to me with a certain condition, I examine them, determine the best treatment and then talk to them about how to live a healthy lifestyle that could prevent future problems. Depending on the situation, I might take it to the next level and ask "What led you to get to this position that you're in now? Is there something mental or physical going on? Something that's making you stressed?" And we'd address that, rather than just treat the disease or physical symptoms the patient was experiencing.
Patients like this holistic approach because they feel like someone is investing in them.
Patients like this holistic approach because they feel like someone is investing in them. They feel a better connection with their doctor and trust the treatment plan a little more. Also, when I say, "Maybe we can do this without pills," that's attractive to a lot of people. It gives them another option.
Touch can be very powerful. Something as simple as touching certain spots on the base of the skull can have therapeutic benefit. Even if it just gives the patient a moment of relaxation, that can help them after they leave the office. It's a small step but it makes them feel a little better and that can be the difference in outcomes. Sometimes, seeing someone take the time to give them that extra care encourages them to take better care of themselves.
In my practice, OMT has helped with everything from constipation to decreasing stress and anxiety and in one case, possibly with fertility issues. Even if a child comes to me with an earache, there's a very gentle technique I can use to try and open up the eustachian tubes. I then teach the parents how to do it, so they can do it at home.
If there's dysfunction in the body, DOs can use our hands to help relieve that dysfunction. We're not chiropractors. And we're not curing cancer with this. But we recognize the whole person and see them as more than just their symptoms or their disease.
John R. Thurman, Jr., DO, is a family medicine practitioner who joined UChicago Medicine Medical Group* in September 2021. A native of Midland, Texas and an alumnus of the United States Military Academy at West Point, Thurman was a member of the Army football team and began his career as a Field Artillery Officer. His service included deployments to Kuwait and combat deployment to Iraq. His medical career didn't begin until he was in his early 30s, when he was treated at Walter Reed Medical Center with a serious sports injury that kept him off his feet for two years. That's when he decided to become a Doctor of Osteopathic Medicine. Thurman graduated from the Kirksville College of Osteopathic Medicine in 2012 and previously worked as a DO in West Burlington, Iowa and completed his residency at MacNeal Hospital in west suburban Berwyn. He works out of UChicago Medicine's River East location.
*UChicago Medicine Medical Group is comprised of UCM Care Network Medical Group, Inc. and Primary Healthcare Associates, S.C. UChicago Medicine Medical Group physicians are not employees or agents of The University of Chicago Medical Center, The University of Chicago or UChicago Medicine Ingalls Memorial.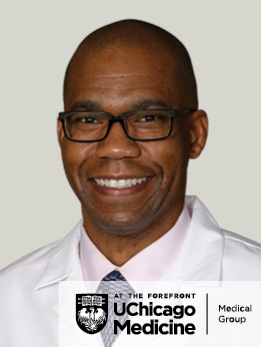 Health and Wellness Related Articles