Skip to content
The ongoing journey of LGBTQ+ healthcare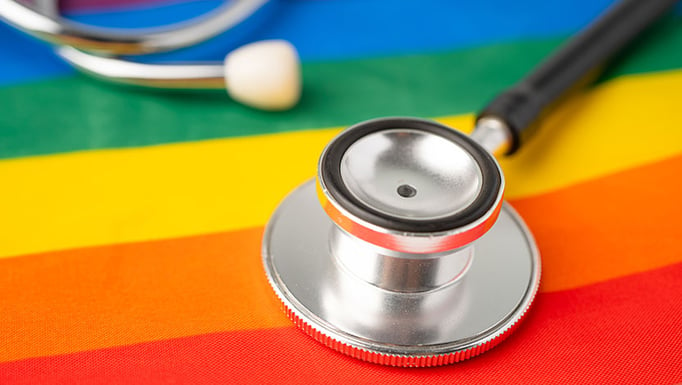 From time to time, Aniruddha "Anu" Hazra, MD, hops in a van retrofitted as a mobile mini-clinic and brings health care to the LGBTQ+ community.
"I talk about sex for probably the majority of my job, which is great," said Hazra, a University of Chicago Medicine internist and infectious disease specialist. "That's what I want to do."
These candid, frequent discussions about sex are central to Hazra's commitment to helping LGBTQ+ patients feel comfortable talking about their sexuality with physicians. "All of this goes back to sexual health access and sexual health delivery," Hazra said, "and meeting folks where they're at."
A growing awareness of the needs of the LGBTQ+ community is leading to more specialized care, more emphasis on LGBTQ+ issues in medical school and the workplace, and greater involvement in advocacy and activism. UChicago Medicine and the University of Chicago Pritzker School of Medicine are among the leaders in the national shift.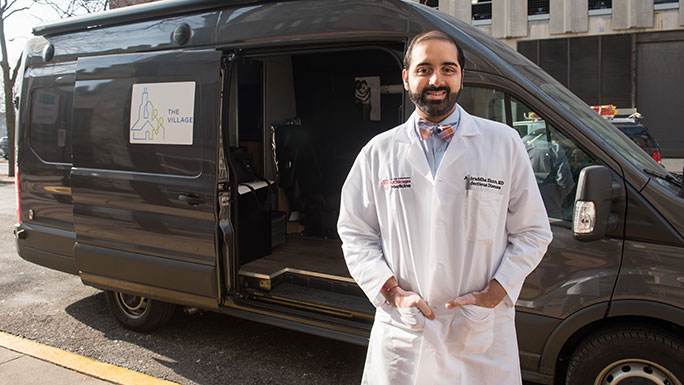 New transgender clinic
For the seventh consecutive year, UChicago Medicine is a Human Rights Campaign Foundation's LGBTQ+ Healthcare Equality Leader. The designation is based on equity and inclusion policies and practices for an institution's LGBTQ+ patients, visitors and employees. UCM earned the maximum score in each section in the foundation's index.
"I sense a genuine, expressed interest from faculty and leadership of the University to make sure that we are inclusive," said Amanda Adeleye, MD. The UChicago Medicine obstetrician-gynecologist serves on the American Society of Reproductive Medicine's LGBTQ+ Task Force, working on appropriate, inclusive language in society documents.
UChicago Medicine's "We Ask Because We Care" initiative includes asking patients about their sexual orientation and gender identity. Gathering that information allows staff to treat each patient with respect, helps build trust, provide more effective care, identify gaps in healthcare and find ways to close them.
In addition to asking patients about their sexual orientation and gender identity, "We Ask Because We Care" directs staff and healthcare workers — from those in the call center to frontline clinicians — to ask patients about their pronouns and name, sex assigned at birth and sex designation on legal documents. Patients can choose not to answer any of the questions. The information becomes part of a patient's medical record and is protected by the same privacy standards UCM uses for all patient information.
Executing change to adopt a more inclusive environment comes with challenges. Iris Romero, MD, MS, an obstetrician-gynecologist on UChicago Medicine's gender-affirming team and Biological Sciences Division Dean for Diversity and Inclusion, is impressed at her staff's enthusiasm for such changes as renaming the Mother-Baby Unit the more inclusive Three North. Her team also has embraced the broader approach of including LGBTQ+ individuals in the UChicago Medicine healthcare system.
"I think it's the moment we're in," Romero said. "Whether it's race, gender, sexual orientation – everyone I think is really having a sort of internal awakening of the privilege that maybe they've carried around, and that others have not benefited equally."
Romero counts herself as fortunate. A lesbian, she has seen acceptance of same-sex relationships grow and legal protections enacted over the years. She considered how much she benefited and realized that transgender folks have been left behind.
"I couldn't be like, 'Oh, great, everything's good for me. Everybody loves lesbians now. Peace out,'" she said, laughing. "I just felt that I definitely had an obligation to give back and advocate for transgender individuals who are still in a different place in their journey with their healthcare experience."
A growing awareness of the needs of the LGBTQ+ community is leading to more specialized care, more emphasis on LGBTQ+ issues in medical school and the workplace, and greater involvement in advocacy and activism.
One of the more profound ways that commitment manifested itself was her leadership with colleague Andrew Fisher, MD – who specializes in gynecology, gender-affirming hysterectomy and pregnancy care for transgender patients — in creating the Transgender Clinic for Affirmation and Reproductive Equity in May 2021. Known as TransCARE, the weekly clinic connects transgender and gender-diverse patients care to doctors and such services as hormone therapy, gender-affirmation surgery, fertility services, voice services, mental and behavioral health services, pediatric and adolescent care, sexual health, and more.
Apart from transgender patients' unique needs, these individuals often have negative interactions with the healthcare system. Consider, Fisher said, the people a patient interacts with during a visit to the doctor's office or the hospital. If every staff member questions a fundamental element of the patient's identity, it becomes easy to see how a traditional healthcare system complicates and exacerbates transgender individuals' health issues.
"We wanted to create a safe space for these patients where they can come in, talk about who they are, be heard, be understood, and not have to climb over all the barriers that they typically have to do just to be able to get the healthcare that they deserve," Fisher said.
Patient interest in TransCARE has been strong, Fisher said. Many people were unaware how to access the care they needed. Doctors have helped them establish care with mental health specialists, endocrinologists, surgical subspecialists and others. Three couples are pregnant.
Julie Chor, MD, MPH, provides inclusive care for LGBTQ+ patients and teaches the medical ethics course for first-year medical students. She is among those working with Fisher and Romero to enhance LGBTQ+ care, particularly in obstetrics and gynecology. And she's working with two Pritzker students on research based on interviews with LGBTQ+ individuals about their first pelvic exam.
She has seen the awareness of LGBTQ+ health care grow and was encouraged by the enthusiastic participation in a clinic workshop on transgender care and language around gender.
"People in the workshop came up and told me that they're excited to learn more," Chor said. "Some of them mentioned they felt a little nervous because they didn't want to say the wrong thing, which is common, but everybody seemed to really care about providing compassionate care."
Much of making LGBTQ+ patients feel welcome is about having the right language and being comfortable using it, Chor said. "I would not claim expertise," she added. "What I tell people is that I can guarantee that I'm committed to learning and doing as good a job as I can, but recognize that I'm not perfect and have things to learn."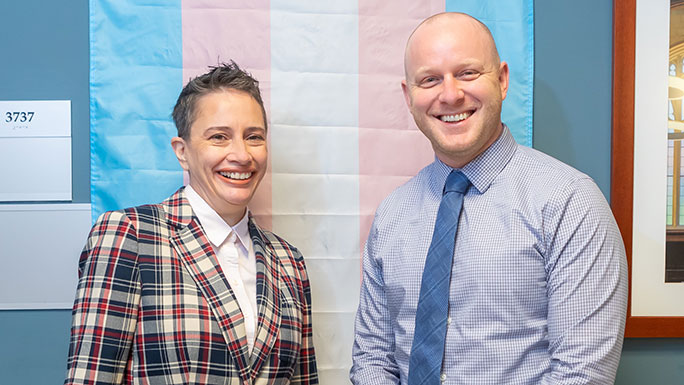 'We've made it known that we are present.'
Medical students Christian Carrier and Samantha Morris were drawn to Pritzker by its commitment to diversity, and felt affirmed and validated during their Pritzker interviews. Today, they are LGBTQ+ student leaders. Carrier is one of the 2021-22 leaders of OUTPatient, Pritzker's organization for LGBTQ+ medical students, and Morris is a former OUTPatient leader.
In May 2021, OUTPatient became a chapter of the Medical Student Pride Alliance, a national body. During 2020-21 OUTPatient created a mentorship program, revamped the medical school's LGBTQ+ health curriculum, and established a volunteer program with the renowned Howard Brown Health, which provides healthcare and social services for the LGBTQ+ community in Chicago.
Morris and Carrier made their personal impact as well. Morris created an inclusive sexual history-taking document for her medical school class. In January 2022, the Chicago Tribune published Carrier's op-ed challenging the Food and Drug Administration's "outdated and homophobic" policy restricting blood barring men who have sex with men from donating blood unless they abstain for three months, despite a national blood shortage.
All of this shows how young people are driving the movement toward a more inclusive healthcare system.
"I think over the past year," Morris said, "we've made it known that we are present and that we have goals for improving queer health care and the experiences that we have had, and the experiences that patients continue to have."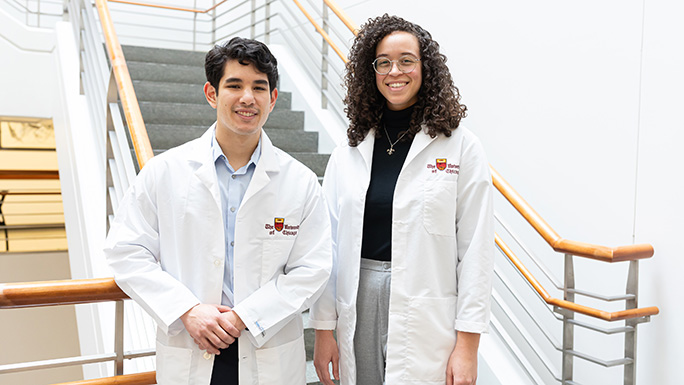 Tide has shifted
John Schneider, MD, MPH, has witnessed the shift firsthand. An epidemiologist and infectious disease specialist in UChicago's Departments of Medicine and Public Health Sciences, he also is Director of the University's Chicago Center for HIV Elimination and site director for Howard Brown Health's Hyde Park clinic. He specializes in providing high-quality care for young Black men, sexual minority men and for Black transgender women. He has been researching HIV/AIDs for years.
Schneider remembers the early 2000s — when some medical professionals were unaware of what the acronym LGBT meant — as "frightening times." A key turning point came in 2007, when the Fenway Institute, which advocates and delivers healthcare to underserved groups, partnered with the American College of Physicians to publish The Fenway Guide to Lesbian, Gay, Bisexual and Transgender Health. It was the first U.S. medical textbook to address LGBT individuals' healthcare needs.
LGBTQ+ medical students, once concerned about being public with their gender and sexuality, and straight students were powerful players in that shift. "Change happens from the ground up," Schneider said. "As new, enlightened students and trainees came into academic medicine, the system was forced to change, and it has begun to."
Students at the Pritzker School of Medicine learn about LGBTQ+ health in a first-year course, Health Equity Advocacy and Anti-Racism, said Adam Eickmeyer, MPH, Director of Medical School Education. Also, Eickmeyer covers the topic – specifically, inclusive and affirming communication skills with all patients – in a clinical skills course.
"One of the things that I think Pritzker does a really good job of is trying to remind students of the humanity in the patients they are going to be seeing," he said. "For a very long time, Pritzker has been a leader in educating students about health inequities and about their role as future physicians in mitigating health inequities."
A key to educating future physicians, Eickmeyer and others said, is that heir Pritzker education imparts inclusivity for all patients.
"A lot of the issues that impact LGBTQ+ folks also impact other populations," he said. "So, what I've tried to do is take an intersectional approach. It's important, I think, when we're training physicians, that we're not training them to put people in boxes based off of some categories and then go down a checklist. What we're really trying to do is help them understand that people are very complex and made up of many different facets. We want our students to embrace the mindset of being open-minded, being curious with patients, and most of all, making sure that patients feel cared for."
We want our students to embrace the mindset of being open-minded, being curious with patients, and most of all, making sure that patients feel cared for.
During their clinical rotations, students receive training in LGBTQ+ care based on its connection to the clinical specialty. One constant among all clerkship directors, Eickmeyer noted, is that "they care tremendously" about mitigating health disparities. That perspective is threaded throughout a Pritzker medical student's education, regardless of what specialty they may choose, and has become a powerful draw for the school.
An updated curriculum, expected to be in place by 2023, will establish health disparities and physicians' role in mitigating them as a formal part of students' education at Pritzker. The new curriculum also will adopt community engagement and advocacy, which emerged from a survey of the medical school and health system, as a new domain – what Eickmeyer called "a central theme longitudinally across all four years of the curriculum." Diversity, equity, and inclusion will be another curriculum domain.
"The way we're thinking, this is teaching students about health disparities and issues related to that, but also teaching them – and I don't want to simplify this too much – how to with a sense of professionalism interact with people who are different than you," he said. "Because no matter what specialty you go into after medical school, you're going to interact with people who are different from you. A lot of people don't necessarily think about that as they're going through their medical education, but for us, it's something that's really important."
A profound journey for physicians
About 1,400 miles west of Hyde Park, Erika Sullivan, MD, a 2011 Pritzker graduate, has become a leader in LGBTQ+ healthcare policy. A family practice physician in Salt Lake City, she was the driving force in creating a comprehensive HIV PrEP (Pre-Exposure Prophylaxis) program and gender-affirming hormone therapy at University of Utah Health for patients across an expansive region of the U.S. that includes all or parts of Utah, Idaho, Montana, Wyoming and Nevada.
In 2017, she also helped establish the University of Utah Transgender Health Program, a multi-disciplinary health care center for gender-diverse individuals. About the same time, Sullivan helped create an elective program in transgender health for fourth-year medical students.
And she's working to expand the capacity of other healthcare providers to offer similar care, in part by serving as co-chair of the Mountain West Transforming Care Conference, an annual gathering on gender-affirming care, sexual health and HIV prevention in primary care.
Sullivan said she has found that treating the LGBTQ+ population – particularly transgender patients – is fulfilling in powerful, unanticipated ways that center on serving a marginalized population eager to make changes for a better life.
Not only are transgender individuals unable to receive care specific to their transgender identity, but their gender identity alienates them from receiving standard care such as pap smears, mammograms and treatment for diabetes and hypertension, Sullivan said.
"These patients are excluded from receiving health care in a real profound and distressing way," she added. "So, when you see that and you see that you can be a provider who sees them as a person – not just a trans person – who has needs and then systematically say, 'Well, let's meet all your needs,' that really speaks to the role of primary care.
"The opportunity to go on this journey with someone and to participate in their transition and to give them the agency to exist as their true self is the most profound experience," Sullivan said. "I just can't speak highly enough about it."
Reasons for optimism
It's clear that healthcare for LGBTQ+ patients has improved even since Chor earned her degree in 2004. Progress has been particularly rapid in the last decade.
"There's certainly been a lot of work going on to kind of catch up to things," Chor said. She noted that the American College of Obstetricians and Gynecologists (ACOG) is reviewing the use of gendered language in its documents and on its website. ACOG is also producing more educational materials for its members.
Much work still needs to be done, Chor and others said, in educating practicing physicians and in medical schools.
Doctors working in the field offer several suggestions to enhance the health care system's approach to – and medical school education on – LGBTQ+ health. A major step is normalizing the care and being inclusive and welcoming. Fisher calls it "taking it out of the box." It's asking the right questions of every patient and being open-minded, curious, empathetic.
Romero said the field should move more toward ease of access and cultural competence. She also said UChicago should continue strengthening its partnership with Howard Brown Health. Eickmeyer said "more professional infrastructure" in the form of research and conferences, also would help.
As for education, Carrier said, the most important step is incorporating LGBTQ+ care in Pritzker's overall curriculum. Fisher would like to build Trans CARE into a robust educational resource for medical students and residents.
All of them are optimistic. The reason? Medical school students.
"What I appreciate about the people I've taught in the past five years or so," Eickmeyer said, "is that they think outside the silos and really try to get to the root of these problems. For me, seeing the passion and the brilliance in the students and trainees is what definitely makes this time different."
In 15 to 20 years, Fisher hopes, UChicago Medicine's TransCARE and similar programs will be unnecessary because all healthcare providers will be well-versed in how to care for all populations.
"I rely so much on medical students to be the voice of change," he said. "I know that sounds kind of cheesy and corny, but it's their generation that's going to be able to introduce these changes, to bring into medicine a kind of baseline understanding.
"I think if we just keep that up, keep doing that and we just keep working a little bit harder, we're going to see that in 20 years, this is not going to be an interesting story."
TransCARE (Transgender Clinic for Affirmation and Reproductive Equity)
At TransCARE (Clinic for Affirmation and Reproductive Equity), our mission is to provide inclusive, high-quality reproductive health care for transgender and gender non-conforming patients.
Learn more about TransCARE