Skip to content
Interstitial Lung Disease Clinic provides specialized care for patients with chronic lung diseases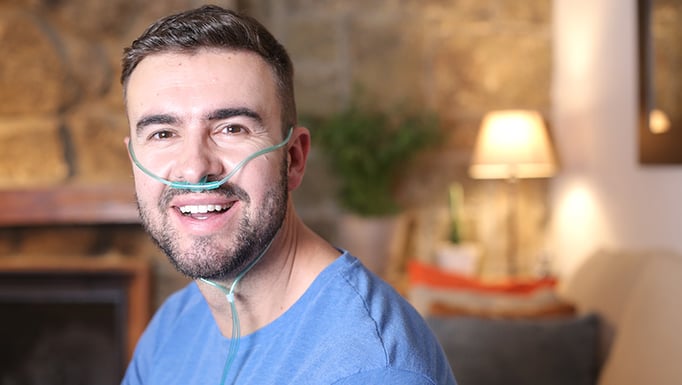 There are more than 200 chronic lung diseases, including idiopathic pulmonary fibrosis, that we refer to as interstitial lung diseases (ILD). These diseases often cause inflammation or scarring (fibrosis) in the space between the lung's air sacs and blood vessels (interstitium).
As a pulmonologist, I specialize in taking care of patients with chronic lung disease due to ILD. I also see patients who are candidates for lung transplant or who have undergone lung transplants.
The University of Chicago Medicine is one of only a small number of medical centers in the country that have a specialized clinic dedicated to diagnosing and treating patients with ILD.
What causes interstitial lung disease?
These are rare diseases with a vast number of causes, affecting a wide range of ages and any gender. Some things that predispose people to develop ILD are autoimmune diseases, genetic mutations, certain medications that can damage lungs, and exposures to cigarette smoke or dust, chemicals, fibers or fumes. We see a lot of people who've worked in industrial settings where they have been exposed to asbestos, coal dust and other potentially injurious exposures. Frequently we are unable to identify a cause despite a detailed evaluation for potential risk factors. In these cases, we may consider the ILD to be idiopathic, or unexplained.
What are the symptoms of pulmonary fibrosis or interstitial lung disease?
Shortness of breath, cough or fatigue are the most common. Because they're so nonspecific, we frequently meet patients who've been given other diagnoses that are incorrect before they come to our clinic.
Can ILD be treated or managed?
These tend to be chronic conditions, but we can often stabilize or slow the rate of a patient's lung function decline with medications. One of the most important things when you're given a diagnosis of ILD is to understand the underlying cause, which helps direct treatment options and medications.
Is exercise a treatment option?
Yes! We encourage all of our patients with chronic lung disease to stay as active as possible. Many patients qualify for pulmonary rehabilitation. It's an exercise program run by physical, occupational and respiratory therapists. It's designed to help patients get enough oxygen to exercise safely and gradually build up the amount of exercise they're able to do. In most situations, pulmonary rehab doesn't improve lung function, but it does allow people to breathe better with exercise and to do more exercise, which improves quality of life.
Why is there a clinic for such rare diseases?
More than a decade ago, we started this clinic to develop expertise in providing the best care to patients with ILD. Our team includes pulmonologists, a dedicated nurse who specializes in caring for patients with ILD, and rheumatologists, because autoimmune conditions can cause ILD. We work with radiologists who are experts in interpretation of CT scans and pulmonary pathologists for patients who've had lung biopsies.
We also have a research program and we conduct clinical trials to help us better understand these diseases and the medications to treat patients with them.
Is lung transplant an option?
Yes, for some patients with lung disease, especially if their ILD has advanced to the point where they require oxygen continuously and symptoms are limiting quality of life. We've had a lung transplant program for over 15 years and see over 150 referrals for lung transplant every year. As in in our ILD clinic, it's a team approach, with pulmonologists, surgeons, dedicated nurses, pharmacists, dietitians and social workers.
We also ensure that patients receive the best treatment for existing lung disease, as well as see that they are healthy to undergo transplant surgery. We also consider whether changes in lifestyle and life expectancy after a transplant are in accordance with someone's goals for themselves.
Have you been caring for post-COVID-19 patients with pulmonary fibrosis (lung scarring)?
Yes. We're seeing a number of patients who have fibrosis after having a COVID-19 infection. The good news is that many of these patients improve over time. We know that steroids and other medications can help early after a COVID infection. Long-term, we're still trying to understand whether medication is beneficial or necessary. In some situations, patients improve on their own.
Several patients who had COVID-19 infections have undergone lung transplants. These are people whose lungs weren't getting better on their own after weeks or months in intensive care, and they were requiring maximum amounts of life support.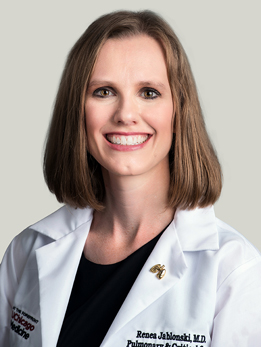 Renea Jablonski, MD
Dr. Renea Jablonski is a pulmonologist at UChicago Medicine. She takes care of patients with chronic lung diseases, and specializes in patients with diseases related to lung fibrosis.
See Dr. Jablonski's profile
Patient Care Articles & News