Skip to content
UChicago Medicine diners can round up food purchases to support hospital food pantries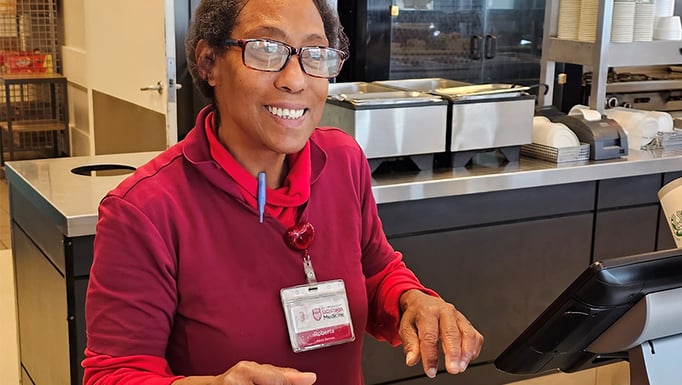 Cashiers will now ask customers if they'd like to round up their purchase to the nearest dollar to support Feed 1st, the hospital-based food pantries for patients and their families.
The next time you eat at Sky Café, Café Central and the Kitchen at Billings, you'll be able to make a small donation to help University of Chicago Medicine patients and their families who face food insecurity.
Starting Oct. 2, customers will be given the option to round up their purchase to the nearest dollar to support Feed1st, the hospital-based program that runs 10 self-serve food pantry sites across the academic health system's Hyde Park campus.
The pilot program marks a new partnership between UChicago Medicine and the Aramark food service company. The goal is to sustain the in-demand hospital pantry program for patients facing food insecurity, an issue that's linked to negative health outcomes in children and adults.
Feed1st pantry sites are open to anyone, 24/7, 365 days a year. No registration is required. Visitors may select whatever food they need from the pantry shelves without limits. Bags are provided. The design is intended to maximize dignity and minimize stigma.
The shelves are stocked with non-perishable items provided by the Greater Chicago Food Depository. However, in the summer and fall months, there is also fresh produce from the hospital's rooftop gardens.
Feed1st, part of The Lindau Lab, was created in 2010 by a group of UChicago medical students, faculty and staff in partnership with the Greater Chicago Food Depository. Later, the UChicago Medicine Garden Committee joined.
The program began with a single pantry in Comer Children's Hospital. Feed1st locations now include:
CCD Sky Café
DCAM 3F
Hematology-oncology department on DCAM 6H
Adult emergency department
Comer's emergency department
Comer's first-floor lobby
Lounges on Comer's 2nd, 4th, 5th and 6th floors.
Photos of the exact locations can be seen on the Feed 1st website.
Feed 1st inspired Paul Dickerson, LSW, a UChicago Ingalls Memorial Hospital oncology-hematology social worker, to create a similar program in the south suburbs in 2021. Ingalls' complimentary nutrition stations offer take-what-you-need food at UChicago Medicine's Flossmoor, Tinley Park and Harvey locations. Also, in July 2023, Ingalls launched a Food Brigade program to deliver groceries to patients in need who are unable to utilize the nutrition stations.
Community Outreach and Health Equity Articles