Skip to content
Spine surgeon uses "GPS" technology to put patient on road to recovery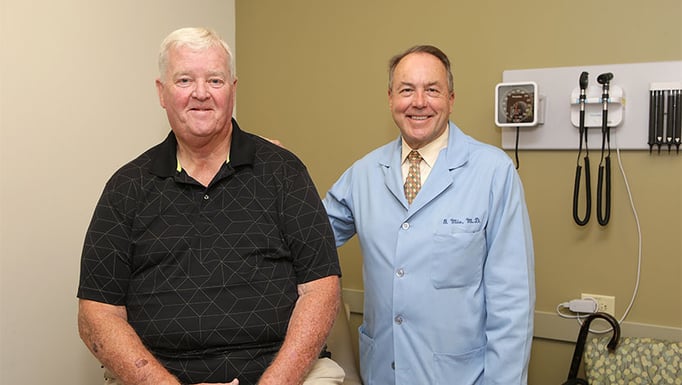 Pat Gleason considers himself lucky. The Mount Greenwood resident once survived a three-story fall. He has successfully undergone two hip replacement surgeries. And, in December 2017, at age 74, he faced the possibility of paralysis from a spinal fracture.
Gleason, who manages his family's landscaping business, was plowing snow when he tossed a bag of sand into the back of his truck. He felt a horrendous pain, fell and found himself flat on his back. He knew that he hurt his back, but was able to get up and finish his 12-hour day.
The next day, Gleason went in pain to the emergency room, where he had hip X-rays taken and was sent home. The pain increased, so he called Cyrus Akrami, MD, his primary care doctor at UChicago Medicine Ingalls Memorial. Akrami took a back X-ray and immediately referred Gleason to George Miz, MD, a spine specialist at Ingalls.
Akrami and Miz confirmed Gleason had an unstable fracture of his spine at the 12th thoracic vertebra and would need surgery.
There were other complications: Gleason has ankylosing hyperostosis, a condition where extra layers of bone grow over the spine and cause it to fuse.
"This disease distorts the anatomy," Miz explained. "Any trauma, break or minimal movement could cause a shift in the spinal cord and result in probable paralysis."
Gleason's condition also meant it would be more difficult to determine the precise placement of screws needed to stabilize his spine during surgery.
Miz used advanced technology to address Gleason's unique surgical needs. Ingalls was among the first hospitals in the Midwest to pioneer a surgical navigation process as well as use an accompanying 3D scanner to enhance surgical precision.
Comparable to automobile navigation systems that provide turn-by-turn directions, this "GPS for surgeons" provides navigation and visualization technology to help physicians effectively plan and conduct spine procedures. This includes accurately placing special "pedicle" screws needed to secure spinal segments during surgery.
In addition to enhanced precision, the technology minimizes X-ray exposure to patients and the surgical team, when compared with more conventional surgical techniques. This approach also reduces the patient's time under anesthesia, as well as the potential need for repeat or corrective surgical procedures.
One day after surgery, the rehab team worked to get Gleason out of bed and walking.
"Dr. Miz took the time to explain the complexities of my case to me and my family, and the rehab team encouraged me to push myself and keep a positive attitude," he said.
Learn more about orthopaedic care