Skip to content
UChicago Medicine certified to offer breakthrough CAR T-cell gene therapy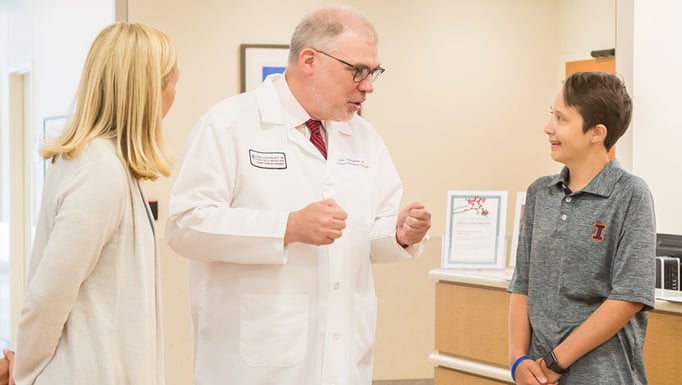 John Cunningham, MD, center, speaks with CAR T-cell therapy patient Sam Tinaglia, right, and his mother Suzie.
The University of Chicago Medicine is among the first sites in the Midwest certified to offer a breakthrough gene therapy for pediatric acute lymphoblastic leukemia (ALL), which was approved Wednesday, Aug. 30 by the U.S. Food and Drug Administration.
Chimeric antigen receptor T-cell, or CAR T-cell, therapy, targets two common forms of cancer and has been used in clinical trials at UChicago Medicine to treat both ALL and diffuse large B-cell lymphoma (DLBCL) in adults.
"CAR T-cell therapy has revolutionized the treatment of acute lymphoblastic leukemia," according to cancer specialist John Cunningham, MD, chair of pediatrics at the University of Chicago and physician-in-chief at Comer Children's Hospital. "I came to the United States 30 years ago with the intent to work on therapies such as this. We need focused treatments like this that can eradicate particular types of cancer."
One of the cancers, B-cell acute lymphoblastic leukemia, is the most common childhood cancer. Pediatric ALL is a rapidly progressive leukemia that primarily affects children and young adults, from age 3 to 25. Nearly 3,100 patients under 21 years old in the U.S. will be diagnosed with ALL this year.
Used to supplement forms of cancer treatment like chemotherapy, radiation and stem cell transplants, CAR T-cell therapy works by using modified versions of a patient's own blood cells to target and destroy cancer cells.
UChicago Medicine is working with Novartis, the maker of Kymriah, to be part of a national network offering the treatment to pediatric patients in Chicago. The effort for pediatric patients is being spearheaded by Cunningham. The FDA approved the use of Kymriah in people up to age 25. Novartis announced it plans to use clinical outcomes to help determine the cost of treatment.
Ninety percent of pediatric patients with ALL enrolled in early CAR T-cell clinical trials throughout the country went into lasting remission. DLBCL patients often relapse after standard treatments, but those treated with CAR T-cell therapy have doubled the long-term survival rate. Now, about 50 percent of those patients appear to have lasting complete remissions.
CAR T-cell therapy does present a risk of serious, potentially life-threatening side effects, which include high fever, flu-like symptoms, infections and low blood pressure. The FDA requires special certification for all sites offering the treatment to confirm the institution is well suited to handle serious adverse reactions, should they occur.
The FDA approved Kymriah for use in pediatric ALL patients and is expected to approve a CAR T-cell therapy for treatment of DLBCL and ALL in adults being developed by Kite Pharma Inc.
Sam Tinaglia, 18, of Park Ridge was one of the first 100 children in the country to participate in clinical trials of CAR T-cell therapy for acute lymphoblastic leukemia. Diagnosed in 2003 at age 5, Tinaglia relapsed for the first time five years after initial treatment. Over the next seven years, doctors tried more rounds of chemotherapy and a bone marrow transplant. With each recurrence, his chances of survival lessened.
"We thought we had reached the end, " said Sam's mother, Suzie. "But then Dr. Cunningham told us about the CAR T-cell clinical trial that was giving hope to kids like Sam, who had no other options."
In 2015, during his junior year of high school, Cunningham referred Sam to Children's Hospital of Philadelphia to receive CAR T-cell therapy. Although he experienced some of the serious side effects, he recovered after treatment in a pediatric intensive care unit. "A few weeks later, they sent me home and that was pretty much it," said Sam, who just started his freshman year of college. "I'm obviously very happy, because my cancer, hopefully, is gone forever.
Sam will continue his care at Comer Children's, where he received most of his treatment for ALL and is now followed by experts in the Childhood Cancer Survivors Center.
"For Sam, CAR T-cell therapy was the exact treatment he needed," said Suzie. "And we are so thankful it worked out. We never thought we'd get to this point."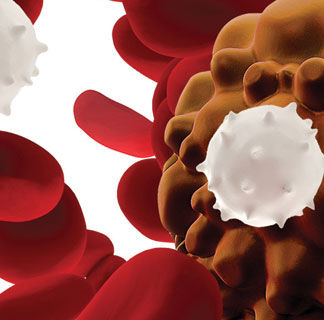 CAR T-Cell Therapy
CAR T-cell therapy supercharges a patient's white blood cells to find and destroy cancer cells. UChicago Medicine research played a key role in the development of this exciting new immunotherapy.
View videos and learn more