Skip to content
Revolutionary robotic heart surgery gets 76-year-old patient back to his active life
Jack Proffit's Robotic Aortic Valve Replacement
[MUSIC PLAYING]
I'm 76-years old and have been physically active just about all of my life. First two years were a little slow, but after that I picked up on it.
Jack Proffit hasn't let age slow him down, but a worsening heart condition threatened his physical freedom.
I noticed one day on the way to another doctor's appointment, I was breathing a little heavily, having some difficulty getting air. Jack learned he had an aortic stenosis, or a leaky aortic valve, in his heart, a condition that often requires a sternotomy, which includes opening the chest to replace the valve, a procedure that Jack feared he could never fully recover from.
Truthfully, I didn't think that was too good an idea. I did not like the idea of being split open.
There was a way for Jack to get his valve replaced and maintain his physical independence through a fully robotic aortic valve replacement. It would be the first time ever such a procedure would be performed.
That was kind of exciting. Really. It didn't scare me. Being the first, I knew I was going to be OK. So I did some of my homework and found out that two of the best cardiology hospitals in the United States were located in Chicago. Happened to find out the University of Chicago was one of them.
That's when he found Dr. Husam Balkhy at UChicago Medicine, who specializes in a far less invasive procedure for replacing aortic valves. For over a decade, he's replaced aortic valves by making a six centimeter incision, lending to a faster recovery for the patient.
The benefit of using the robot is that that six centimeter incision now becomes significantly smaller and probably down to about two centimeters. Really what it does is it allows us to not spread the patient's ribs and it allows us to see areas of the aortic valve that otherwise wouldn't be accessible through the six centimeter incision.
Jack's procedure was a success. Only two days after his operation, he was discharged from hospital.
Jack's recovery was pretty quick as they go and I don't see a patient leaving the hospital any sooner than Jack did, which was two days after the operation after a, quote unquote, open heart surgery, which was done with a closed chest admittedly. But in terms of getting back to full activities, it's also about two to three weeks as to how long that takes.
Now cleared to resume full activities, Jack is back to enjoying his physical freedom.
I split cord wood by hand. I swing a 15 pound splitting mall and/or a 10 pound sledge hammer, not the same time, but one after the other, and use steel wedges to split my wood. I will split somewhere around 5 cords of wood a year. That keeps me pretty active and it keeps me in shape. Having the aortic valve replaced and then five weeks later being released a full activity is, as far as I'm concerned, monumental. This is fantastic.
When Jack Proffit discovered he would need open-heart surgery, he chose a groundbreaking robotic procedure that got him back to full strength within weeks.
Proffit, 76, has led an incredibly active life. The former police officer and Sergeant Major of the Army has stayed physically fit into retirement, chopping cords of wood by hand at his Missouri home.
Even still, he began experiencing shortness of breath and fatigue. Soon after, Proffit was diagnosed with a leaky aortic valve, also known as aortic valve insufficiency. This condition caused blood to flow the wrong direction through his heart, resulting in the heart pumping inefficiently.
Proffit learned his condition would require surgery. However, at his age, he worried the standard treatment -- cracking open the chest to reach the heart -- would leave him with a lengthy and uncertain recovery. In search of a better option, he found Husam Balkhy, MD, a cardiac surgeon and the director of minimally invasive and robotic cardiac surgery at the University of Chicago Medicine.
Balkhy is an expert in using robotic devices, sophisticated thin instruments, miniature cameras and hybrid techniques to repair the heart without having to make a long incision through the breastbone. Robotic surgery often results in fewer complications, faster recovery times and an earlier return to normal activity.
After meeting Proffit and assessing his condition, Balkhy recommended a unique and groundbreaking approach: the world's first fully robotic aortic valve replacement with a sutureless valve.
The novelty of the approach excited Proffit, who was relieved to have a surgical option that promised a less painful, quicker recovery than traditional open-heart surgery allows.
In April 2018, Balkhy and his team performed Proffit's aortic valve replacement through a two-centimeter incision. The robotic approach allowed them to not only avoid spreading the patient's ribs, but also it enabled them to see areas of the aortic valve that otherwise wouldn't be accessible. Proffit's surgery went smoothly, thanks to the team's experience with performing such innovative, complex procedures.
"Our whole robotic cardiac team is extremely experienced," Balkhy said. "We have an incredibly diverse robotic cardiac surgery program at UChicago Medicine and perform the largest number of robotic totally endoscopic heart bypass procedures in the country."
Just two days after his operation, Proffit was able to go home. And after five weeks, he was cleared to resume all activities – including splitting wood.
"Having an aortic valve replaced," Proffit said, "and then five weeks later being released to full activity is, as far as I'm concerned, monumental."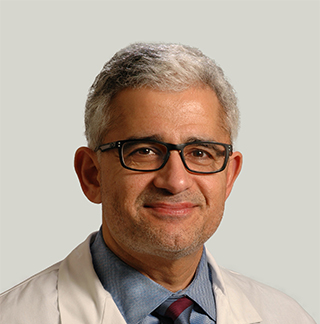 Husam Balkhy, MD
Husam H. Balkhy, MD, is a pioneer in the field of minimally invasive and robotic cardiac surgery. He specializes in the treatment of coronary artery disease, heart valve disorders, atrial fibrillation and other cardiac diseases, using robotic and less invasive techniques in order to reduce pain, disability, and recovery time.
Learn more about Dr. Balkhy
Read more about heart surgery