Skip to content
Cardiac surgeon fixed mitral valve insufficiency with robotic heart surgery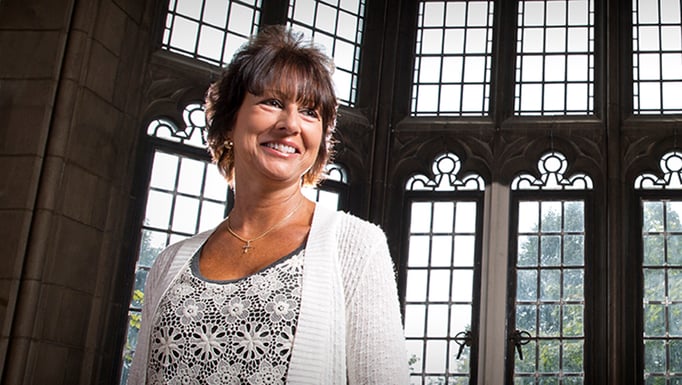 For almost two years, Nancy Pettet-Schubert of Valparaiso, Ind., experienced shortness of breath, heart palpitations and fatigue during routine activities, such as climbing the stairs and walking her three dogs, but the 55-year-old thought the strain on her life was simply the result of getting older and maintaining a hectic schedule.
"I worked three jobs, including having my own cleaning business. When I'd clean apartments on the third floor, I would almost pass out from the exertion," Pettet-Schubert said. "But I never in my wildest dreams imagined it was my heart."
After a failed stress test and an EKG that detected a prior heart attack, a local physician diagnosed Pettet-Schubert with congestive heart failure and cardiomyopathy, for which he prescribed medication. However, her symptoms persisted for another six months so her physician began to think the fatigue was nothing more than an issue of stress or overwork.
"I know my body, and I know what it was telling me. I wasn't tired from working; it was a different type of fatigue," she said. "Every time I would go back to the doctor for increased medication, I would feel humiliated that it was all in my head."
Searching for Answers
In April 2014, worn down by the experience, Pettet-Schubert was about ready to tell her doctor the symptoms had disappeared when a potentially life-saving echocardiogram proved she had indeed been suffering all along: She had a mitral valve insufficiency in her heart that would require surgery.
As soon as she learned of the robotic cardiac program at the University of Chicago Medicine from a friend, Pettet-Schubert sought intervention from Husam H. Balkhy, MD, director of minimally invasive and robotic cardiac surgery and associate professor of surgery at UChicago Medicine.
Balkhy is one of only a handful of surgeons in the country who perform robotic heart surgery on a routine basis. The University of Chicago Medicine is the only robotic cardiac surgery program in the country performing the whole gamut of cardiac procedures, including valves, coronary and arrhythmia surgeries. Balkhy is an internationally recognized expert and travels extensively teaching this approach.
For patients who qualify for robotic procedures, the benefits are myriad, including shorter healing time, less blood loss and more precise outcomes since the surgeon has better visualization than with the human eye alone.
All of these qualities were attractive for Pettet-Schubert, who worried her life was too busy and she would be unable to slow down for an open heart procedure. The decision to trust her health to UChicago Medicine was also an easy one; she has a long history with the medical institution, dating back to a breast cancer diagnosis and experimental chemotherapy that saved her life 27 years ago.
In line with her past experience, Pettet-Schubert got an appointment at UChicago Medicine within days of her initial request and two weeks later, in May, Balkhy performed the mitral valve repair procedure.
Getting to the Heart of the Problem
The mitral valve is made up of two flaps. When the heart squeezes, it forces the flaps together to close the opening and direct blood flow. Cords attach both of the flaps of the valve to the heart and over time these cords can over stretch or break entirely. A prolapse, or a bulge, in the valve occurs when the heart tissue weakens and instead of the flaps meeting precisely in the middle, they are pulled apart without the cords to hold them in proper position. Without the flaps properly closing, blood can leak into other chambers of the heart.
"A leaky valve is created by a weakness in the fibrous tissue of the heart," Balkhy said. "This procedure won't solve the underlying cause, but we can fix the end result. The long-term success rate of this procedure is very good, and it's not common for reoccurrences to happen."
Removing Fear with a Minimally Invasive Fix
To repair Pettet-Schubert's heart, Balkhy and his team made new cords using a sterile, floss-like material attached to a needle and threaded it through the tissue to recreate the pull of the natural tethers and make the prolapsed frame annulus tighter. He was able to repair her valve using the robotic device that only required five small incisions on her sides, none bigger than 12 mm in diameter, as opposed to a more invasive, open procedure.
Pettet-Schubert's breast implants from previous cancer diagnoses and mastectomies added a potential complication to the procedure, but by placing the port incisions farther back on her sides, Balkhy was able to make the repair without removing the implants.
The repair was a success. After two nights she was discharged from the hospital, and after only three weeks Pettet-Schubert was able to return to her work in a hospital pharmacy department, cleaning homes and as a home health provider.
"I feel so much better," she said. "I didn't realize just how bad I felt before. I couldn't sleep through the night, and now I'm sleeping for eight hours and awaking feeling rested rather than tired and dragging. It's wonderful."
For the last nearly three decades she has come back to UChicago Medicine many times for check-ups and procedures; she has referred her daughter, mother and friends, all for a simple reason – she always felt heard and taken care of by the physicians.
"I've been so humiliated from how I've been treated by other doctors. But you can tell the doctors here care about their patients. They listen to everything you say and act on it. This was major for me," she said. "I've never been a textbook case, but Dr. Balkhy's team made it so comforting for me. They took my fear away."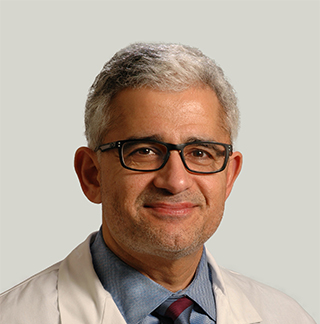 Husam Balkhy, MD
Husam H. Balkhy, MD, is a pioneer in the field of minimally invasive and robotic cardiac surgery. He specializes in the treatment of coronary artery disease, heart valve disorders, atrial fibrillation and other cardiac diseases, using robotic and less invasive techniques in order to reduce pain, disability, and recovery time.
Learn more about Dr. Balkhy
Learn more about heart and vascular disease