Skip to content
Courage and innovation: Celebrating heart transplantation gala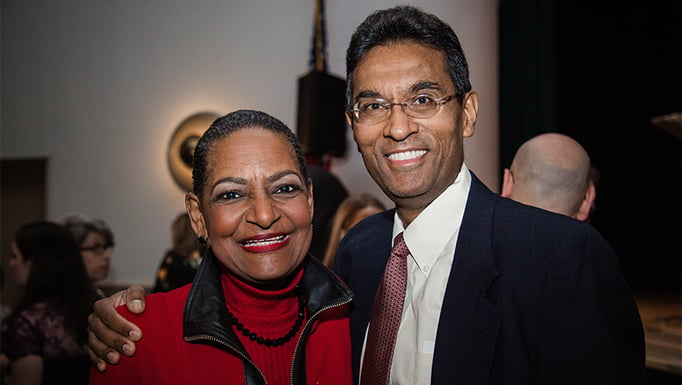 More than 400 people, including 120 heart transplant recipients, gathered at the Museum of Science and Industry to celebrate the 50th anniversary of the first successful human heart transplant.
The Feb. 24 Courage and Innovation: Celebrating Heart Transplantation gala was sponsored by the University of Chicago Medicine's Heart and Vascular Center and featured the history of the first heart transplant, a look at the innovative technology developed since, and an inspirational patient story.
Transplant patient Pam Morris-Walton was among those who attended and spoke briefly about her experience.
"When I ended up at the University of Chicago Medicine, Dr. Uriel looked me in my face and said, 'Do you want to live?' And that was it," said Morris-Walton. "Between him, Dr. Gene Kim and the most wonderful, best surgeon in the world, Dr. Val Jeevanandam, they saved my life. "
The event was hosted by Valluvan Jeevanandam, MD, chief of cardiac and thoracic surgery and director of Heart Transplant and Mechanical Assist Device programs; and Nir Uriel, MD, medical director of the Heart Failure, Heart Transplant and Mechanical Assist Device programs.
"It was great to see the people that we take care of, not in the hospital, to see them outside of the hospital, having fun and enjoying life," said Uriel. "That's what we want them to do. We want them to have fun and enjoy life."
Today, UChicago Medicine performs more than 32 heart transplants a year — the most in Illinois, according to data from the Scientific Registry of Transplant Recipients. The program is particularly known for its success with complicated, high-risk cases and multiple organ transplants.
The gala began with a patient appreciation video from physicians and nurses and was followed by a talk with Jeevanandam. The talk focused on a UChicago Medicine surgeon that developed the technique of joining severed ends of blood vessels together. The procedure won a Nobel Prize in 1912 and made it possible for organ transplantation to occur.
The presentation was followed by a patient story that centered on the importance of organ donation and its profound effects. The story was told by Kay Fricke, a heart transplant recipient who received her new organ from a young woman. Post-transplant, Fricke said something truly amazing happened – she developed a huge craving for chocolate milk, the donor's drink of choice.
Though emotions ran high, the evening concluded with food and refreshments, a raffle for patients, and access to some of the museums exhibits.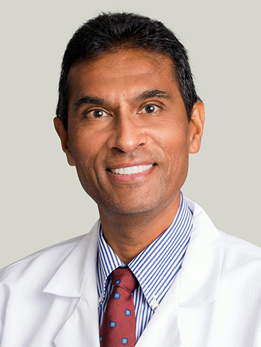 Valluvan Jeevanandam, MD
Dr. Valluvan Jeevanandam specializes in the surgical management of heart failure, and is an expert in high-risk cardiac surgery. He has performed more than 1,000 heart transplants — including the total artificial heart — and countless cardiac surgery procedures.
Learn more about Dr. Jeevanandam
Heart Transplant Gala
It was a night of emotion for the University of Chicago Medicine's caregivers, patients and donor families. The Heart Transplant Gala at the Museum of Science and Industry celebrated an important millstone in heart transplant history.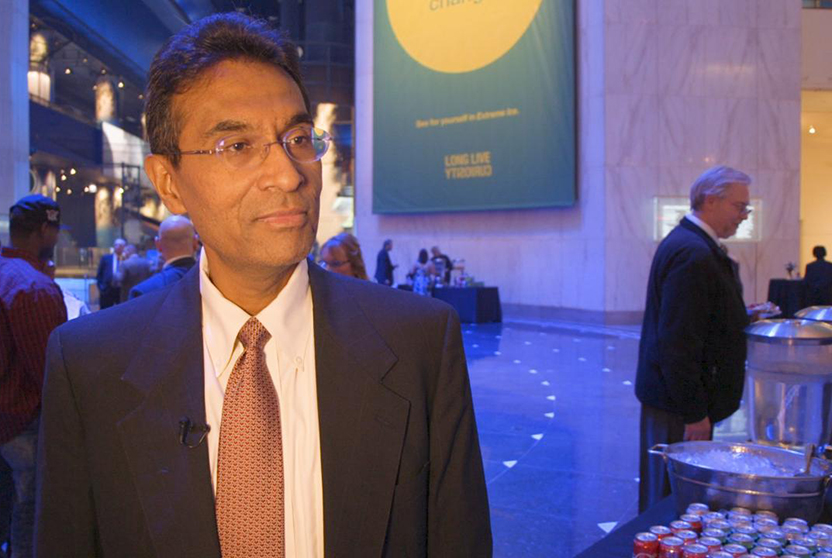 Learn more about heart and vascular disease