Skip to content
Growing up with congenital heart disease
Learning your baby has congenital heart disease can be devastating. At the University of Chicago Medicine, we recognize that this news is scary, but with the right care team and proper guidance, it can become easier to deal with over time.
Congenital heart disease is a problem with the structure of the heart that is present at birth. Of the estimated 2.4 million people living with congenital heart disease, about 1 million are under the age of 18. Luca Vricella, MD, director of pediatric cardiac surgery at UChicago Medicine Comer Children's Hospital, gives a brief overview of congenital heart disease and its effects throughout childhood and into adulthood.
Congenital heart disease isn't just one specific ailment; there are many different types of congenital anomalies. According to Vricella, these fall into two categories: an abnormality present at birth that needs cardiac attention right away, and an abnormality at birth that is not discovered until later in life. At this time, most significant congenital heart disease is diagnosed before birth.
"Over 90 percent of the time, what you see in the second trimester is what the heart will be like once the child is delivered," Vricella said. "This allows, in turn, for those children to be delivered in an environment where they are going to be cared for with anticipation. The family should meet a surgeon very early on. It's important they have the opportunity to understand what their child is going to have and what the expectations are."
Once a diagnosis is reached, the child will more than likely be a cardiac patient for life. However, the typical treatment algorithm for someone with congenital heart disease depends on what type of surgery is needed.
Patients can either have a correction — which is when the surgeon will restore the heart's normal function, physiology and anatomy, and it becomes basically a normal, repaired heart — or a palliation, which is when normality cannot be restored, so the physician works with what is present to achieve a stable cardiac performance that allows for the child to grow with a heart that cannot be fully repaired.
"Some children will need several stages of palliation — one operation right after birth, one operation in the next six months, and the third at two to three years of age," Vricella said. "Now those children will never have a 'normal' heart. But they will be able to live a normal life and go to school, run, have fun with friends and do most things that a child with a normal heart can do."
Due to the nature of some congenital heart disease, a child or adult may have to alter his or her lifestyle or diet, or take medication. Certain medications, such as blood thinners, can limit how much someone can work out.
For example, patients who have a mechanical valve and are on blood thinners need to be careful about what they eat or about participating in contact sports. "When you have an aortic aneurysm, for example, you cannot do isometric sports or lift," Vricella said. "So there are certain things that do change, but the reality is that most children with heart disease, once it's corrected, are able to enjoy their life to the fullest."
Many children diagnosed with congenital heart disease need a re-intervention at some point. According to Vricella, researchers and physicians are working diligently to limit the number of surgeries one patient must undergo.
"As you grow, some of the things that we utilize to repair your heart don't grow, like valves, conduits or tubes that we put in. When you're 10 years old and we replace something, that replacement is not going to be the right size when you are 25," Vricella said. "In the future, we want to have a lab at UChicago Medicine that is going to be focused on creating structures that are seeded with stem cells that grow with the patient. So, hopefully, we can limit the number of operations."
Congenital heart disease is a field with many opportunities for innovation. However, the beginning of the journey is what makes all the difference for the family.
"We have the opportunity to change a family's life. We are forging a new pathway, changing that course, and we have the opportunity to have an impact on someone's life and their family," Vricella said. "As I say to parents, I am always available to you, always. Call me, text me, email me, you know that I will be there for you."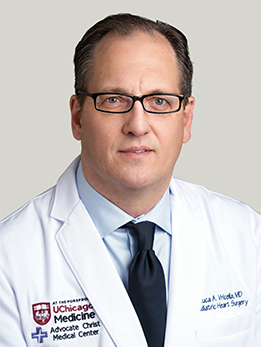 Luca Vricella, MD
Luca Vricella, MD, is a highly renowned pediatric cardiac surgeon who is passionate about helping children have fulfilling lives after being treated for heart disease.
Learn more about Dr. Vricella
Learn more about heart and vascular disease