Skip to content
Woman with schizophrenia dedicates her life to helping others with mental illness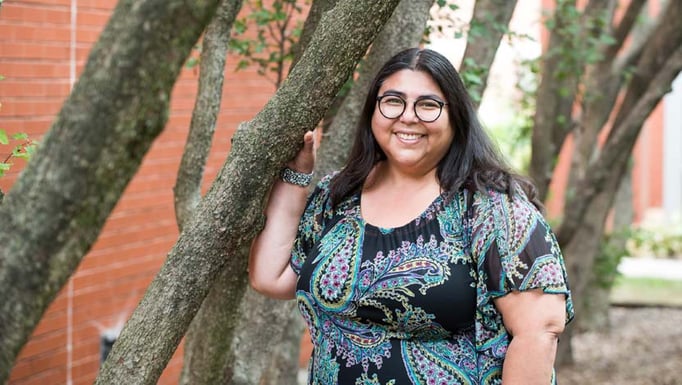 Lisa Guardiola
Since receiving a formal diagnosis of schizophrenia in 2003 at age 32, UChicago Medicine Ingalls Memorial patient Lisa Guardiola has made it her life's work to educate others about mental illness and break the stigmas surrounding mental health.
Guardiola said signs and symptoms of her mental illness, like reclusiveness and hearing voices, began in her teens.
"As an only child, my family thought I was just socially awkward and I would grow out of it," said Guardiola, who lives in Hazel Crest. "When I was in high school I used to talk to a voice while I was getting ready for school. When my mom asked who I was talking to, I felt ashamed and would say I was thinking out loud."
Guardiola left her family's house in the suburbs to move to Chicago when she was 19.
"It was when I was away from family when things started to spiral out of control," she said.
She worked as a hair dresser for several years before becoming a sales representative for a cable company in the city. Guardiola said she did well in the role at first, but her performance declined as "the voices started to set in."
Guardiola said she had delusions — a common symptom of schizophrenia — that she was being persecuted or followed, and that the government was "out to get" her by tapping her phone at work.
"I was having a hard time driving and listening to the radio because I thought the radio announcers were sending me signals through the songs that were playing. I thought TV reporters were talking to me specifically," Guardiola said. "If a squad car would go down my street, I thought they were surveilling me."
Around this time, a death in the family, the attacks on September 11, 2001 and an altercation at work that resulted in her being fired caused Guardiola's condition to worsen. After moving back home with family, Guardiola experienced suicidal ideation. Her mother, concerned about her behavior, petitioned a court for Guardiola's first of several hospitalizations.
During her 14-day hospital stay in late 2003, she was diagnosed with schizophrenia. Schizophrenia is a type of mental illness known as a psychosis, in which a person cannot tell what is real from what is imagined. At times, people with psychotic illnesses lose touch with reality.
We have the resources at Ingalls to treat her mental illness, and she has used those resources to their maximum potential.
According to the National Alliance on Mental Health (NAMI), one in five American adults experiences some form of mental illness in any given year. And across the population, one in every 20 adults is living with a serious mental health condition such as schizophrenia, bipolar disorder or long-term recurring major depression.
Psychiatrist Joseph Beck, MD*, Executive Medical Director for UChicago Medicine Ingalls Memorial behavioral health, said a diagnosis of schizophrenia is made if a person has two or more core symptoms, which can include hallucinations, delusions/paranoia or disorganized speech for at least one month. Other symptoms can include extreme disorganization and diminished emotional expression.
"Paranoia, like Lisa was experiencing, is a hallmark symptom of schizophrenia," Beck said. "People often have perceptual disturbances, like hearing something they shouldn't, that they then form theories around. Those explanations for symptoms can be unshakable over time."
Beck added that it is common for people with schizophrenia to have their first psychotic break in their late teens to early 20s. They can also occur during big life transitions such as moving away from family, like in Guardiola's experience.
After her diagnosis, Guardiola said she started to take medication, did her best to go to group therapy and started seeing a psychiatrist and social worker.
"But no one had mentioned recovery," Guardiola said. "I didn't have hope that I was ever going to be independent enough to leave my mother's house again. At the time I stigmatized myself, I didn't think I had much of a future."
Guardiola said she floundered for six months before finding a progressive psychiatrist who encouraged her to read about the disorder and said she would be able to move forward in life to live independently, get married and work again if she wanted. This gave Guardiola hope for the future.
Guardiola attended a day therapy program in 2004 and 2005 to learn socialization skills, medication management and other coping skills for schizophrenia. She was awarded a scholarship to go back to school and graduated in 2009 from South Suburban Community College with an associate's degree. In 2012, she graduated from Saint Xavier University with two bachelor's degrees in psychology and studio arts.
She was offered a position working in the same clinic where she had previously been a day program patient. She worked there for two years as a recovery support specialist, assisting in art therapy classes.
"That job was so rewarding to help my peers in their recovery process, using my own personal story," Guardiola said.
After another hospitalization, this time at UChicago Medicine Ingalls Memorial's inpatient behavioral health unit, she began seeing Beck for treatment. She also attended group therapy as part of the Intensive Outpatient Program.
"Lisa's education and insight about her disease and her adherence to treatment is what has kept her so stable," Beck said. "We have the resources at Ingalls to treat her mental illness, and she has used those resources to their maximum potential."
Beck added that recovery is often more achievable for patients like Guardiola who seek out and stick to a variety of treatment options.
Now, at age 50, Guardiola continues to take medication and manage her symptoms under Beck's care.
"I'm self-aware to ask for help. I know when I'm struggling, and I know when symptoms are overtaking me and it's not a problem to ask for help," Guardiola said. "Recovery has hills and valleys. The road is definitely not linear."
Guardiola now does community outreach and education for a mental health and counseling provider in Matteson. There, she teaches courses to the public about health literacy, mental first aid, suicide prevention, breaking mental health stigmas and more.
"If people are not educated about mental illness, I provide information about what that individual or their loved one is going through. I help them to know how to help their loved one in a crisis, and help those in need live productive lives," Guardiola said. "I really wanted to give back to the community that gave so much to me."
Guardiola said the stigma around mental health makes people fearful to reach out, but it's ok to ask for help.
"You wouldn't break your leg and not go to the hospital. It's the same with your brain. If your brain is not functioning properly, it's really important that you go and get the help you need," she said. "Recovery is possible, and there's hope in recovery. There's a large, supportive community out there waiting for you."
Guardiola also serves as vice president of a local affiliate of NAMI called NAMI South Suburbs of Chicago. Her mother, who joined a NAMI support group early in Guardiola's recovery, became deeply involved in the organization to support her daughter and is now the chapter's president.
"The support I received from my mom and the NAMI organization was a huge part of my recovery," Guardiola said.
Guardiola also writes a blog for a popular health website on living with schizophrenia, and sits on a consumer advisory board for the Schizophrenia and Psychosis Action Alliance.
She said she still has a dream to get an art therapy degree and is currently studying to become a Certified Recovery Support Specialist (CRSS).
Joseph Beck, MD, is a UChicago Medicine Medical Group provider. UChicago Medicine Medical Group is comprised of UCM Care Network Medical Group, Inc. and Primary Healthcare Associates, S.C. UChicago Medicine Medical Group providers are not employees or agents of The University of Chicago Medical Center, The University of Chicago or UChicago Medicine Ingalls Memorial.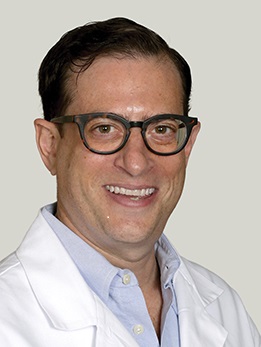 Joseph Beck, MD
Psychiatrist Joseph Beck, MD, is executive medical director for behavioral health at UChicago Medicine Ingalls Memorial Hospital.
See Dr. Beck's physician profile
Health and Wellness Related Articles