Skip to content
Group therapy at UChicago Medicine Ingalls Memorial led to marvelous breakthrough after decades of mental health struggles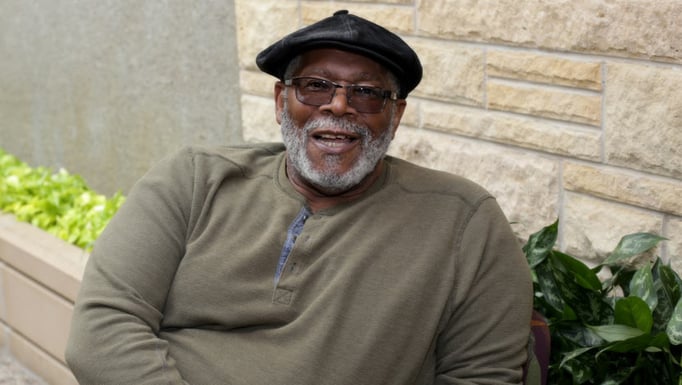 After waiting 30 years to get the mental health help he needed, a Calumet City resident now has his depression under control after behavioral health treatment at UChicago Medicine Ingalls Memorial.
It took 30 years for Calumet City resident Edward Murray, 73, to decide he needed a higher level of care for his lifelong struggle with depression. Recently, he sought treatment at the University of Chicago Medicine Ingalls Memorial Hospital and had a "marvelous breakthrough" in group therapy as part of the Intensive Outpatient Program, Murray said.
The retired Army veteran struggled with feelings of anger and sadness throughout his life. A mental health evaluation through his company's employee assistance program decades ago resulted in a depression diagnosis.
"I couldn't catch myself before I snapped on people," Murray said. "I thought I was a jolly person, but I could go off like a rocket. The evaluation still shocked me. At the time I thought I had a pretty good hold on my life."
Murray eventually found that his mental health challenges impacted his relationships, including difficulty with two marriages, raising two daughters and working as an electronic technician for U.S. Steel and, later, as an instrument repairman at Metropolitan Water Reclamation District of Greater Chicago.
Murray said he went into treatment with "such trepidation" and came out with permanent, grounding solutions to get his depression in check.
While Murray sometimes denied he had problem and also struggled to find the time for long-term treatment, his biggest hurdle was a stigma that as a Black man, getting help for mental health meant he was weak.
"I knew the folks I hung out with wouldn't take it well. I thought, 'Don't real men just shake it off? What would my homies think?' I wasn't going to admit that I needed professional help," Murray said.
Although he talked to a few counselors in times of crisis, Murray never completely followed through with getting the right level of treatment that would provide him with more long-lasting tools to manage his mental illness.
Years went by before his retirement in 2011. Soon after, he noticed his mental health deteriorating, and he began having intrusive, negative thoughts. His primary care physician referred him to psychiatrist Joseph Beck, MD, at UChicago Medicine Ingalls Memorial.
When he wasn't satisfied with medication or individual therapy to treat his depression symptoms, Murray considered a group therapy option. "I consider myself a reasonable person, so I thought, 'Why am I acting the fool?' I gritted my teeth and jumped into treatment."
Murray participated in the Intensive Outpatient Program (IOP), offered through UChicago Medicine Ingalls Memorial's Tinley Park location, virtually amid the pandemic last year. The program provides support and treatment through group therapies focused on counseling, education and medication management during sessions lasting three hours each, three days a week, for six to eight weeks.
"IOP is by far the hardest 'sell' for my patients. They have a fear of commitment, yet they get the greatest reward," said Beck, Executive Medical Director for behavioral health at UChicago Medicine Ingalls Memorial.
He described the program as a "mental health boot camp."
"The intensity allows a sort of immersion in universal elements of behavioral health hygiene: What skills do you need to keep yourself well?" Beck said. "Patients realize when they put themselves first, with only minor modifications to their lifestyles, they can use the skills they learn as a framework for the future."
Murray said he thinks of the tools he learned at group therapy, such as mindfulness and meditation, like wrenches and hammers in a tool box. "When I was working, I didn't use every tool in my tool bag every day, but I took comfort in knowing I had them."
Murray said he went into treatment with "such trepidation" and came out with permanent, grounding solutions to get his depression in check. He wished he had learned these techniques much earlier in life, and encourages others struggling with mental health to reach out for help.
"This is your chance to get out from under the weight of your thoughts, to get what you came for. This is your opportunity. I'm 73, and I lived a life hunting for this: peace of the mind, body and soul," Murray said.
Using the skills he learned in the program, Murray said he can be a better grandpa for his 8-year-old granddaughter, whom he has been caring for since she was 6 months old.
Joseph Beck, MD, is a UChicago Medicine Medical Group provider. UChicago Medicine Medical Group is comprised of UCM Care Network Medical Group, Inc. and Primary Healthcare Associates, S.C. UChicago Medicine Medical Group physicians are not employees or agents of The University of Chicago Medical Center, The University of Chicago or UChicago Medicine Ingalls Memorial.
Mental health and addiction care have never been more important. The pandemic has had a huge impact on people's mental health. UChicago Medicine Ingalls Memorial is committed to making sure all adolescents and adults can easily access the care they need. Our team of behavioral health experts offer a variety of inpatient and outpatient care services, including individual and group therapy and medication management. Additionally, many outpatient services are now offered as virtual visits.

Coming up on At the Forefront Live, we'll discuss addiction and substance abuse programs that are offered. And we'll speak with a patient who took that difficult first step to get help that changed his life. Our experts will join us to take your questions live. That's coming up right now on At the Forefront Live

[MUSIC PLAYING]

And we want to remind our viewers of today's program is not designed to take the place of a visit with your physician. We're going to start off with having each one of our guests introduce themselves and tell us a little bit about your roles here at UChicago. And Dr. Beck, I'm going to start with you, because you're at the desk with me well more than six feet away. We are social distancing, and we'll continue that for the foreseeable future. Tell us what you do here.

Sure, my name is Dr. Joseph Beck. I'm the executive medical director of behavioral health at angles hospital currently there in addition to my clinical work, I oversee inpatient and outpatient services.

Great. And Jennifer, let's go with you. You're actually over in the corner of the room, again, well more than six feet away. And tell us what you do here.

Sure. My name is Jennifer Bosley. I'm a clinical social worker. I oversee all of our outpatient programs at UChicago Ingalls at all of our locations.

So we're going to start off. And let's talk a little bit about the pandemic, because that's obviously a top of mind. And I referenced it in the brief intro that we did at the very first of the show. What kind of an impact have you seen with the pandemic? This has been a difficult thing for people, and has had a real impact on our population.

Sure. Well, from a mental health perspective, I think there's not a single person that hasn't experienced some very significant adjustment symptoms and isolation symptoms. Folks without any pre-morbid psychiatric conditions have often experienced their first with the coming of the pandemic. From a substance abuse perspective, alcohol, especially, is up. Some studies with quote, "alcohol consumption increase of about 12%, with the purchases being up about 30%." So opioids also-- we were in the middle of an opioid crisis prior to the onset of the pandemic. So we've got quite an issue there with access to care as well.

And Jennifer, one of the things that has been particularly kind of concerning, and I think I can do a lot of people is we've seen a lot of adolescents I think, that have turned to alcohol and other methods, I guess, to cope with this whole situation. Because I think a lot of times people kind of forget about kids and how this impacts them socially and otherwise. And there's a significant impact.

Yeah, absolutely. I think adolescents, and families have been affected by the pandemic in all areas of their life. Their lives have been turned upside down. They aren't going to school. They don't have their extracurricular activities. There are normal ways of coping in a healthy way and connecting with people was really turned upside down very suddenly for them. And so we've seen a lot of adolescents that are COVID in unhealthy ways-- alcohol, some substances, their mental health suffering 100%.

We have these Did you knows that will pop up on the bottom of the screen at various times throughout the program. And one was just up a moment ago. And it kind of I think, encapsulated a lot of what you're saying, that a lot of adolescents are really struggling right now. And I think that's important for parents to remember that and really, really listen to your kids. Because we're struggling with this, but I think they're really struggling with this situation. Dr. Beck, I don't know if you have any thoughts on that.

Absolutely, I think, often we don't listen to our loved ones enough when we're suffering. I think sometimes they can be the cue that you may be in need of treatment.

Yeah, a lot of times we suffer in silence. And we're lucky enough we get to talk with a patient. Eddie Murray is the guy's name, Edward Murray. And I chatted with him earlier this week. And it was really interesting to hear his take on just depression in general. He suffers from depression, which in his situation, kind of manifested itself in anger a lot of times.

And he really struggled with getting that help. And the first step in that was realizing that he needed that help. And John, if we can play that first soundbite, let's do that. And we'll chat about that afterwards.

You go through these stages and you wonder if you normal or not. But some things are not quite right. You notice something's not quite right. You not react in the way-- not just that you want to but, you the way you can fit in society much better. These outbursts that you have sometimes, it causes you to be in conflict with people around you.

It keeps a low burning flame going that you don't want. It's going to be low burn. It is a medium temperature all the time-- always ready to go and. So you're always looking-- what these mean I was always looking for a way to turn that fire down.

One thing that Mr Murray demonstrated over and over again, which is the self-awareness. He knew there was an issue. And he wanted to he wanted to deal with it.

And so he got help. And I don't know. When you deal with patients and you talk with patients, I guess that's probably one of the most important first steps.

Yeah, getting them to engage in care is really sometimes very difficult. I mean, there can be many hurdles, especially during COVID. But a lot of it is pre-COVID. It has to do with stigma and fear of treatment and what treatment means for their future. There's also very significant investment in time. People really need to put this first once it reaches a severe level. And sometimes they have trouble recognizing that.

Yeah, I do want to remind our viewers that you can submit questions for our behavioral health experts. Just go and type them in the comments section. We'll try to get to as many as possible during the program.

Let's talk about virtual treatment. Because during the COVID crisis, obviously, particularly at the onset of it, people weren't leaving their homes. And again, that caused its own set of issues. But we do allow virtual treatment options for patients. And I don't know if you can address that and just kind of talk us through how that works.

Sure, we do both individual and group treatments. So it's wonderful. It increases access. In certain cases, people's conditions sort of interact with COVID in a way that makes them more unlikely to come in for care-- anxiety conditions, OCD things of that sort. So the fact that we can utilize it is wonderful. The thing that can sometimes be a barrier is although access is up, when someone's in their home they have to maintain the same level of focus and attention, really on treatment, sometimes in chaotic environments.

Yeah, it's got to be kind of a-- and I've talked with several caregivers and physicians about virtual care during the past year. And some love it, because it's almost like making house calls. And they actually get to see a side of the patient that maybe they didn't see before. They get to see a little bit of, maybe a tiny snapshot of their home life. But there are some challenges, as you mentioned, just with privacy and things like that.

But it's interesting, though. I think it's great that you all offer that.

Yeah, I think it's going to stay, to an extent. I mean there's certainly many times where it's the most appropriate avenue.

Yeah, we were talking before the program. And I don't want to get into details, because I don't know the details. But the governor had made an announcement in an effort to continue virtual care, or the options, or have the availability for virtual care for mental health patients. And I think that's so important.

It will allow just access for telehealth to continue beyond even what we're expecting, I think. And for patients to be able to have access to that type of care is just invaluable. And we're able to reach patients from a distance standpoint that we may not have been able to reach before. And there are a lot of patients that actually really love virtual.

A lot of the kids that we see and young adults, they're used to Zooming and having interactions with people virtually. And so they've done incredibly well. It's been really, really wonderful to see.

Yeah, I'd be shocked if this isn't here to stay. Because it just seems like people have embraced it, which is great. One of the things that's interesting-- and is we talk about folks trying to get help, stigma oftentimes, the stigma that's attached to mental health issues is a really difficult thing for I think, a lot of folks to overcome. And Mr Murray expressed that as well.

That's another sound bite, John. I think we should play a sound bite, I believe, number 4. Let's go ahead and roll that one. And then let's talk a little bit about that stigma and how to overcome that.

Mention it now-- people walk around in your neighborhoods back in the 70s and 60 70, 80s, people with psychological problems were walking around in the neighborhoods and weren't getting the treatment they needed. And you saw this and the ridicule that they got. So when you start talking about going to see some psychiatrist and as a man, let alone a Black man, that you're supposed to be this strong, silent-type dude. You're supposed to be able to handle all that comes across your life time, the things that you have to deal with-- you're supposed to be able to them, automatically.

Or from the life that you came through-- the and abuses that you had coming up in the neighborhoods and stuff. So the young man-- you weren't going to reveal this weakness. God, weakness!

That's just a sad sound bite right there. And he got help. So that's great. But it's sad that there is that stigma, that there is that challenge that people have to overcome to get help. And I don't know if you want to care to comment about that Dr. Beck.

Sure, it's often seen as a sort of moral failing, especially when it comes to addiction. But really, the science that this is a chronic medical condition like hypertension or diabetes, is there at this point, really for all mental health conditions. So we, as treaters, certainly view it that way. And once people enter treatment, we can sort of normalize that for them and level set that. But it's when they're on that bridge, knowing they need treatment, and getting in where we have the most difficulty.

And Jennifer, if you break your leg, you're going to go and see a physician or someone. And I really liken this to-- it's medical care. I mean people need to realize that.

Absolutely, we talk about that with patients a lot when we're engaging them and at the initial stages of therapy and treatment. I think one of the things that's really powerful about the treatment that we provide is the group dynamic. And when patients are able to kind of overcome those initial fears of coming into a group and being vulnerable, they really do find support from not only the therapists, but also from the different group members that are engaging with them. So I think that's one of the most powerful pieces of the healing that we're able to do in our care.

So glad you bring that up, because it's one of the things that Mr Murray actually commented to me. It's not one of the sound bites we're going to play. But he talked about his group therapy and how valuable that was to him to be in a room with other people that had a lot of the same issues that he was dealing with. And he said it was just so powerful and so helpful to him, and made such a difference. So I'm glad you brought that up. Can you tell us about the types of mental health conditions that you do treat, Jennifer?

Sure. We treat a very wide variety of mental health conditions, depression, anxiety. A lot of patients that we see have been dealing with trauma. We also treat thought disorders, schizophrenia, schizoaffective, disorder, bipolar. And then Dr. Beck, I don't know if you want to talk about the different addiction.

Yeah, sure. We treat all chemical addictions. We have a full spectrum of care. Some chemical addictions require inpatient-level detoxification prior to really getting therapeutic treatment. So we do provide that. We provide residential treatment, sometimes out to a month, and intensive outpatient sometimes, up to four months for those conditions.

So we do have a question from a viewer. And this is a fantastic question from Kelly. Thank you Kelly. What can a person do when a family member needs treatment, whether for addiction or mental health but won't get help. And that kind of goes back to what we were talking about just a moment ago. It's really different with that stigma attached. A lot of people won't get help, but you want to help them somehow. And Dr. Beck, let's start with you on that one. I'll just throw this open to both of you.

Yeah, well I mean, the first thing I do have to say that if the level of help required is extremely acute, if someone talking about suicide or homicide or has come to the point where their basic self care is not happening on a day-to-day basis, that's time to bring your loved one to an emergency room to get an immediate assessment, and provide your observations to a trained clinician at that point. Other than that, really motivation, finding out what's in your area, and helping to facilitate getting that initial appointment is really the main goal.

And it just doesn't happen overnight. It happens in steps, often lovingly. Pointing out some of the deficits that you've seen can sometimes be of value. Confrontation is not a useful style, really.

Yeah, I can imagine that would be difficult. Jennifer, I don't know if you wanted to jump in on this one.

What I was going to just add to that is that also, if your loved one is really struggling, sometimes even just seeking support for yourself-- sometimes your loved one, your partner, your child, even a friend, they are not there yet. They don't want to start seeking treatment. They don't want to start making changes. But if it's having an impact on you and your functioning and your worries, and it's really impacting your own life, sometimes just starting treatment for yourself can model for your loved one, and also help you to find ways of kind of getting through to them and getting them to come along with you.

What a wonderful point. You have to watch out for yourself as well. And it's critical that you take care of yourself as you're trying to give help to your loved one. Another couple of questions from viewers-- these are fantastic questions. This is from Daniel. Are depression and anxiety curable? And that's interesting so-

Yeah, so curable is a term we don't use. I think it should be looked at like most chronic medical disease. It's a management model. And you can certainly live a life with very reduced impact from this illness. If you have appropriate care. So manageable-- yes, curable-- no.

Perfect. And actually, this kind of leads me to maybe the next soundbite, John. Let's play number three, which Mr Murray talks about experiences with treatment. Because it really, really was life changing for him.

Not only were they showing me where my thing, my points. They were showing me tools to handle this. Really, when I start having negative thoughts, what do I do? No, don't write them down. Because then we, of course, don't do that. Start distracting yourself. These are thought distortions.

You need to move away from these. Get this out your head. Find some other things to think about. Get away from this. If you started getting to the anxiety points, then you need to start using something else.

They showed me grounding techniques. They started showing me meditation. I'm sitting here-- wow. It started clicking. That's what happened. It started clicking. And I was so excited about it.

It's great, because he was talking about some of the light bulb moments that he experienced. And to your point Dr, it's a chronic condition, But he has learned coping mechanisms that he uses. And literally, it's life-changing for him. So it's really exciting to see that.

Absolutely, yeah. So more questions for viewers-- and I want to get to as many of these as possible. So this is from Jamie, do UChicago medicines addiction programs include food addiction? I hadn't thought of that one.

Yeah, so the food internet gambling to an extent-- those are generally called process addictions. So at the current time, we do not have residential or inpatient level treatment for process addictions. At the university, there are centers of excellence for eating disorder and obsessive compulsive symptoms including gambling. But those are not in the Ingalls UCM network.

All right, so this is another one from Daniel. And either one of you can jump in on this one-- wondering if depression and anxiety is actually categorized as a disease. And second part of the question-- is it hereditary? Jennifer, you want to jump on that one? Or do you want to?

OK, so both the term depression and anxiety are both symptoms and diagnosis. OK, so people that are depressed, majorly depressed, can be anxious. People with generalized anxiety disorder can have a depressed mood. So what it really is about is it's about length and severity of symptoms when you're looking at diagnostics. So the answer is that they are their own diagnoses, and they have very similar treatment techniques.

The second part of the question was, is this hereditary.

There is definitely a heritable component to both of those conditions.

Interesting. So if you do have a family member that suffers, you might want to keep that in mind?

Absolutely.

So Jennifer, what ages of patients do you treat?

We treat patients ages 12 and older. So, can you walk us through what do 12-year-olds see, versus what a 54-year-old sees? I would imagine there are probably some similarities, but probably some pretty significant differences as well.

I think a lot of what we see in the differences with our adolescent patients versus our young adults, our adults and even older adults, is their needs are often different. And their ability to process what is happening in their lives is very different for an adolescent, versus an adult's and a more mature adult. Some of our adolescents depending-- there's also a huge difference between a 12-year-old and an 18-year-old.

As I mentioned earlier, in terms of the group work that we do and the group process, again, having a 12-year-old and a 14-year-old working together and sharing some experiences and sharing their strategies for coping, even if it's not the same problem, is incredibly powerful. So the treatment can look a little bit different with adolescents. We do a lot of family work. We engage parents, guardians in the work as well.

With adults, we will oftentimes bring in family, significant others. But with the adolescents in particular, it's very important that we engage their families.

So where can people receive care? I know we offer it down in your neck of the woods.

Our programs are-- we have programming on our main campus at UChicago Ingalls. We also offer services at our family care centers in Flossmoor, Tinley Park, and Calumet City.

And they're all pretty conveniently located for folks on the south side and well worth the trip if you're not on the south side, or if you're in northwest Indiana as well.

Absolutely. We also offer programming in the morning, in the afternoon, and in the evening. Our in-person, our virtual services also, they both kind of span the scope of the day. So most patients find that they're able to find the time to engage. If parents or if individuals have other obligations, employment obligations and things like that, we can also to work with their employer to find flexibility to really meet their needs.

Can you kind of go through the different forms of treatment that are offered? And John, I know we also have the phone number. I know you put it up before, but we can maybe put that up again for people that want assessments. But I know there's inpatient treatment, outpatient treatment. How does that differ, and what can people expect?

Sure, absolutely. So our inpatient program is our most intensive, structured program. Patients can typically plan to be with us for five to seven days. It is a 24-hour program, where there's medical monitoring and management with 24-hour staff in the hospital. The intensive outpatient level of treatment is sort of an in-between type of treatment. So a lot of times patients who are being discharged from our inpatient unit are patients that are trying to avoid inpatient hospitalization.

The IOP is a really, really great intermediate level of care. Patients engage with us for about three hours a day, three days a week, and as I mentioned, in a morning, afternoon, evening. And then after IOP, we always set up an aftercare plan for our patients. So that might include a continuing group with us once a week. It might include an individual therapist weekly, following their IOP treatment. If they're prescribed medication, we connect them with a prescriber or a psychiatrist or a psychiatric nurse practitioner.

So we really, really try to wrap around and provide the whole continuum of care for patients. So I think as we were talking about, depression and anxiety and is it curable, that aftercare plan and that full continuum is so important for patients to follow through. And you can't expect to do-- whether it's an inpatient level of treatment or some weeks in IOP with us, it requires ongoing attention and care, just like other chronic illnesses.

Without a doubt-- and Dr. Beck, from addiction counseling, from that standpoint, is it similar as far as-

It's similar, yeah. Again, we have the medically monitored detoxification. We have a residential level of care, where patients will get very significant amounts of programming through the entire day, and be residing with us-- and then also, the intensive outpatient level.

Here's another question that we got that I think is pretty interesting. What's the difference between one of our addiction programs versus something like AA. And how do I know what's best for me?

Sure, so AA is a very effective program. It's a fellowship-based, peer-led program. It's been around for a long time. And studies bear out that it helps people get and stay sober. The differences are there's not a medically-monitored piece to AA. So I do not suggest people that are physically dependent on substances start solely in AA, and that they do seek professional-lead treatment.

And also we do a professional-led treatment. Therefore there's a structured program with clinically licensed folk, who are trained in facilitating group counseling.

We're about out of time, but I do have one more viewer question that I want to get to. And then I have one more sound bite from Mr Murray that I think we need to play. Let's do the viewer question first. This is from Larissa. And it is-- does your program have a public health department for volunteers who are credentialed to help? And I don't know who wants to take that one.

So we do a lot of training in our programs. We have interns from different master's level counseling and social work programs. I think if there's someone that's interested in volunteering at the hospital, there are volunteer offices. And that's typically where I would suggest that they start.

So our final sound bite-- and then I'll let you each have a last word. But the final sound bite from Mr Murray is just I asked him what he would tell others who are maybe going through a similar situation.

That they're going to have to have courage in this-- because one thing I found out, that courage and heroism are things that you have to find in yourself. Because you've got to have to buck the trend to get what you need. Get what you came for. You came into this group, whether you were thrown into this group or you were walked into this group. You're going to have to swallow your pride. You're going to have to swallow all the bitterness, all the hurt.

That's the hardest thing to do is to just try to get rid of those feelings. Because one thing I found out that the feelings are really not you. They're not you. You are you. And you can be whatever you want to be. And only you can get that-- you have to get this stuff in you to move all that other stuff out of you, to get your feelings that is tending to run over you.

And well put-- Jennifer, do you have any final thoughts for us?

No, I think just engaging with our services is incredibly easy. We offer initial assessments that are of no charge to patients, so that we can identify if there's ways that we can help.

Dr. Beck?

Yeah, I think Edward got it pretty good there. I would say facing treatment is difficult, but it's necessary.

Fantastic. Well, we are out of time. Special thanks to our physicians for being with us today-- and Jennifer, you guys were fantastic. And a big thank you to those of you who watched and participated in today's program. Please remember to check out our Facebook page for our scheduled programs that are coming up in the future. And to make an appointment, you can go online at UChicagoMedicine.org. Or give us a call at 888-824-0200. Thanks again for being with us today. And I hope everyone has a great weekend.

[MUSIC PLAYING]
Read more about psychiatry and psychology