Skip to content
Alcohol use disorder: mind, body, and social care to reach sobriety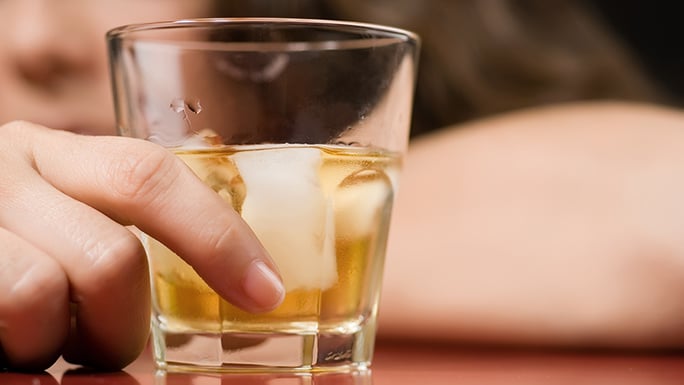 Drinking alcohol is socially acceptable, easily accessible and somewhat affordable. Wine, beer and spirits are heavily advertised to imply benefits that could make someone want to drink to be the life of the party, attract a companion or just enjoy an event. When alcohol is abused, however, it may result in serious mental and physical health consequences. UChicago Medicine Ingalls Memorial's Behavioral Health Department offers help for those who struggle with their alcohol use.
Addiction recovery at Ingalls Memorial features a holistic approach, meaning mental, physical and environmental factors are considered in every treatment plan. This includes psychiatric and medical detox assistance, therapeutic counseling, nursing, peer support and coping skills to control one's behavior and improve quality of life.
What is an alcohol use disorder?
A person with an alcohol use disorder uses alcohol in a repetitive, compulsive pattern, regardless of consequences. The consequences can include disruption of work, relationships and even loss of life.
Since the 1930s, alcohol use disorder has been classified as an illness, an addiction with genetic underpinnings that chemically alters the brain and can cause life-altering consequences. An alcohol use disorder can range from mild to severe, but even a mild form of the disorder can escalate and lead to serious problems. Early and ongoing treatment is vital to recovery.
People with alcohol use disorders are typically unable to stop drinking by themselves, and even functional drinkers (those who hold a job, raise a family and participate in a seemingly normal lifestyle while abusing alcohol) at some point experience relationship issues, legal problems, financial and job failures and a host of physical ailments, either directly or indirectly related to alcohol abuse.
The many stressors of 2020, like pandemic isolation, political uncertainties, and social unrest, in addition to typical work and family struggles, have intensified the stress that problem drinkers already experience. Over the last year, clinicians across the country have reported an increase in new mental health and alcohol use disorder cases related to the pandemic.
Experts at the World Health Organization (WHO), the Centers for Disease Control and Prevention (CDC) and the National Institute on Alcohol Abuse and Alcoholism have reported that alcohol is a leading cause of or contributor to death in the United States. Excessive alcohol consumption can affect all major organs and cause brain damage, confusion, kidney failure, high blood pressure, cancers, seizures, blackouts, tremors and more. Over-consuming alcohol can also cause a person to be impulsive and make poor decisions, such as getting behind the wheel of a car, which can have life-threatening consequences.
The recovery journey
Ingalls Memorial's Behavioral Health programs recognize that alcohol use disorder is a progressive disease. For decades, the program has evolved to offer a holistic approach with medical and other clinical and therapeutic professionals to help those seeking recovery from addiction and a host of other mental health conditions.
As a psychiatrist and addictions specialist, I join my colleagues in offering this whole body, mind, and environment treatment approach. We address biologic-psycho-social elements of alcohol use during treatment. We are here to facilitate change in behavior and reduce harm to a person's physical and mental health and lifestyle.
UChicago Medicine Ingalls Memorial experts are committed to providing clinical care, education and research in the field of addiction prevention, treatment and recovery to design effective rehabilitative care that is personalized to meet the needs of each patient and co-treated with any existing causative mental health issues.
Core treatment includes a range of program options including medically monitored intensive and partial inpatient care, medically managed inpatient detox, day treatment and extended outpatient rehabilitation to help patients achieve and maintain sobriety. Care plans are designed for individuals who are at least 18 years old or have completed high school through to older adults.
Even during the pandemic, most of UChicago Medicine Ingalls Memorial's behavioral health programs were considered essential to recovery and remained open with both staff and patients strictly following COVID-19 safety guidelines like social distancing, masking, and hand hygiene.
Virtual visits and counseling via telehealth opened another avenue for patients to receive the care they need. Despite the success of telehealth, patients recovering from addiction appreciate the ability to share coping techniques through socially distant in-person, small group sessions on how to manage stress, identify high risk behaviors and learn how to lower the risk of relapse.
Ingalls Memorial has a trained mental health professional available 24 hours a day, seven days a week, to offer a no cost, confidential assessment and referral for behavioral health care. Make an appointment by calling 708-915-6411 or learn more about Ingalls Memorial's mental health care.
*Joseph Beck, MD, is a UChicago Medicine Medical Group physician. UChicago Medicine Medical Group physicians, physician assistants and nurse practitioners are not employees or agents of the University of Chicago Medical Center, UChicago Medicine, UChicago Medicine Ingalls Memorial or the University of Chicago.
Sign Up for Our Health & Wellness Newsletter
Our health and science e-newsletter features articles on trending health topics and insight from UChicago Medicine experts.
Subscribe Now
Health and Wellness Related Articles