Skip to content
Dr. Anita Blanchard and Dr. Alanna Burnett Stinson: 'We deserve greatness on the South Side.'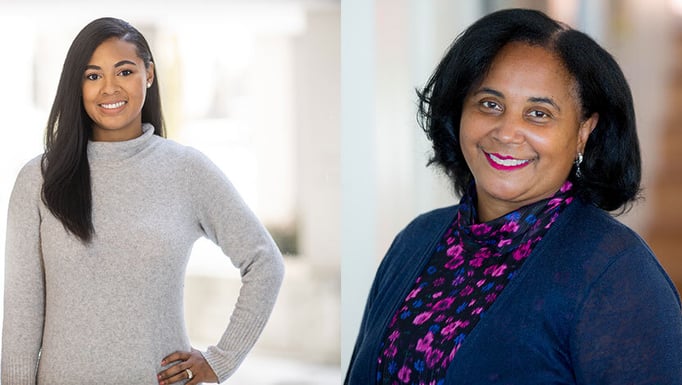 Community Voices interview with Dr. Anita Blanchard, Professor of Obstetrics and Gynecology, and Associate Dean for Graduate Medical Education, and Dr. Alanna Burnett Stinson, a resident physician with a strong interest in health disparities, who talk about an innovative way to address health inequity.
Q: Tell me about Community Champions, how it came to be, and its pilot project on COVID-19.
Dr. Blanchard: I grew up on the South Side of Chicago. I had an impression of the University of Chicago as an impenetrable ivory tower. I never dreamed that I would actually work here. I've always wanted to make it a comfortable place, not so imposing, where people feel like it's an inviting place to get preventive care.
We have about 1,000 medical residents and fellows—about 330 of them graduate every year, about 55 stay in Chicago and go directly into practice. But only about eight stay and work on the South Side. When you think about disparities, one of the social determinants of health is having access to healthcare providers. The concentration of providers here is sparse when you compare it to Streeterville and other North Side communities, and it's reflected in differences in health outcomes and life expectancy.
Our Graduate Medical Education team came up with the idea for Community Champions as a way to connect medical residents and fellows with the amazing work already happening with the medical center's Urban Health Initiative. We hope that by getting medical residents involved in the community, they'll commit to staying. It's a plus for the community because having them go out and make connections builds better trust and transparency and helps address things like COVID-19 vaccine hesitancy.
We have a diverse group of doctors, and they're all excellent. And that's what our community needs and deserves: Excellence. I'm really passionate about Community Champions because we deserve greatness on the South Side of Chicago, and we're working to make it happen in healthcare.
Q: Dr. Stinson, you're participating in the program. What has your experience been like?
Dr. Stinson: Similar to Dr. Blanchard, my grandmother and father are from the South Side. University of Chicago was my number one pick for a dual residency in internal medicine and pediatrics, and what drove me toward the University was the House Staff Diversity Committee. Now I'm its vice president. We do community outreach and a lot of volunteering.
When the COVID-19 pandemic first started and we saw that African Americans were having higher rates of COVID-19—with higher rates of mortality and morbidity—my friends and I realized that we needed to get the word out and help our community.
We created a Facebook Live discussion, which was widely viewed and shared. We gave advice on how to disinfect your home when there aren't the usual supplies at the store. We also created a resource page for patients about where to get tested. The Community Champions program is an incredible opportunity because it provides dedicated time to continue working with the community.
Q: How can the Community Champions program help build trust?
Dr. Blanchard: We've built a curriculum that's different from other training programs because it includes a history of Chicago and how mistrust and health disparities developed historically. That's important to know.
Residents and fellows have their MD degree so they are trained physicians. They are building trust every day in the way they provide information in-person and virtually. They also can help train and partner with community workers who are giving a similar message.
Dr. Stinson: What we've learned helps us understand where the mistrust comes from.
The program includes a diverse group of medical residents. We have people from all walks of life, cultural backgrounds and ethnicities, and they see how Black and Brown residents interact with the community so that they can better deliver messages about COVID-19.
We share our experience taking care of sick people with COVID and talk about the importance of the vaccine. We all have received both doses so we can talk about it and answer questions about it from our personal experience.
In my clinic I always ask patients: How do you feel about the COVID-19 vaccine? I'm trying to collect data and understand if they are okay with it. If not, why not? It's interesting to hear people say why they're not getting the vaccine. It's helping me to deliver my message better. Some people don't know that there were clinical trials. A lot of them are very surprised when they hear the facts.
Q: What's the best way to address equity in vaccine distribution?
Dr. Blanchard: The beauty of partnering with the Urban Health Initiative is that UHI is directly involved in vaccine distribution planning, so that our residents and fellows work within an infrastructure that already exists to address those concerns.
The pandemic is telling the same story that we have seen over and over again with healthcare disparities. But it's made the problem more glaring. The solution is to attack it on every level—governmental, institutional and community. Bringing everybody to the table will help. It's a complicated problem involving health literacy, vaccine distribution and trust. You can't address inequity by looking at just one thing.
Dr. Stinson: I agree that this is a multifactorial issue, and some of it has been surprising. Research has shown that a lot of our patients have a life expectancy that isn't necessarily as long as people on the North Side. For example, if you're vaccinating people who are 75 and older first, and our community members aren't living that long, then maybe we're not going to be vaccinating equitably.
Dr. Blanchard: Some institutions are using their electronic medical record system to send out notices. But if you don't have good internet access or never signed up for an online electronic health record account, that can be a barrier. I had always thought that my South Side patients didn't want to participate in telemedicine visits because they preferred in-person or phone visits. But I've learned differently. My mom's internet service does not have bandwidth to allow virtual visits. There are inadequate pockets of service throughout areas of the South Side. That's why having community leaders at the table when we're thinking about vaccine hesitancy and distribution is so important. They know the obstacles.
Q: What other health issues do you hope to address?
Dr. Stinson: I'm hopeful that I'll understand more about what the community wants from their physicians and what more the University of Chicago Medicine can do for them. As physicians, we have an idea of what the community wants, which might be very different from what the community actually needs. I'm very eager to learn.
Q: What's next for Community Champions?
Dr. Blanchard: We want to build lasting relationships with the community that are not just about treating disease, but that lead to a healthier community. By focusing on preventive care and health information, we want to support the community in ways that go beyond a hospital's traditional role, so that we can tackle social determinants of health, which are vast and complex, and require continuous effort.
This interview originally appeared in the Chicago Tribune's Community Voices column. It was conducted by independent health writer Deborah Shelton on behalf of UChicago Medicine. Neither the Tribune newsroom nor the Editorial Board was involved in producing the content.
Community Outreach and Health Equity Articles