Skip to content
Addressing community needs in the context of coronavirus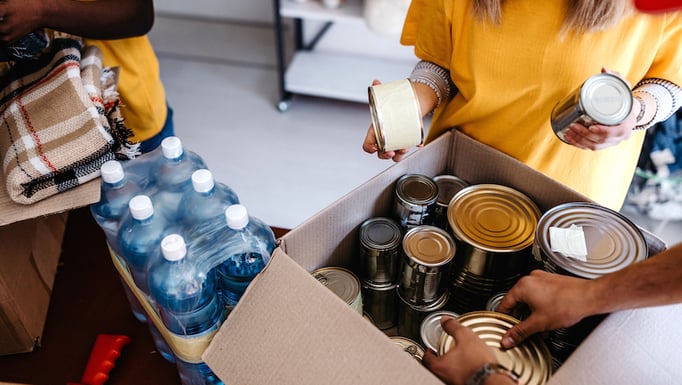 During the public health crisis caused by COVID-19, local organizations that serve patients with cancer were faced with unanticipated challenges amid an extended shelter-in-place lockdown. In-person community events had to be cancelled or moved to a virtual setting, and normal activities were disrupted, leaving some underserved populations even more vulnerable than usual.
To address the crisis, the UChicago Medicine Comprehensive Cancer Center Office of Community Engagement and Cancer Health Equity (OCECHE) sprang into action. Their first order of business was to call an emergency meeting with members of its Community Advisory Board to address concerns and answer questions related to the COVID-19 crisis. Many participants are community partners—including leaders of Federally Qualified Health Centers (FQHCs), nonprofit advocacy organizations, support groups, and religious and cultural organizations.
The community leaders shared feedback from their constituents and asked questions regarding coronavirus protocols and cancer treatment at UChicago Medicine. In response to the many questions from these community partners, OCECHE developed community-facing website content to disseminate both general and cancer-specific information on COVID-19 resources.
"We needed to find new and creative ways to continue our mission of reducing health disparities in the community, which have been greatly exacerbated by the COVID-19 crisis," said Karen Kim, MD, vice provost for research and associate director for community outreach and engagement for the Comprehensive Cancer Center. "With our strong ties to community organizations, we can identify what residents need to stay safe and healthy so that we can help connect them with the appropriate resources and support during this extremely challenging time."
In addition, cancer centers across the community came together to share knowledge and foster solution-oriented discussion around the issues brought up by coronavirus. The Chicago Academic Cancer Center Community Engagement Collaborative, spearheaded by UChicago Medicine in partnership with Northwestern and University of Illinois-Chicago, hosted a four-part COVID-19 webinar series addressing different community-related issues.
The webinar topics included "Cancer Care During COVID-19"; "COVID-19, Cancer, and Policy"; "Anxiety with Cancer During a Pandemic"; and "COVID-19 Cancer Survivorship & Care." OCECHE's faculty director, Nita Lee, MD, MPH, assistant professor of obstetrics and gynecology and faculty director for OCECHE, joined physician experts from partner universities and the American Cancer Society Cancer Action Network as presenters for this series.
Lee also presented to cancer survivors in early June in honor of National Cancer Survivors Day. The virtual event was put on by community-based organization Peer Plus, with guidance from OCECHE education outreach specialist Alia Poulos, MA, MPP. The theme of the informational session was "What's Next? Testimony, Challenge and Hope: Cancer Survivors and COVID-19."
"So many people are seeking out reliable information to help them come to terms with COVID-19's impact on their lives," Lee said. "No one has all the answers, but we can serve as a trusted resource based on what we're learning about the virus through firsthand experience."
In addition to providing easily accessible information to help local communities, OCECHE partnered with other UChicago and community organizations to address the community's critical, day-to-day needs.
Safety Net for Low-Income Households
The first and most pressing issue during the crisis has been to ensure residents have their basic human needs met. Numerous studies demonstrate that struggling with food insecurity, or lack of easy access to nutritious foods, can make recovering from health problems even more challenging for patients. This was a huge barrier for some UChicago Medicine patients and families touched by cancer, who would ordinarily obtain food from the Feed1st food pantry located at UChicago Medicine.
To make things easier, food pantry leader Ann Jackson, DPT, MPH, collaborated with oncology care teams to identify patients experiencing food insecurity, including pediatric and adult patients and their families. Jackson delivered food packages with shelf-stable items to their doors. Families also received non-perishable items such as fresh vegetables, fruits and meats.
"With this support, the patients have been able to shelter in place without fear of making themselves or other vulnerable family members ill," Jackson said.
Another immediate need is protection from the virus, which is especially important for people who are immunocompromised, such as cancer patients who have gone through treatment. Stopping the spread of the virus requires washing hands frequently, wearing masks and using hand sanitizer and other cleaning disinfectants that kill germs and viruses. The OCECHE and local organization Sisters Working It Out coordinated with Bronzeville Pharmacy to procure medical-grade hand sanitizer. Members of the Comprehensive Cancer Center's cancer education program—M. Eileen Dolan, PhD, associate director for education, and Michelle Domecki, education manager—donated disposable and reusable face masks of various sizes for several UChicago Medicine cancer patients and their family members.
Bridging the Digital Divide
With the abrupt shift to all-virtual engagement, many community organizations and community members have had to make fast adjustments to move their programs online. To help ease this transition, the OCECHE compiled a digital resource guide, which includes step-by-step instructions for the video-conferencing tool Zoom, and a list of free or low-cost options for community organizations to remain connected with their constituents, such as a texting service that allows for internet-free communication.
Additionally, OCECHE Director Gina Curry, MPH, MBA, and partners within the Comprehensive Cancer Center administrative team (Megan Mekinda, PhD, assistant director for cancer education, and Niall Connellan, system administrator) identified households without adequate devices and delivered loaner laptops to help bridge "the digital divide."
"Not all people have the same access to internet service and technology to stay connected during the lockdown," Curry said. "We can't ignore the fact that, at a time when most interactions take place in a virtual environment, some people—especially low-income seniors—may be missing out on vital information."
Getting the Message Out
Although face-to-face meetings are still the best way to communicate, to protect the community, the OCECHE has embraced an all-digital approach to community engagement and health education.
For example, community health worker trainings are an integral part of the OCECHE community cancer education offerings. In response to the COVID-19 crisis, OCECHE partnered with Comprehensive Cancer Center member Marcia Tan, PhD, assistant professor of public health sciences, and City Colleges of Chicago to deliver a virtual tobacco cessation module for the 20-hour Community Health Worker (CHW) certificate program at Malcolm X College on the Near West Side. Tan discussed her research and strategies to help patients quit tobacco. One-hundred percent of participants reported knowledge gains and are interested in more virtual education opportunities with the Comprehensive Cancer Center. Additional modules are being planned for the CHW certificate programs at Malcolm X and Olive Harvey College.
OCECHE is the recipient of a National Cancer Institute Community Health Educators (CHE) grant, which allows the department to host in-person education sessions on colorectal cancer screening, HPV vaccine for cancer prevention and cancer clinical trials. With the COVID-19 crisis preventing live education, OCECHE has moved its entire CHE program to virtual platforms to remain engaged with the community and provide critical cancer education.
During summer 2020, OCECHE is coordinating a COVID-19 forum specifically for community-based organizations. This online event will provide space for community-based organizations to connect and share ideas, advice and concerns about the future of their work during the COVID-19 pandemic. It will include a panel of seasoned nonprofit/community-based organization leaders from OCECHE's Community Advisory Board, breakout groups for similar organizations to discuss issues specific to their field, and Q&A from participants.
The forum is part of an overarching goal of OCECHE to gather insight from community-based organizations on how COVID-19 has impacted their service delivery and identify areas for Comprehensive Cancer Center support of our community partners. A longitudinal survey for community-based organizations will be administered this summer to assess the immediate and long-term effects of COVID-19.
The OCECHE also started a series of faculty-led webinar presentations and discussions for cancer patients, survivors and caregivers, offering suggestions for staying safe and managing the additional stress of dealing with cancer during a pandemic. The topics included breast cancer, presented by Olufunmilayo Olopade, MD, and Sheila Rajagopal, MD; gynecologic cancers, presented by Lee; colorectal cancer, presented by Blase Polite, MD; and lung cancer, presented by Jessica Donington, MD.
These are just some examples of the ongoing work that the OCECHE is doing to keep cancer patients and their families safe, healthy and informed as the entire community faces the COVID-19 pandemic.
"If there's anything that's certain during these uncertain times, it's that the Chicago community is strongest when we all work together," said Curry.
This article is part of the Summer 2020 Pathways to Discovery.
Summer 2020 Pathways to Discovery: COVID-19 and Cancer
The latest issue of Pathways to Discovery is devoted to the COVID-19 crisis and its impact on patient care, research and community. Comprehensive Cancer Center clinicians and researchers are creating solutions to address challenges caused by the pandemic.
View the issue