Skip to content
Why is colorectal cancer more deadly among the Black community?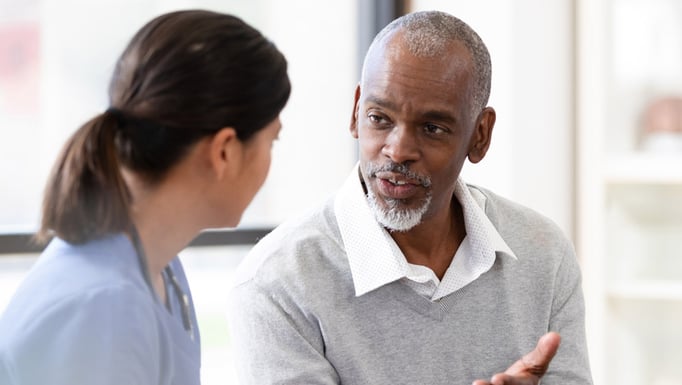 In the Black community, colorectal cancer is especially deadly. Black people are almost twice as likely as other races to die from cancer of the colon and rectum.
Why does it ravage Black communities much more than others?
University of Chicago Medicine gastroenterologist Karen Kim, MD, who researches cancer prevention and health disparities among minorities, said there are many reasons: limited access to testing, lack of awareness about non-invasive tests, a mistaken belief that a screening is unnecessary, colon cancer genetics and unfamiliarity with family history, health systems that are not culturally competent and the fear of having a colonoscopy.
If detected early, colorectal cancer has a high survival rate. If not, the cancer can spread to other parts of the body, decreasing the odds of survival.
The solution seems simple: Make sure Black people get screened regularly, starting at the recommended age of 45, or 40 if they have a family history of the disease. But that's much more complicated than it sounds.
Black communities tend to get colorectal cancer at a much younger age than other races – in the past few years, actor Chadwick Boseman died of colorectal cancer at age 43 and actor Natalie Desselle Reid at age 53 – yet not all insurance plans cover colonoscopies before age 50.
Additionally, patients who get screened at overwhelmed and under-resourced safety net hospitals – which treat people without insurance or the ability to pay for their care – often encounter variable follow-up, inconsistent communication with other hospital systems and long waits for tests. Some have waits of up to 18 months for a colonoscopy.
There are options. For most patients, we tell them, whatever colon cancer screening test that you want to do is the best test.
"The screening process can present unequal challenges, especially among underserved communities," Kim said. "For instance, there are logistical problems and barriers driven by social determinant of health. Who's going to take care of my kids while I go do this? How am I going to take off work? How am I going to get there? How am I going to pay for it?"
UChicago Medicine is making great strides to address these issues on Chicago's South Side. It has multiple programs focused on education and is working with federally qualified health centers to speed up and smooth out the colon cancer screening process.
Partnerships are key. Groups such as the Urban Health Initiative, Barbershop Ministry, the Community Health Worker program and Project Brotherhood help the hospital with outreach in South Side gathering places, like churches and barber shops. Often they encounter people who don't think they need a colonoscopy, or don't know how to arrange to have one done. These groups can help educate them about the disease, show them how to make an appointment, and maybe share their own experience of getting tested.
"We can tell people, 'Get screened! Get screened!' again and again. But if you can't get them to believe that it's something's important, you might as well be talking to a wall. That's why we have to think of ways to partner with the community, and then support the community to help them help themselves," Kim said. "These groups can have trusting relationships and can provide 'straight talk.'"
Fear of a colonoscopy is a significant barrier, especially with men, Kim said. Even though this is the second deadliest form of cancer, reluctance for the pre-test colon cleansing or the thought of a scope being inserted into the rectum can be off-putting. To counter this, UChicago Medicine's Office of Community Engagement and Cancer Health Equity created an experiential program called Walk Through the Cure. People can come to the hospital, look at the colonoscopy equipment, and talk with doctors and colorectal cancer survivors about the process.
"If you see the process when you're healthy, it helps with the fear factor. They think, 'It's not so bad,'" Kim said.
Myth vs. Fact: Colon Cancer
Busting myths about colorectal or colon cancer, the third most common cancer diagnosed in men and women in the United States.

Myth. A colonoscopy is the only way to screen for COVID cancer.

[RIPS]

Fact. Other tests, such as an at-home stool test or a virtual colonoscopy can be used to screen for colon cancer. Talk to your doctor about which option is right for you.

[SWOOPS]

Myth. It's OK to put off getting a colonoscopy because I don't have symptoms.

[RIPS]

Fact. Delaying a colonoscopy could put you at serious risk for more advanced cancer.

[SWOOPS]

Myth. No one in my family has had colorectal cancer, so I'm not at risk.

[RIPS]

Fact. Most colon cancers are found in people without a family history. A family history puts you at higher risk.

[SWOOPS]

Learn more at UChicagoMedicine.org/cancer.

[MUSIC PLAYING]
Using a model intended to meet patients where they're at, advocates will offer information about less invasive, at-home stool tests to screen for colon cancer. The FIT test is available at local drug stores and individuals can share their results with their doctor. Cologuard is a test ordered by a doctor which arrives via mail. Both tests check for hidden blood in the stool.
"There are options," Kim said. "For most patients, we tell them, whatever colon cancer screening test that you want to do is the best test."
Cost is always a consideration. UChicago Medicine's community benefit program has provided free colonoscopies for people without insurance through Illinois Colon Cares for the last two years. The web-based portal is a partnership between multiple health systems. Staff members from federally qualified health centers help people schedule colonoscopies while they're at the doctor's office, rather than asking them to call a number when they get home, closing the gap in scheduling and communication.
Already, Kim said, Illinois Colon Cares helped one person without insurance find out they had early stage cancer and UChicago Medicine doctors were able to successfully treat it. Nearly half the patients booked through Illinois Colon Care had potentially dangerous polyps removed from their colon by the hospital's colorectal cancer team.
Finally, UChicago Medicine strives to make sure patients of all races and ethnicities feel welcome and comfortable at the hospital and receive culturally competent care.
"Our staff and medical students are really well-trained in this," Kim said. "University of Chicago's Pritzker School of Medicine is one of the only schools that has a health disparities curriculum right at the very beginning. That sets the stage for understanding how to work with populations that may be different from yourself. We're deeply committed to the South Side and making our hospital open for diverse populations."
Kim is currently involved in a trial to see how different interventions impact colon cancer screenings. It's funded by the National Cancer Institute Beau Biden's Cancer Moonshot charity. UChicago Medicine is one of only five hospitals in the U.S. participating in the program.
Which colorectal cancer screening test is right for you?
Colorectal cancer is one of the most preventable cancers. Learn about the several safe and effective colon cancer screening options, and download a guide that can help you work with your health care team to select the best screening test for you.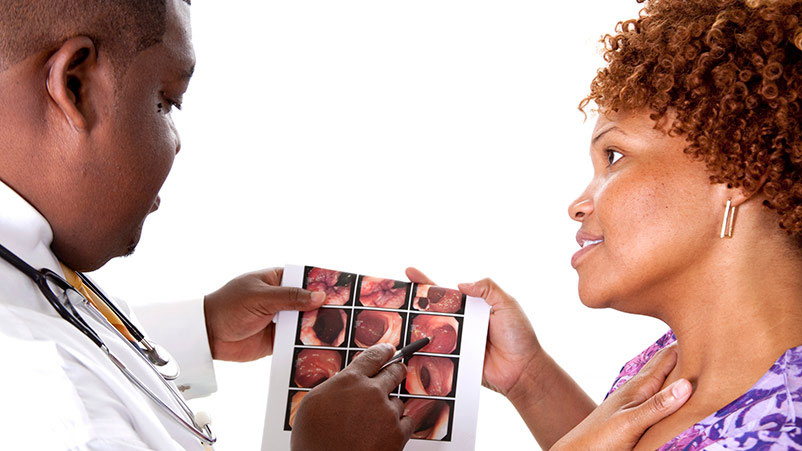 Colorectal Cancer Articles