Skip to content
The AACR annual meeting went virtual in 2020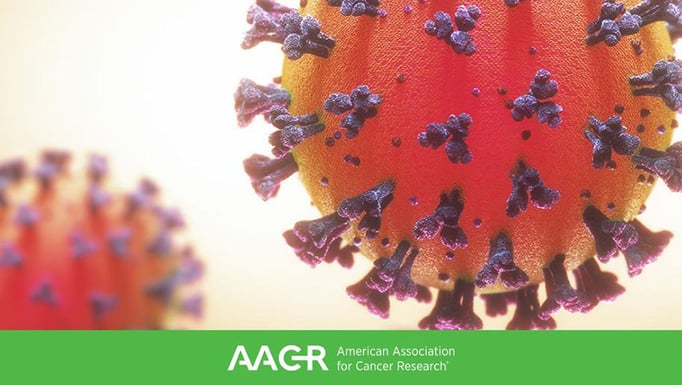 The American Association for Cancer Research (AACR) is the world's largest organization devoted to cancer research and draws tens of thousands of people from across the globe to attend its annual meeting. This year, in spite of the COVID-19 pandemic, there was record attendance to the virtual meeting through an online platform where seminars, poster presentations and discussions were presented to share the latest advances in all aspects of cancer research, including cancer mechanisms, treatment and prevention.
This year's meeting included a welcome from AACR Chief Executive Officer Margaret Foti, PhD, MD, followed by supportive remarks from the Speaker of the United States House of Representatives, Nancy Pelosi. Seminars focused on a multitude of topics, from engineering and technological approaches to treating cancer, to survivorship and improved quality of life after treatment. Timely sessions included COVID and Cancer: Guidance for Clinical Trials and Racism and Racial Inequities in Cancer Research.
The University of Chicago Medicine Comprehensive Cancer Center is proud of the researchers and investigators who were invited to present their valuable contributions to the international audience of this stellar program. Selected highlights are below. See the full list of available presentations.
Michelle Le Beau, PhD, Arthur and Marian Edelstein Professor of Medicine, director of the Comprehensive Cancer Center, was presented as the 2020 recipient of the AACR – Margaret Foti Award for Leadership and Extraordinary Achievements in Cancer Research. Read the AACR press release here, the Forefront article here, and the UChicago Medicine announcement here. Le Beau presented a lecture associated with this award focused on her decades of progress researching and advancing treatment for therapy-related neoplasms, a secondary form of cancer that can occur after certain types of treatment.
Melody Swartz, PhD, William B. Ogden Professor of Molecular Engineering, presented innovative work focused on the development of a high-throughput system that mimics the tumor-lymph-immune cell interface in live animal models. Other presentations from the Swartz lab described how lymphangiogenesis, the creation of new lymphatic vessels, occurs in breast cancer in response to immunotherapies. A third presentation revealed how cancer vaccines against melanoma produce long-term anti-tumor responses.
Ralph Weichselbaum, MD, Daniel K. Ludwig Distinguished Service Professor and Chair of Radiation and Cellular Oncology, presented his research on integrating radiotherapy and immunotherapy in the context of oligometastatic disease, cancers with multiple sites of metastasis.
Results from the lab of Olufunmilayo Olopade, MD, Walter L. Palmer Distinguished Service Professor of Medicine and Human Genetics, were presented in poster sessions focused on breast cancer and genetics. These data characterized the tumor-infiltrating T-cell population in breast cancer in indigenous patients from Southwest Nigeria. Genomic analysis from the Nigerian cohort revealed ethnic-specific alterations and intratumoral heterogeneity. A gene fusion and potential target for drug development was found that is specific to breast cancer in Nigerian women.
Olopade and Dezheng Huo, MD, associate professor of public health sciences, discovered four novel loci for overall breast cancer risk and two novel loci for estrogen receptor-negative breast cancer risk in women of African ancestry. These six loci may improve breast cancer risk assessment in African ancestry populations and provide mechanistic insight into breast carcinogenesis.
Tumor heterogeneity is implicated in the metastasis of breast cancer and is a critical but challenging area of research. Research from the lab of Marsha Rosner, PhD, Charles B. Huggins Professor in the Ben May Department of Cancer Research, addressed the challenge of tumor heterogeneity using single-cell RNA sequencing of triple-negative breast cancer cell xenografts.
Additional work from the Rosner lab demonstrated that targeting signaling pathway networks that drive cancer progression is more effective than targeting single drivers of metastasis. They found that a four-drug cocktail was able to inhibit metastasis and increase survival in mouse breast cancer models.
Pre-clinical data from a study led by Geoffrey Greene, PhD, Virginia and D. K. Ludwig Professor in the Ben May Department of Cancer Research, showed that the estrogen receptor modulator, lasofoxifene, was effective at reducing tumor growth and inhibiting metastasis in a preclinical model. The reported study tested lasofoxifene in combination with a second drug, palbociclib, and found that the combination effectively inhibited tumor growth and metastasis in therapy-resistance estrogen receptor-positive metastatic breast cancer.
A second study led by Greene found that BZA, an estrogen receptor modulator that is a component of hormone replacement therapy, may be effective against breast cancer through activation of the aryl hydrocarbon receptor signaling pathway as a potential mechanism of decreased tumor growth.
Research from the lab of Brandon Pierce, PhD, associate professor of public health sciences, compared DNA methylation in samples from African-American and European-American prostate cancer patients and found differences in regions of methylation in tumor-associated areas of genes, suggesting that epigenetic alterations may contribute to the biological basis of prostate cancer disparities.
Advances in imaging hypoxic regions of tumors was presented by Howard Halpern, MD, PhD, professor of radiation and cellular oncology, with Bulent Aydogan, PhD, associate professor of radiation and cellular oncology, Weichselbaum and colleagues. In an additional collaboration, Halpern worked with Chin-Tu Chen, PhD, associate professor of radiology, and Gregory Karczmar, PhD, professor of radiology, on a multimodal technique of imaging tumor hypoxia.
Immune checkpoint blockade, a type of immunotherapy, improves outcomes for some non-small cell lung cancer patients, though cancer usually progresses. Sean Pitroda, MD, assistant professor of radiation and cellular oncology, led a study that identified CDKN2A mutation/deletion as a predictor of immune checkpoint blockade resistance and poor outcomes. These data will help to guide treatment to improve outcomes.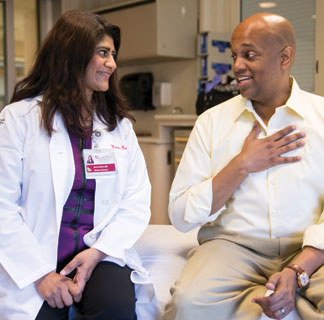 UChicago Medicine Comprehensive Cancer Center
UChicago Medicine is designated as a Comprehensive Cancer Center by the National Cancer Institute, the most prestigious recognition possible for a cancer institution. We have more than 200 physicians and scientists dedicated to defeating cancer.
Learn More About the Comprehensive Cancer Center
Cancer and Research Articles