Skip to content
Michelle M. Le Beau Receives 2020 AACR-Margaret Foti Award for Leadership and Extraordinary Achievements in Cancer Research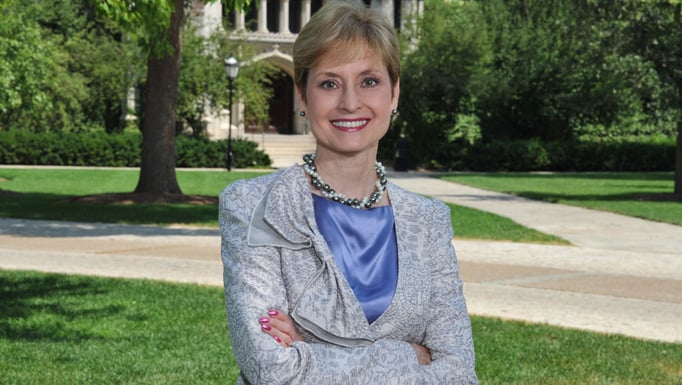 Michelle M. Le Beau, PhD, is the Arthur and Marian Edelstein Professor of Medicine and director of the University of Chicago Medicine Comprehensive Cancer Center.
The American Association for Cancer Research (AACR) has named Michelle M. Le Beau, PhD, Arthur and Marian Edelstein Professor of Medicine and director of the University of Chicago Medicine Comprehensive Cancer Center, as the recipient of the 2020 AACR-Margaret Foti Award for Leadership and Extraordinary Achievements in Cancer Research.
The award was established in 2007 to recognize a champion of cancer research whose leadership and extraordinary achievements in cancer research have had a major impact on the field. It is named for Margaret Foti, PhD, MD, the chief executive officer of the AACR, the first and largest cancer research organization in the world.
"I am deeply honored to receive this recognition from such a respected organization and in the name of Dr. Foti's visionary leadership and excellence in cancer research," Le Beau said. "To receive recognition for your contributions is an honor, but it truly becomes exquisite when it comes from your peers."
Le Beau is an international authority on hematologic malignancies, in particular recurring chromosomal abnormalities in leukemia and lymphoma. As a pioneer in the field, she used cytogenetic and molecular genetic tools to identify critical recurring abnormalities in human leukemias, including inversions, translocations and deletions of chromosomes 5 and 7 in leukemia following cancer treatment.
In addition to her contributions to research, she is receiving the award in recognition of her exceptional leadership, direction and strategic vision at UChicago Medicine.
As director of the UChicago Medicine Comprehensive Cancer Center since 2004, Le Beau has transformed the cancer research and clinical care landscape at the University of Chicago Medicine. Under her direction and strategic vision, the cancer center was awarded, and has maintained, the National Cancer Institute Comprehensive designation in 2008.
"Dr. Le Beau's extensive experience in building interdisciplinary research programs, developing the careers of young scientists, and overseeing the administration of large peer-reviewed grants has made her an outstanding champion and role model for cancer research and research training at our institution," said Kenneth S. Polonsky, MD, Richard T. Crane Distinguished Service Professor in Medicine and dean of the Biological Sciences Division.
Le Beau's entire research career has been dedicated to cytogenetic and molecular analysis of the hematological malignancies for the purpose of risk stratification, and the selection of the appropriate therapy. In particular, she has focused on identifying recurring chromosomal abnormalities in leukemia, and in defining the genetic pathways that lead to myelodysplastic syndromes (MDS), acute myeloid leukemia (AML), and therapy-related myeloid neoplasms (t-MN).
"Dr. Le Beau has transformed research in hematological malignancies for almost four decades," said Walter Stadler, MD, Fred C. Buffett Professor of Medicine and Surgery, dean for clinical research, and deputy director of the UChicago Medicine Comprehensive Cancer Center, who nominated Le Beau for the award. "She is also an exceptional leader and mentor dedicated to promoting the careers of women in cancer, science and medicine."
Le Beau's past leadership roles have included President of the Association of American Cancer Institutes (2012-2014); member of the AACR Board of Directors (2012-2015), Executive Committee of the American Society of Hematology (2014-2017), World Health Organization (WHO) Clinical Advisory Committee (2014-2017), the National Cancer Policy Forum of the Institute of Medicine (2013-present), Board of Directors for the American Cancer Society (2019-present) and Board of Scientific Advisors of the National Cancer Institute (2019-present).
A member of the AACR since 2002, Le Beau served on the AACR Board of Directors from 2012 to 2015 and chaired the AACR Award for Lifetime Achievement in Cancer Research Committee in 2016. She has also served on the AACR Science Policy and Government Affairs Committee, AACR Finance and Audit Committee, Pezcoller Foundation-AACR International Award for Extraordinary Achievement in Cancer Research Committee, and AACR Tellers Committee. In addition, Le Beau is a scientific editor for the AACR's newest scientific journal, Blood Cancer Discovery.
Over the course of her career, Le Beau has published more than 500 peer-reviewed publications, reviews and chapters to date on cytogenetic and molecular genetic abnormalities in human leukemias and on the application of FISH technology for clinical diagnostics and gene mapping. She has published numerous papers in high-impact journals, has served on numerous editorial boards, including Blood, British Journal of Haematology, and Leukemia, and was a founding Associate Editor of Genes, Chromosomes and Cancer.
Le Beau has also been recognized for her exemplary research as a recipient of numerous national awards, including the Stohlman Memorial Award from the Leukemia Society of America, and the Alison Eberlein Fund Award, as well as the Distinguished Service Award from the American Cancer Society.
She earned her undergraduate degree in animal science-genetics from Purdue University in West Lafayette, Indiana, and her master's and doctoral degrees in pathology from the University of Illinois Medical Center. She subsequently obtained postdoctoral training at the University of Chicago Medicine under the mentorship of Janet D. Rowley, MD, DSc, the Blum-Riese Distinguished Service Professor of Medicine, and was appointed to the faculty in 1986, rising to tenured professor in 1997.
Le Beau is board-certified in the area of clinical cytogenetics and is a founding fellow of the American Board of Medical Genetics and Genomics. She is director of UChicago Medicine's Cancer Cytogenetics Laboratory, which performs clinical cytogenetic analysis of hematologic malignant diseases.
Le Beau will deliver an award lecture during the upcoming AACR Virtual Annual Meeting 2020 II (June 22-24). Her lecture, titled "Therapy-Related Myeloid Neoplasms: When Genetics and Environment Collide," is scheduled to be held on Tuesday, June 23, 2020 from 5:15 to 6 p.m. EDT.