Skip to content
Teen and young adult cancer survivors may face severe health problems later in life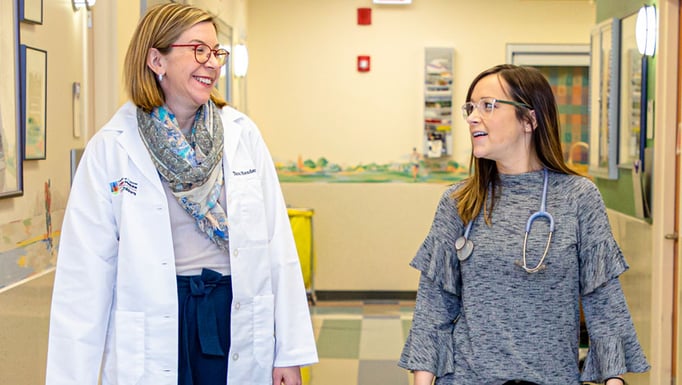 Tara Henderson, MD, MPH, left, and Jessica Torre, APN
Teens and young adults who survive cancer are still much more likely than the general population to have severe and life-threatening health problems later in life, according to a new study.
The study, which looked at the outcomes of more than 10,000 cancer survivors, shows that teen and young adult survivors are six times more likely than the general population to die from cardiovascular events, pulmonary disease or a subsequent cancer, even more than two decades after their initial diagnosis.
Though such outcomes had been known for survivors of childhood cancer, this is the first observational study to show these outcomes for teen and young adult survivors. Nearly 70,000 teens and young adults (ages 15 to 39) are diagnosed with cancer each year, and nearly 80 percent survive more than five years.
Studies like this prove the need for early cancer screenings and ongoing health management for this unique population, said Tara Henderson, MD, MPH, a hematologist/oncologist at the University of Chicago Medicine Comer Children's Hospital and senior author of the study.
"We knew from our experience that teens and young adults have had inferior improvements in survival outcomes, and we've been focused on addressing this group and understanding the lasting effects of treatments. This study helps us better understand these outcomes," said Henderson, who directs the Childhood Cancer Survivors Center at Comer and the cancer survivorship program for the UChicago Comprehensive Cancer Center.
The study, published in the journal The Lancet Oncology, evaluated outcomes among 5,804 survivors of early-adolescent and young adult cancer (ages 15 to 20 at diagnosis) and 5,804 survivors diagnosed when they were younger than 15. The survivors are part of the Childhood Cancer Survivor Study, which has been tracking health outcomes since 1994 for more than 24,000 people who were diagnosed between 1970 and 1999 in North America and survived for five or more years after diagnosis.
Studies like this prove the need for early cancer screenings and ongoing health management for this unique population.
The study authors compared these two groups against the general population, and against a sibling control group. Both childhood and young adult survivors face unique outcomes. Toxic treatments like chemotherapy and radiation can alter DNA and damage developing organs, and treatments often have different success rates depending on the age of the patient.
By examining health and death records of survivors — looking not only for recurring cancer, but for severe health conditions related to the heart, lungs and nervous system — the study authors found that the likelihood of a teen or young adult cancer survivor developing a severe health condition by age 45 was 39 percent, compared with 12 percent for the sibling control group. The mortality rate for these survivors is six times higher than the general population, though childhood cancer survivors faced an even slightly higher rate. Starting at 20 years after diagnosis, mortality rates for health-related deaths became higher for childhood cancer survivors than for teen and young adults.
This study follows research conducted by Henderson last year, which shows that childhood survivors also face a much higher risk of breast cancer.
Henderson attributes poor outcomes from this group not only to the side effects of treatments, but to social factors like delays in diagnosis, lack of health insurance, lack of compliance with treatment, and suboptimal follow-up care.
"Many of these survivors are young adults who have just graduated from college and aren't financially independent and may not have health insurance or support during treatment," Henderson said. "There is a huge push to study these psychosocial factors and to provide more support psychologically and financially."
Taken together, these results show the need for early cancer screenings and for more support care through the survivor's lifetime. Many survivors continue their care through their primary care physician, who may not be aware of these elevated risks.
The study includes survivors of cancers like leukemia, lymphoma, brain tumors, and bone cancer, but does not include survivors of common young adult cancers like germ cell tumors and thyroid cancer. Henderson hopes that ongoing research will include these survivors, as well.
"These patients are dying younger than their peers in the general population," she said. "It's essential for us to conduct these studies to learn why, and to encourage more screenings and appropriate risk-based follow-up care in the community."
"Late mortality and chronic health conditions in long-term survivors of early-adolescent and young adult cancers: a retrospective cohort analysis from the Childhood Cancer Survivor Study" was published online on February 14, 2020, in The Lancet Oncology. Additional authors are Eugene Suh from Loyola University Chicago Health Sciences; Kayla L. Stratton and Wendy M. Leisenring from Fred Hutchinson Cancer Research Center; Paul C. Nathan from the Hospital for Sick Children; Jennifer S. Ford from Hunter College and The Graduate Center; David R. Freyer from Children's Hospital Los Angeles; Jennifer L. McNeer and Wendy Stock from the University of Chicago; Marilyn Stovall from the University of Texas MD Anderson Cancer Center; Kevin R. Krull, Gregory T. Armstrong and Leslie L Robison, from St. Jude Children's Research Hospital; Charles A. Sklar from Memorial Sloan Kettering Cancer Center; Joseph P. Neglia from the University of Minnesota; and Kevin C. Oeffinger from Duke University School of Medicine.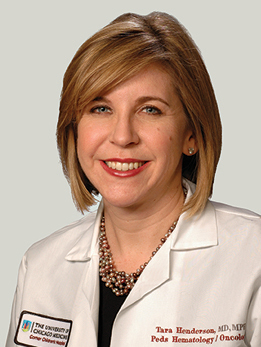 Tara Henderson, MD, MPH
Tara Henderson is an expert in the diagnosis and treatment of pediatric cancers. She serves as director of the UChicago Medicine Childhood Cancer Survivors Center, a program aimed at the prevention and treatment of long-term issues associated with cancer therapy.
View Dr. Henderson's physician profile
Pediatric Cancer Articles