Skip to content
This year an estimated 55,440 people in the United States will be diagnosed with pancreatic cancer. About 44,330 of those people, according to the American Cancer Society, will die from it.
This is cancer in its most lethal form. The five-year survival rate for people with the worst type, stage 4 exocrine pancreatic cancer, hovers at around 1 percent. But now cancer specialists are refining the treatment protocols. And one of the most dramatic changes is a less-invasive surgical approach, done without major incisions.
All forms of pancreatic cancer call for aggressive treatment. The standard operation is legendary, famously complex. Even saying the name is challenging: pancreaticoduodenectomy.
The operation is commonly attributed to – and named for – Allen Oldfather Whipple, MD, a surgeon at Columbia-Presbyterian Medical Center in New York. His 1945 case report in Annals of Surgery was an important contribution to the evolution of this technique.
But it was an earlier visionary, Alexander Brunschwig, MD, a surgeon at the University of Chicago Hospital, who actually performed the first successful two-stage, pylorus-preserving pancreaticoduodenectomy in 1937. The 69-year-old patient, who suffered from advanced pancreatic cancer, was out of bed and walking two weeks after surgery. Unfortunately, the cancer had spread to his liver and he died three months later. But Brunswig's bold effort demonstrated the "feasibility of this type of operation," he wrote, "in dealing with malignant neoplasms."
These early efforts have been refined and enhanced by many skilled surgeons in the last 80 years. During that time, improvements in operative technique, instrumentation and, perioperative care have reduced mortality from the complex surgery to less than 2 percent in centers with surgeons who are experienced in the procedure.
The Whipple now includes removal of about half of the pancreas, part of the small intestine, the gallbladder, part of the bile duct, in some cases part of the stomach, plus careful and complete removal of all nearby lymph nodes. After taking out the cancerous tissues with a wide margin, the surgeon reconnects the remaining pancreas and digestive organs so that pancreatic digestive enzymes, bile, and stomach contents flow into the small intestine, enabling digestion.
What Is the Whipple Procedure?
"The operation is technically demanding and can test the resolve of both the surgeon and the patient," said Kevin Roggin, MD, a specialist in hepato-pancreato-biliary surgery and surgical oncology at the University of Chicago. "It's the abdominal equivalent of open heart surgery. It requires extensive training, dedicated practice and experience to perfect."
Roggin has performed more than 200 pancreatic resections, the majority of which were Whipple procedures. He and UChicago Medicine colleagues Mitchell Posner, MD, chief of general surgery and surgical oncology, and Jeffrey Matthews, MD, chair of surgery, perform about 100 of these operations annually, with impressive results.
These experienced surgeons routinely tackle this challenging procedure. But last year, at the age of 46, Roggin made the bold decision, with a nudge from Matthews and Posner, to learn how to do this operation using a new approach.
Diseases desperate grown, by desperate appliances are relieved (Hamlet IV:3,9)
The DaVinci Surgical System has been around for 18 years. It initially became popular for treatment of gallstones and bile duct problems, and later for prostate cancer, where it has several advantages.
Many surgeons who specialize in major, highly complex operations initially shied away from it. A few, however, began to experiment, using the robot to perform highly complex surgery. In 2003, an Italian surgeon performed the first robotic Whipple. It did not immediately catch on.
"Having done hundreds of open Whipple operations," Roggin explained, "I felt like I was well positioned to learn this technique." After talking with colleagues here and around the country, he decided to tackle this less-invasive approach.
There are several technical aspects that make the robot appealing, for patients as well as surgeons. There are no big incisions, just small portholes about half an inch long for the tiny camera and miniaturized surgical tools. The camera can magnify the view up to ten times life size and present the image in three dimensions. The controls make it easy to navigate the difficult anatomic spaces.
Roggin's training began at the medical center's simulation center. "I spent more than 100 hours there," he said. "The robotic curriculum teaches you the basic skills, such as how to navigate the camera, move the robot's arms safely, how to suture."
After perfecting his basic robotic skills on the simulators and in cadaver labs, he got certified by Intuitive Surgical, the maker of surgical robots. Then he visited leading centers around the country, to see how they developed robotic pancreatic surgery programs. He completed a two-week mini-sabbatical at the University of Pittsburgh, the leading center for robotic pancreatic resections, where he watched operations and honed his skills in their simulation program and bio-tissue laboratory.
"It was an intense and immersive experience, very similar to my rigorous surgical residency or fellowship training," Roggin said. "They videotape and time your robotic performance on three life-like models of the intricate blood vessel reconstructions that are required in the Whipple. I think that I repeated each model more than 20 times. Then I went over my technique from the videotaped performances with the surgeons there."
One of them, Amer Zureikat, MD, assistant professor of surgery at the University of Pittsburgh School of Medicine, had trained under Roggin at the University of Chicago in 2008.
Certified and back in Chicago, Roggin started to use the robot for simpler cases, comparatively straightforward operations. A robotic-assisted gallbladder resection was first. He did several, initially with a proctor, then on his own. He used the robot on smaller cases that included components of the Whipple. In May, 2017, he did his first fully robotic Whipple. It was slow, but it went smoothly.
"I have now done more than 45 successful robotic operations, including 11 Whipples, 3 distal pancreatectomies, 9 stomach operations, and 3 liver resections," Roggin said. The team has "prioritized safety while gaining experience," he added.
What healing feels like
One of those 11 robotic Whipple patients is Carole Kalus, 76, of Plainfield, IL. In September 2017, a biopsy confirmed that she had pancreatic cancer. A careful, inquisitive woman, Kalus checked out several potential surgeons. Her primary care doctor connected her to Roggin and they clicked.
"I was sold immediately," she said. "He was so professional. I felt confident with him. I trusted him."
The robotic Whipple went as planned. Kalus left the hospital six days later, ahead of schedule.
"I had an operation when I was 26," Kalus said. "That was much worse. This time I never felt like I had been through surgery. My only problem was my back, because I was flat on my back on the table for so long."
"But I was up and walking the next day and went home on the sixth day," she added. "I got out of the car and walked up the stairs."
It's safe, but is it fun?
Robotic surgery is both "incredibly challenging and rewarding," Roggin said. After years of leading the surgical training program, he found it "both exciting and humbling to convert my practice from open to robotic surgery."
It has been rewarding to see patients do extremely well without a large abdominal incision.
It has been rewarding "to see patients do extremely well without a large abdominal incision," he said. "On the inside, this is the same operation, but with much smaller incisions."
There are surgical downsides, Roggin notes. "The hardest thing for me was losing tactile sensations, my sense of touch," he said. "I used to rely on my hands for feedback…to determine if a tumor was removable. Now, I have to train my eyes to decipher visual cues using both the CT and virtual robotic images."
The other downside is the robotic procedure takes longer to perform than a traditional Whipple. "I can usually complete the Whipple procedure in five to six hours, depending on how advanced the tumor is," Roggin said. "My first ten robotic Whipples averaged eight to nine hours, with one case taking more than 10 hours."
Published data indicate that most robotic pancreatic surgeons see a significant decrease in their operative times after 80 cases. While extra time may be challenging for the surgeon, it appears to be safe for patients. Despite the longer times associated with a robotic approach, a recently published study of more than a thousand patients shows similar outcomes between robotic and "open" Whipple procedures.
Roggin attributes this program's initial success to an orchestrated commitment from UChicago Medicine Department of Surgery leadership and the contributions from an experienced nursing team, led by Kim Bosgraf, RN. "She has assembled a fantastic team of nurses including, Morgan Thomas, RN, and Luz Gentry, RN, who all learned this new technique with me," he said. "They even flew to the University of Pittsburgh to collect inside tips from their experienced team. We are off to a great start."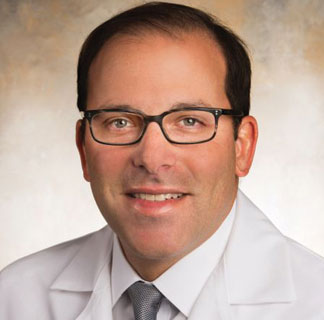 Kevin Roggin, MD
Kevin Roggin, MD, is a board-certified surgical oncologist who specializes in the surgical treatment of complex gastrointestinal cancers, including stomach, pancreas, liver, gallbladder and bile duct cancers. He performs a wide range of advanced surgical procedures, including minimally invasive and robotic treatments that are aimed at improving recovery after surgery.
Read Dr. Roggin's physician profile