Skip to content
Life goes on: Working through breast cancer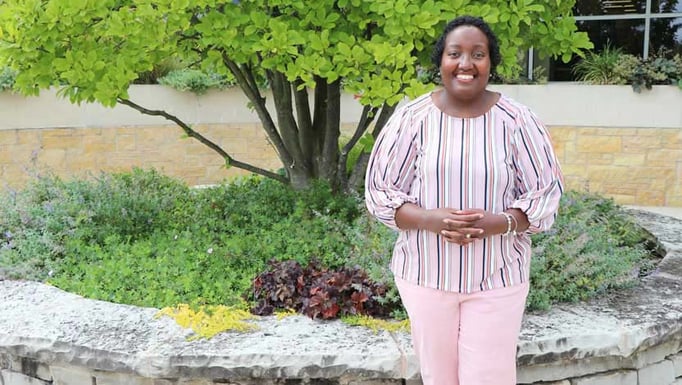 UChicago Medicine Ingalls Memorial Hospital staff helped breast cancer patient Felicia Horton work and thrive during chemotherapy and radiation treatment.
South Suburban resident Felicia R. Horton didn't let cancer slow her down. The 45-year-old excelled at work and tried to enjoy her life while fighting cancer in both breasts, thanks in part to the treatment and care team at UChicago Medicine Ingalls Memorial Hospital.
In early Spring 2018, Horton noticed leakage from her left nipple and swelling in her right breast. She went to her primary care physician Rewa Hasanat, MD, who prescribed an antibiotic and ordered a mammogram and ultrasound on her breasts.
In April 2018, Hasanat referred her to Ingalls Memorial hematologist and oncologist Kimberly Kruczek, DO, who diagnosed Horton with bilateral HER2 positive breast cancer. The right had inflammatory breast cancer and the left had cancer involving the lymph nodes.
"I was in a comatose state," Horton said. "It was such a shock, but I trusted that Dr. Kruczek was the expert." Horton's treatment plan included chemotherapy, a double mastectomy performed by surgeon Gary Peplinksi, MD, physical therapy with a lymphedema specialist, radiation and one year of HER2 targeted treatment.
Work and the wedding saved me mentally. It gave me something else to focus on and look forward to each new day.
Horton, a marketing enrollment manager for the Office of Catholic Schools for the Archdiocese of Chicago, worked throughout her treatment, even bringing her laptop to the Flossmoor Family Care Center to work while receiving infusion treatments.
During that time period, enrollment increased at several schools in her region. Superintendent of Schools, Jim Rigg, PhD, presented Horton the "St. Peter the Rock Award" at the 2019 National Catholic Educational Association conference for demonstrating outstanding service in her role and personifying the Catholic mission through her attitude and treatment of others.
Kruczek helped Horton schedule her chemo and radiation treatments around work, and made sure Horton could still be the maid of honor in her cousin's wedding. "Life is happening despite cancer," Kruczek said. She described Horton as young and vibrant, and said it warmed her heart to help Horton live a fulfilling life outside of treatment.
"Work and the wedding saved me mentally," Horton said. "It gave me something else to focus on and look forward to each new day. Some normalcy is necessary in order to cope with the diagnosis and treatment."
Throughout her treatment, Horton did extensive research about breast cancer and sought advice from Ingalls staff and other breast cancer survivors. She researched nutrition for cancer survivorship and removed all processed food from her diet. "It was comforting to get the views and opinions of nurses, techs and other survivors," Horton said. "Doing research, cutting my hair before it fell out and creating 'preparedness kits' for my chemo symptoms made me feel more in control of my diagnosis."
In summer 2019, her tests came back negative for breast cancer after more than a year of treatment. Horton said she couldn't have survived this journey without the help of her mother, family, colleagues and friends. "My advice to anyone with breast cancer is to pay attention to your body, during treatment and for the rest of your life."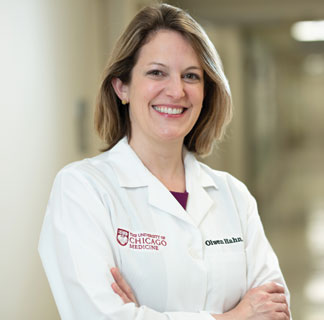 Breast Cancer Care
Our team represents expertise across the spectrum of breast cancer care: breast imaging, breast surgery, medical and radiation oncology, plastic and reconstructive surgery, lymphedema treatment, clinical genetics, pathology and nursing. Our comprehensive care approach optimizes chances of survival and quality of life.
Learn more about UChicago Medicine breast cancer care.