Skip to content
From high school student to budding scientist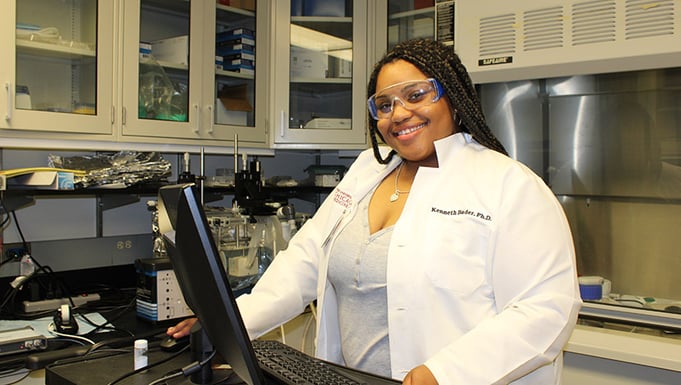 Sidney Trotter learned how to become a scientist through a cancer research program for high school students. Today, she is working in a research lab.
This summer, the University of Chicago Medicine Comprehensive Cancer Center research program, Chicago EYES (Educators and Youth Enjoy Science) on Cancer, enters its sixth year. Formerly known as the Continuing Umbrella of Research Experience (CURE) program, EYES provides high school students, undergraduates and secondary science educators – particularly those from backgrounds underrepresented in the biosciences – the opportunity to participate in cancer research with a faculty mentor at the University of Chicago.
As the 2019 cohort transitions from an intense first week of laboratory skills "boot camp" into their research labs, we met with a past participant of the CURE program to understand the impact it had on her career.
Sidney Trotter, a rising senior at Chicago State University, joined the CURE program in 2014. She was paired with faculty mentor Patrick La Riviere, PhD, associate professor of radiology, and completed research on improving breast screening using a novel transmission ultrasound imaging system. The following summer, she joined the laboratory of former Comprehensive Cancer Center faculty mentor Kenan Onel, MD, PhD, to study Sanger sequencing of candidate variants from whole exome data for therapy-related myeloid leukemia.
This summer, Sidney returns to the University of Chicago to conduct research with Kenneth Bader, PhD, and Steffen Sammet, MD, PhD, in the Department of Radiology with support from the Global Research Internship sponsored by the Focused Ultrasound Foundation, and the Dr. Dennis B. Heppner Scholarship.
How did you first hear about CURE?
Sidney Trotter: I went to North Lawndale College Prep, and we had Phoenix Rising Programs that allow students to do research or go to colleges and take classes. My counselor at the time told me about CURE. At first, I was a little hesitant about applying, thinking "I'm only in high school—how much research can I do as a 17-year-old?" I looked up the program and heard some great things about the Comprehensive Cancer Center, so I took a leap of faith, applied and got accepted.
Why did you decide to apply for the program?
I wanted to see if I really had a passion for medicine. We go into college blindsided because we don't know all that it takes to become a doctor or a researcher. The fact that I was doing it in high school, I thought, okay, I can really see myself in a scientific field. If I didn't participate in CURE, and have that experience, I probably wouldn't be majoring in biology right now.
Who was your faculty mentor and what was the focus of your research?
That was all the way in 2014! My first mentor was Dr. Patrick La Riviere. He was in the Department of Radiology, and he had built a transducer that could help find magnetic lesions in the breast using a new ultrasound method. Then, the next year I worked with Dr. Kenan Onel. CURE was a two-year commitment, but it was worth it. It was over the summer in Chicago when it wasn't safe, so I felt good knowing that I was being productive during the summer.
What is your favorite memory of the CURE program?
The boot camp. I like how they trained us before putting us inside of a lab. I got the chance to meet, and get to know, [Dr.] Kathy [Goss] and Dr. [Eileen] Dolan. I feel like having that connection with them during the boot camp was really helpful, especially if you've never had any experience in a lab. It taught me discipline, too. They let us know that what we were doing was really serious. There are a lot of students that wanted to be in our position, but we were all there for a reason—we all shared a love for medicine. We all came from different backgrounds, but boot camp really brought all the students together, and during that time we got to know each other a lot more. I also really enjoyed the HIPAA training! It was cool to say that I'm HIPAA trained, and I loved my UChicago I.D. badge.
What skills or knowledge do you think you've gained from the CURE program?
Patience. Really being precise in what you're doing. You can't make any errors in research. Understanding, also. I learned to listen because the people you are working with have been doing this for a long time, so anything they tell you is going to be true and accurate. I also learned more about myself during my time doing research. Being a teenager, you don't know what you want to do until you actually participate in different experiences. If it wasn't for CURE, I probably wouldn't have been a biology major. CURE really made me fall in love with medicine and everything that's behind it.
What impact do you think CURE had on your career and where you are now?
Well, I'm still doing research! It made me fall in love with medicine even more. I knew I wanted to be a doctor when I was 11 years old. I had read Gifted Hands by Dr. Benjamin Carson and I related to him so much. He had the same opportunity that I had. He said he took advantage of every opportunity that came his way when it came to medicine. CURE provided me with that opportunity and an impact that is still going on five years later. To this day, I still love medicine. I love everything about medicine. CURE made my passion come true.
Why do you think programs like CURE are important?
They're important because they provide teenagers with the opportunity of a lifetime. The people that you meet in the program will stick with you forever. Your mentors are always going to remember you. They also really help you gain an understanding of medicine. Even though the program is only 8 weeks, you enjoy those 8 weeks. Every week is a new beginning. You learn something new. You learn more about yourself with every week that you're in the program. It's like a test drive to make sure you really want to do medicine.
Do you have anything else you'd like to add?
Coming from where I come from, a low-income family, mommy never went to college. God rest my dad's soul, he never went to college and barely graduated from high school. I became really discouraged about wanting to pursue medicine because I didn't have anyone around me that went to college. I am the first person out of my family to be in college right now. Three generations, nobody went to college. I'm the first person, first person to actually have a research opportunity, so I'm really happy for the opportunity that I got. I thought CURE wouldn't take me because I'm from the West Side of Chicago, a very bad area, but they gave me a chance. They let me see a different side of the world. They provided me with a great opportunity. They let me know that wherever you come from, whatever your background, you can be successful.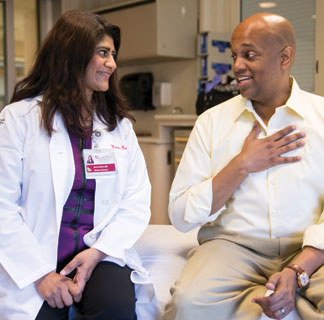 UChicago Medicine Comprehensive Cancer Center
UChicago Medicine is designated as a Comprehensive Cancer Center by the National Cancer Institute, the most prestigious recognition possible for a cancer institution. We have more than 200 physicians and scientists dedicated to defeating cancer.
Learn More About the Comprehensive Cancer Center