Skip to content
Doctors can see prostate cancer anywhere in the body with PSMA PET Imaging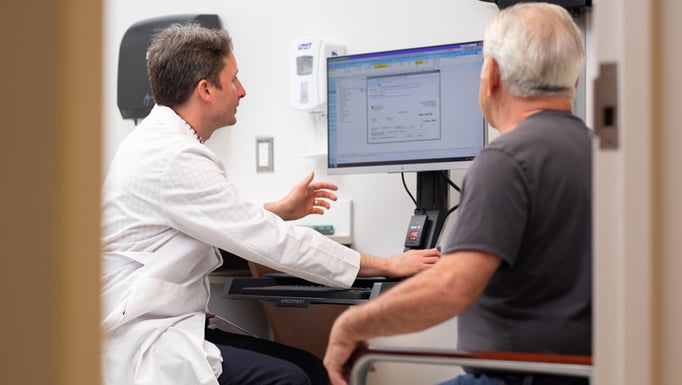 For years, one of the most powerful molecular imaging tools, positron emission tomography (PET), has frustrated doctors when it comes to detecting prostate cancer cells. Until recently, the available radiotracers — the radioactive molecules doctors use to show cancer cells on PET scans — did not routinely bind to this specific type of cancer.
"We would know that a patient's tumor had spread since their PSA was rising, but we wouldn't know where or how much and we'd have to use our best guess when planning treatments," explained Daniel Appelbaum, MD, a radiologist and nuclear medicine physician at the University of Chicago Medicine. (A PSA test measures the amount of prostate-specific antigen in the blood.)

Now, however, a radiotracer is capable of precisely and reliably tagging prostate cancer cells anywhere in the body. UChicago Medicine was one of the first institutions in Chicago to offer the PSMA PET scan and the only institution in the city to have participated in the CONDOR and OSPREY clinical trials that helped piflufolastat F 18, also known as Pylarify (pronounced pi-LAIR-eh-fie), gain FDA approval.

"It's exciting because it's the single best method we now have available to visualize prostate cancer in the body," said urologic oncologist Scott Eggener, MD. "Knowing the anatomic location of prostate cancer can obviously help us make smarter treatment decisions for patients."

To now be able to see this all directly on a scan is a real game-changer in the fight against prostate cancer.
The American Cancer Society estimates one out of eight men will be diagnosed with prostate cancer in their lifetime. It's the second most common type of cancer in men (after skin cancer), with an expected 248,000 news cases this year. So the improvement in diagnostic precision offered by PSMA PET could affect the treatment decisions of many patients.
Piflufolastat is administered to patients with an IV. Radioactive molecules bind to prostate-specific membrane antigen (PSMA), a protein found on the surface of prostate cancer cells. The radiotracers are detected by the PET machine, which displays on a scan where they have settled on prostate cancer cells in the body. Piflufolastat's radioactive element is entirely gone from the body within a few days.

Piflufolastat cannot tag every single prostate cancer cell, but it far surpasses the level of detection previously available with CT, MRI or bone scans.

"To now be able to see this all directly on a scan is a real game-changer in the fight against prostate cancer," said Appelbaum.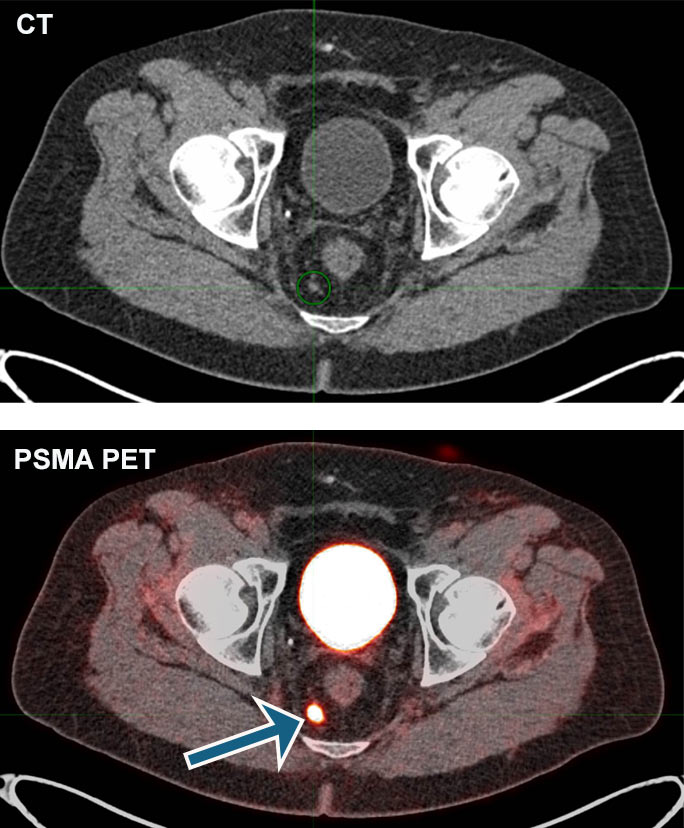 Those eligible for the scan include patients whose prostate cancer has likely spread to other parts of the body and who are potentially curable with radiation, surgery or other types of treatment, as well as patients with a suspected recurrence of prostate cancer based on a rise in their PSA level.
Aytekin Oto, MD, Chair of the Department of Radiology, said the scans can also inform doctors about how well a specific treatment is working. A small but substantial percentage of patients with late-stage prostate cancer experience widespread disease throughout their body. But unlike patients with some other cancers, prostate cancer patients can survive for years with the right chemotherapy or radiation therapy.
"With PSMA PET, we can accurately monitor the response to therapy for these patients so that if one approach doesn't work, we can switch to another," said Oto, Chief Physician of the University of Chicago Medicine Physicians and Dean for Clinical Affairs.
Studies are already taking place at UChicago Medicine that use an even newer variant of this radiotracer to not only find, but to destroy prostate cancer cells. These treatments are expected to be approved in the next few years, and while they may not cure prostate cancer, they could further extend the lives of patients battling the most aggressive cases.
"I think next decade will be the decade of molecular imaging," said Oto. "We're going to see many more advances in molecular imaging compared to established imaging techniques like CT and MRI."
PSMA PET Imaging: Q&A
How do PSMA PET scans work? Who is a candidate for a PSMA PET scan? Get answers to these and other questions about PSMA PET, a powerful new tool that promises improved prostate cancer care.
Learn more about PSMA PET scans
Request an Appointment for a PSMA PET Scan
The information you provide will enable us to assist you as efficiently as possible. A representative will contact you within one to two business days to help you schedule an appointment.
To speak to someone directly, please call 1-855-702-8222. If you have symptoms of an urgent nature, please call your doctor or go to the emergency room immediately.
Prostate Cancer Related Articles