Skip to content
Cancer Moonshot Initiatives led by visionary members of the Comprehensive Cancer Center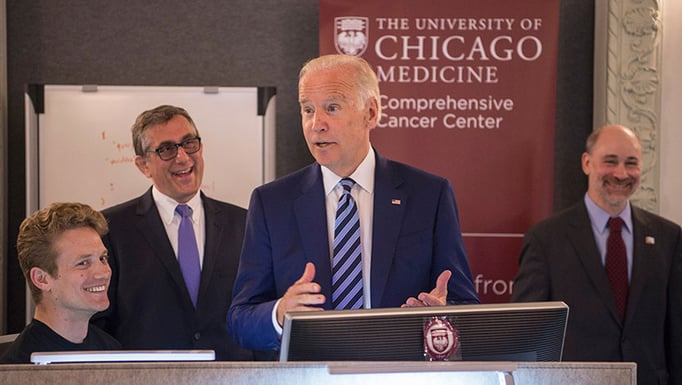 In June 2016, Joe Biden, who was then vice president, toured the Genetic Data Commons operations center at the University of Chicago.
The Cancer Moonshot is an ambitious plan stemming from the 21st Century Cures Act passed in 2016 by the United States Congress. It is an investment of funding over seven years to the National Cancer Institute (NCI) that aims to bring rapid advancement to cancer research with the goals of novel therapeutic discovery, building strong interinstitutional collaboration and improving data sharing. The longterm goals of the Cancer Moonshot Initiative are to improve the detection, diagnosis, treatment and quality of life for patients with cancer.
The Cancer Moonshot funding has supported University of Chicago Medicine Comprehensive Cancer Center physicians and scientists in several ongoing multi-institutional and national projects.
National genomic data commons for cancer researchers launched at UChicago
The Genomic Data Commons (GDC) was established at the University of Chicago on June 6, 2016, as a part of the National Cancer Moonshot Initiative. The GDC is a state-of-the-art comprehensive data system that is contributing to research by allowing large amounts of cancer data to be imported, standardized and analyzed.
The GDC was designed and developed by Robert Grossman, PhD, Frederick H. Rawsom Distinguished Service Professor from the Center for Translational Data Intensive Science, with contributions from the Bioinformatics Core of the Center for Research Informatics. The GDC merges massive amounts of genetic data with critical clinical data from multiple sources onto a consolidated platform.
The GDC contains data from NCI-supported programs, including The Cancer Genome Atlas (TCGA) and Therapeutically Applicable Research to Generate Effective Treatments (TARGET), which is focused on childhood cancer.
The GDC has improved access to data and analysis tools, enhancing meaningful collaborations and data usage which have contributed markedly to the Cancer Moonshot goals of improving prevention and diagnosis of cancer and making more treatments available to more patients.
Furthermore, the University of Chicago belongs to an interinstitutional network that received funding of $8.8 million in 2019 from the Frederick National Laboratory for Cancer Research as a part of the NCI Cancer Moonshot Initiative to create and operate the Center for Cancer Data Harmonization (CCDH).
The CCDH is focused on standardization of data from various sources in order to allow researchers to submit, retrieve and analyze various types of data, including genomics, proteomics, clinical information and even images. Samuel Volchenboum, MD, PhD, associate professor of pediatrics, leads the community development working group. This group communicates with and connects users in order to collect and assess feedback and improve models, tools and services.
Now, five years after the launch of the Moonshot Initiative, the GDC is one of the largest and most widely used resources in cancer genomics.
Colorectal cancer screening and follow-up through implementation science
Established by the NCI and funded by the Cancer Moonshot, the ACCSIS (Accelerating Colorectal Cancer Screening and Follow-up through Implementation Science) Program has been awarded nearly $6 million over five years for multilevel interventions that increase rates of colorectal cancer screening, follow-up, referral to care and best practices for scaled-up interventions to reduce the burden of colorectal cancer throughout the community.
ACCSIS-Chicago is one of three programs nationwide and is led by Karen Kim, MD, professor of medicine and vice provost for research, and Blase Polite, MD, professor of medicine. Their goals are to substantially improve colorectal cancer screening and follow-up rates in all populations, including a focus on underserved populations where screening rates remain low, as well as to provide a vigorous knowledge base for the field of implementation science. Screening and early detection of colorectal cancer are critical.
Most importantly, we know that we can prevent most colon cancer through screening and, if we do find a colorectal cancer in the early stages, 90% can be cured.
"Unlike most other cancers, colorectal cancer often begins as a precancerous polyp, which can transform into cancer over time," said Kim. "Therefore, screening provides us with an amazing opportunity to remove these precancerous polyps before they become cancer."
Kim added, "Most importantly, we know that we can prevent most colon cancer through screening and, if we do find a colorectal cancer in the early stages, 90% can be cured."
ACCSIS-Chicago has developed critical collaborations with federally qualified health center partners to address gaps in colorectal cancer screening across multiple levels: patients, health systems, policymakers and the community. They are using an implementation science approach to make sure barriers along the screening process are identified and addressed.
Because doctors cannot be solely responsible for screening, ACCSIS-Chicago has partnered with front-end staff, nurses, medical assistants and nurse practitioners to create health-system-level interventions to improve screening rates and embed these changes through each participating health system and clinic. The program is studying how each intervention works alone and synergistically to optimize the impact on patient screening outcomes.
The organization is leveraging study data to improve care across the community. Kim continued, "We are partnering with health centers that disproportionately serve underserved populations, so I am confident we are addressing health equity and cancer disparities through our partnership approach."
No smoker left behind: a program to maximize support for cancer patients who smoke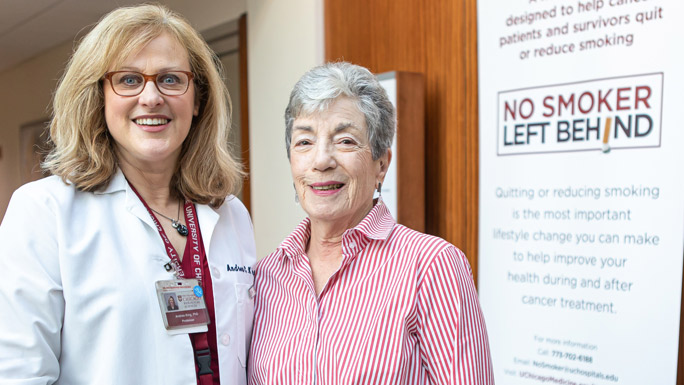 Patients who quit smoking after a cancer diagnosis recover faster, experience fewer side effects and reduce their risk of being diagnosed with a second cancer. But making this important lifestyle change on their own is difficult. With this in mind, the NCI and its Cancer Moonshot Initiative have dedicated resources to help selected cancer centers develop comprehensive smoking cessation programs.
The UChicago Medicine Comprehensive Cancer Center was one of 22 cancer centers selected to lead the initiative. Started in 2019, the No Smoker Left Behind program offers a variety of evidence-based treatment options for tobacco cessation, including individual or group-based counseling and nicotine replacement therapy.
"Nicotine replacement and other approved therapies can double or triple the odds of being successful at quitting smoking," said Andrea King, PhD, professor of psychiatry and behavior neuroscience at the University of Chicago Medicine and co-director of the program.
The program utilizes a cloud-based telehealth system to assess smoking and provide treatment options over a six-month period. The offerings are delivered via automated telephone calls and emails. Cancer patients can select what best fits their needs (or they can choose to opt out of the program).
About half of the responding patients have selected a stop-smoking service, including medications, virtual groups, a text messaging program or telephone counseling through the Illinois Tobacco Quitline.
Since its inception, the program has grown significantly, treating patients with lung or head and neck cancers in the first year and then expanding to include patients across all cancer types in May 2020.
These Cancer Moonshot projects span the areas of data science, cancer diagnosis and prevention and survivorship, addressing critical challenges to reducing cancer and improving care. Results from the projects will be leveraged across decades to come to fulfill the mission of the Cancer Moonshot.