Skip to content
Making hunger one less challenge to deal with
Ann Jackson, DPT, MPH
There is no good time for a cancer diagnosis. But for families already struggling with multiple challenges, including having enough food to eat, a cancer diagnosis can tip a precarious situation into a full-blown crisis.
Five years ago, Ann Jackson, DPT, MPH, saw this firsthand as she sought treatment for breast cancer at the University of Chicago Medicine's Infusion Therapy Suite. Jackson, then a first-year fellow at the MacLean Center for Clinical Medical Ethics, was struck by the extreme practices some of her fellow patients adopted, such as skipping meals to pay for parking.
"I was wanting there to be kindness and hope for everyone, but I recognized there were gaps and that people had needs that were going unmet," said Jackson, a physical therapist and member of the Cancer Services Patient & Family Advisory Council at the University of Chicago Medicine Comprehensive Cancer Center.
After attending a lecture by Stacy Tessler Lindau, MD, MAPP about UChicago Medicine's Feed1st Program and the first Comer Children's Hospital pantry — started by Pritzker School of Medicine students, faculty and staff in 2010 — Jackson decided to start a Feed1st food pantry for cancer patients.
With help from Lindau; former vice president of cancer services Ellen Feinstein, MHA, RD; and former ambulatory operations executive director Bobby Lester, the pantry opened on the sixth floor of the Duchossois Center for Advanced Medicine in the Infusion Therapy Suite area. It's the same as when it opened in 2017: four shelves stocked with healthy foods, from canned vegetables and soups to dried oats and peanut butter. The food is supplied by the Greater Chicago Food Depository. Depending on the time of year, vegetables from the Parking Lot B rooftop garden also are available.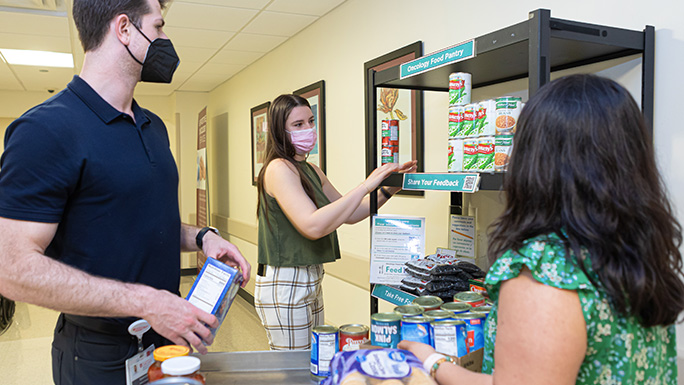 Social workers connect with pantry volunteers to help identify patient and families who could benefit from the service. But the pantry is self-serve and open access for all: Anyone in need can use it and no vouchers or documentation are required. This, like all Feed1st Program pantries, is by design. Too often, Jackson says, those seeking help are sidelined by the forms and required travel that is baked into an approval process.
"We wanted something discreet, dignified and easy," said Jackson, who has since started the Center for Food Equity in Medicine to provide groceries to cancer patients and their families in Chicago. "You don't have to ask anybody, you don't have to tell anybody. Just get a bag, get your groceries and you're out of there."
With our pantry, patients know that regardless of how they're feeling at the end of the day, they're going to be able to have a good meal when they get home.
Patients dealing with food insecurity or who can't access healthy food can face recovery challenges, research suggests. Marcus Paschall, JD, MBA, director of ambulatory operations for oncology, said food insecurity can have a tremendous impact on patients battling cancer. Cancer is grueling; treatments can take hours and force patients to scale back working, which in turn affects their finances and further empties their cupboards.
"Some patients are literally here all day getting cancer care such as chemotherapy, so they don't necessarily have the time or desire to go to the grocery store after," said Paschall. "With our pantry, patients know that regardless of how they're feeling at the end of the day, they're going to be able to have a good meal when they get home."
Since the establishment of the pantry, almost 12,500 individuals from 4,325 households have turned to this resource. That translates to 12 tons of groceries distributed from the oncology pantry, or 23% of all food distributed by Feed1st in the last 10 years. It's one of the busiest of 11 Feed1st pantries operating on UChicago Medicine's Hyde Park campus, and it has inspired others. Last year, social worker Paul Dickerson, LSW, who works in the oncology-hematology department at Ingalls Memorial, started individual complimentary nutrition stations at the Flossmoor, Tinley Park and Harvey locations.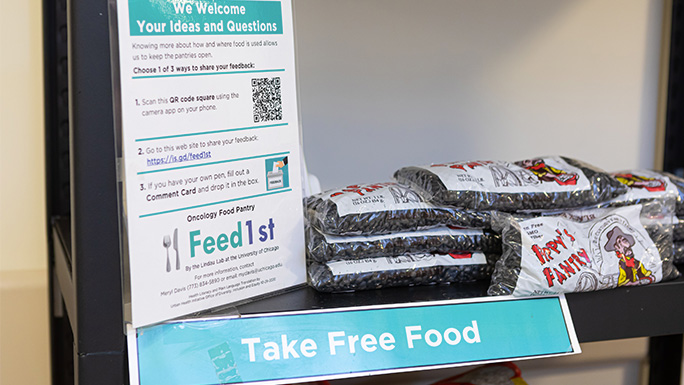 "The need for these pantries grew during the pandemic," said Mellissa Grana, Feed1st operations lead and a research associate in the Department of Obstetrics and Gynecology. "We added five new pantries at our Hyde Park Campus during the pandemic and are distributing more food than ever before."
As for Jackson, she continues to help with the oncology department pantry, inspecting it every time she visits the cancer center for her own care and requesting keys to the storage room so that she can restock the shelves.
"If we believe that food is medicine and that people need nutrition to restore tissue and regain health – or even just to feel better about being able to provide for their families – isn't this worth it?" said Jackson.
You can donate to Feed1st here, and sign up for the Feed1st newsletter.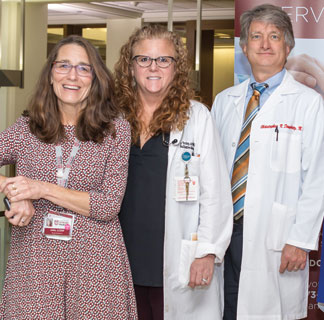 Helping You Cope With Cancer
The supportive oncology program offers a range of helpful services for cancer patients and their families, including mental health care, nutrition counseling, social work support and more.
Coleman Foundation Supportive Oncology Care Suite