Skip to content
Beating the hunger game, year-round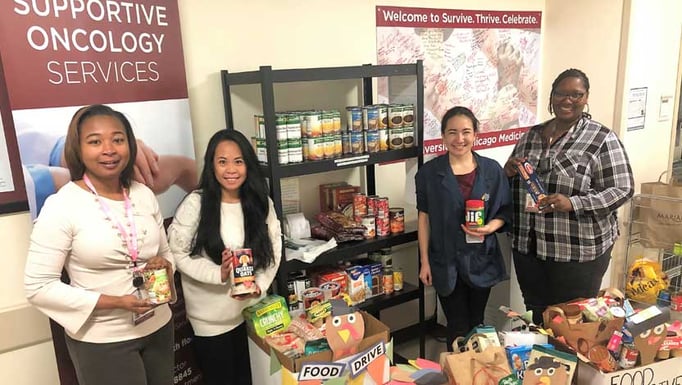 Cancer Food Pantry volunteers in the Supportive Oncology Suite on the 6th floor of the Duchossois Center for Advanced Medicine (DCAM).
Numerous studies demonstrate that patients who struggle with food insecurity, or lack access to healthy food options, can make recovering from health problems even more challenging.

For some University of Chicago Medicine patients and families touched by cancer, this is a huge barrier.

To help lessen this burden, patients in need – along with their families, guardians, and caregivers -- can quietly help themselves to the oncology department's food pantry, located on the sixth floor of the Duchossois Center for Advanced Medicine. Self-service maintains privacy.

Since the establishment of the oncology department's food pantry, almost 3,631 individuals from 1,246 households have turned to the understated resource. That translates to 3 ½ tons of groceries.

University of Chicago student volunteer Naomi Yamamoto sometimes restocks the single-shelf pantry near the Infusion Center three times a day due to high demand. "Patients know they can take what they want."

Pritzker School of Medicine students, faculty and staff launched the first free food pantry at Comer Children's Hospital for patients and their families in 2010. Their Feed1st Program, aligned with the Greater Chicago Food Depository (CFD), has expanded to five pantries in Comer Children's. Stacy Tessler Lindau, MD, MAPP, leads the initiative, designed to ease "food insecurity" or limited access to nutritious foods.

"Most medical- or hospital-based pantries require a prescription or a voucher, which can be stigmatizing," Lindau said. "We trust that the only people who use the resource are those people who need it. In 10 years, we have no evidence to suggest otherwise.

"By enabling access to everyone, we also enable everyone to contribute back and people frequently do," Lindau said.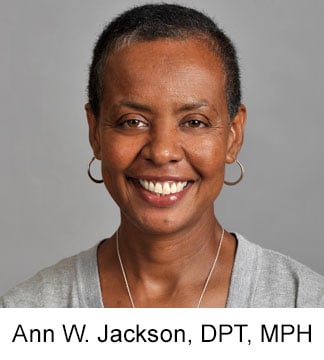 The cancer center's food pantry was born when physical therapist Ann W. Jackson, DPT, MPH, who was undergoing treatment for breast cancer, overheard fellow patients comparing budget notes in the waiting area of the Infusion Therapy Suite.
"Many patients skipped meals so they could pay for parking. Oftentimes, patients with children would wait for food items from the free-snack cart while receiving their treatment to ensure they had money to feed their children," said Jackson, 53.

The financial strain — and physical toll — on her comrades touched Jackson deeply. So, the then-first-year fellow at the MacLean Center for Clinical Medical Ethics took action.

After attending a lecture by Lindau on the Feed1st program, she shared her ideas with Lindau and Ellen Feinstein, MHA, RD, vice president of cancer services. One suggestion: that the snack cart offer dietician-approved alternatives to sugary cookies, such as trail mix, cheese sticks and whole wheat crackers. Frozen fruit ices and popsicles would ease dry mouth, she noted.

Her other proposal — a food pantry in the DCAM, so patients in need could make healthy meals at home. Jackson, a wife and mother herself, was concerned about managing her nutritional needs and those of her family during her treatment.

For Jackson, now a senior MacLean fellow, beating the hunger game remains an ongoing challenge. "People and families living with a cancer have enough to face," she said. "Food insecurity should not be one of their challenges."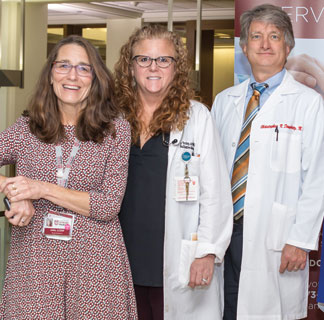 Helping You Cope With Cancer
The supportive oncology program offers a range of helpful services for cancer patients and their families, including mental health care, nutrition counseling, social work support and more.
Coleman Foundation Supportive Oncology Care Suite