Skip to content
Artificial intelligence software for breast cancer diagnosis makes TIME's list of Best Inventions for 2019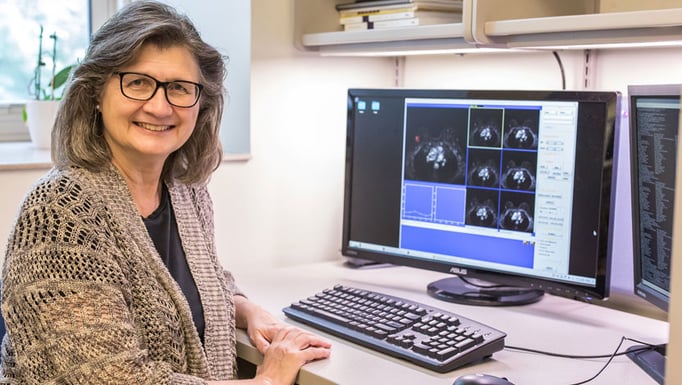 Maryellen Giger, PhD, is a world-renowned pioneer in computer-aided diagnosis (CAD).
Artificial intelligence software developed by University of Chicago Medicine researchers to help radiologists more accurately diagnose breast cancer made TIME's list of Inventions for 2019.
QuantX — the first-ever, FDA-cleared software to aid in breast cancer diagnosis — aims to reduce missed cancers as well as false positives that can lead to unnecessary biopsies. The technology is based on two decades of research by Maryellen Giger, PhD, Professor of Radiology and a world-renowned pioneer in computer-aided diagnosis (CAD).
Each year, TIME lists 100 groundbreaking inventions that "are changing the way we live, work, play and think about what's possible." Nominations are evaluated based on factors such as "originality, creativity, influence, ambition and effectiveness."
QuantX analyzes breast magnetic resonance images (MRIs) using artificial intelligence and a large reference data base to help radiologists interpret medical images in the assessment of cancerous and non-cancerous breast lesions. The FDA cleared the new technology in 2017 after a clinical study showed QuantX improved the detection of cancerous breast tumors by 39%, and increased overall diagnostic improvement by 20%.
Giger's lab specializes in gleaning information from medical images by developing novel computer vision algorithms, thus allowing AI to augment radiologists' interpretations. "This type of technology, together with radiologists, will clearly lead to improved outcomes for patients and efficiency," said Aytekin Oto, MD, MBA, interim chair of radiology at UChicago Medicine.
Oto noted the Department of Radiology's unique structure, which brings MDs and PhDs together under one academic department, fosters the research and innovation needed to bring new technology to the bedside.
The breast radiology team at UChicago Medicine is now evaluating QuantX and considering it for future patient use, as is a team at the University of Texas MD Anderson Cancer Center. Similar AI-enabled software could eventually be developed for use in diagnosing prostate, lung, and other types of cancers.
Translation of Giger's National Cancer Institute-funded research was further made possible through collaboration with the Polsky Center for Entrepreneurship and Innovation at the University of Chicago. Giger is the co-founder of Quantitative Insights, Inc., which produced QuantX and placed as a finalist among more than 100 competitors in the Polsky Center's 2009-2010 New Venture Challenge. Her lab's research was commercialized as QuantX within the UChicago startup Quantitative Insights, which was incubated at the Polsky Center, until the assets were sold in 2019 to Paragon Biosciences. A subsidiary, Qlarity Imaging, is commercializing QuantX.
Other innovations on TIME's 2019 Best Inventions list include: the plant-based Impossible Burger 2.0; Chicago-based Farmer's Fridge; a device that stimulates neural pathways to stop migraines; a unit that makes drinking water from air; and a foldable kayak small enough to check on an airplane.