Skip to content
'I was going to thrive': After breast cancer, Bronzeville woman triumphs as a bodybuilder
[APPLAUSE] [MUSIC PLAYING]
I remember some of her exact words but not verbatim, but she says, it is cancer, and then instantly, of course, everybody's-- my waterworks start. My daughter's waterworks start. But she's still talking to me, and then she says, you're going to need a mastectomy. And after she said that, I didn't hear a word she said.
As she carried a gene that would increase her risk of a second breast cancer, it was important to her to reduce the risk of having an another breast cancer. And she made this decision to have a bilateral mastectomy.
I'm ready for war. I'm about to go fight for my life. So I tried to get myself in a spirit of empowerment, a spirit of I'm not afraid, a spirit of I've got this.
What you're going through is not going to define you. And if you do decide to get down, then you allowed it to define you.
[MUSIC PLAYING]
Erica did really well with her systemic chemotherapy. And at the time of surgery, she had no evidence of cancer. And so she has a very excellent prognosis of being cancer free and being a long-term breast cancer survivor.
You can also live life more abundantly after a diagnosis. Like your life doesn't have to stop with your diagnosis. I honestly feel I'm living life better today than before I was diagnosed.
[MUSIC PLAYING]
When Erica Langley walked into the gym for the first time after her breast cancer surgeries, she felt overwhelmed.
Two years earlier, the Bronzeville woman had begun pursuing her dream of being a competitive bodybuilder. A surprise breast cancer diagnosis derailed her plans, and then the COVID-19 pandemic closed her gym. When she finally resumed bodybuilding training in November 2020, she was 50 pounds heavier, weakened from chemotherapy and two surgeries, and unable to take the same supplements as her competitors because they negatively interacted with her cancer medications.
"Mentally, I still really wanted to do this, but my body was struggling. After the first few workouts, I didn't think I'd ever be competition-ready," she said. "So, I made up my mind that I was going to do this. I decided I wasn't just going to survive cancer, I was going to thrive."
And she did. In May 2021, after six months of intense training, Langley entered two bodybuilding competitions and won multiple medals, placing first in one category and even surpassing competitors who had spent years competing and training.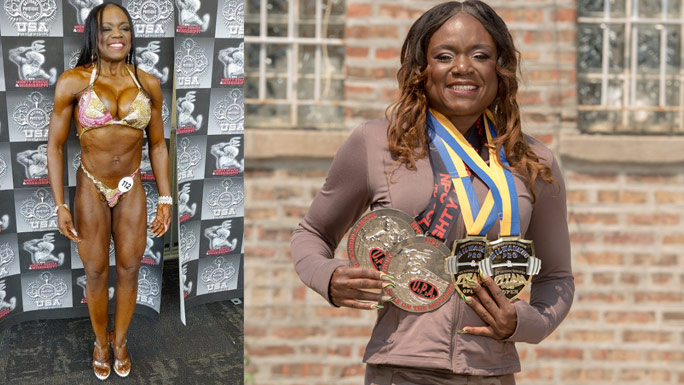 "She showed courage and resilience, both mentally and physically," said University of Chicago Medicine oncologist Olwen Hahn, MD.
Langley first noticed a hard lump the size of a peach pit in her breast after a workout in 2018. She figured she just pulled a chest muscle while weightlifting. When it didn't go away, she visited a neighborhood health clinic and they sent her immediately for a mammogram. It detected HER2-positive cancer in two locations in her left breast.
The breast cancer team at UChicago Medicine devised an aggressive and comprehensive treatment plan for Langley. Because she was only in her late 30s, she was referred to UChicago Medicine's Cancer Risk and Prevention Clinic for genetic testing.
The results showed a common mutation in the p53 gene, which can be inherited or acquired. It's unclear if her mutation was inherited. While there is a history of gastrointestinal cancers in Langley's family, there is no breast cancer history. Plus, genetic testing showed neither of Langley's parents had the mutation.
For Erica, having cancer at a young age signaled that she needed to undergo genetic testing. And it turns out, she had a well-known mutation that puts her at higher risk for breast cancer and other cancers.
"When a young woman gets breast cancer, we always want to ask why. For Erica, having cancer at a young age signaled that she needed to undergo genetic testing. And it turns out, she had a well-known mutation that puts her at higher risk for breast cancer and other cancers," Hahn said.
For this reason, Langley's doctors ordered several cancer screening tests, including a colonoscopy and an upper endoscopy to examine the lining of the esophagus, stomach and duodenum, as well as extensive blood work. All came back negative for cancer.
Next, Langley met with UChicago Medicine's oncofertility specialists to explore her options for having a biological child in the future, in case chemotherapy damaged her ovaries or negatively impacted her reproductive health.
Langley's treatment plan included 20 weeks of chemotherapy, followed by a double mastectomy in April 2019, intravenous targeted therapy, and finally, reconstructive surgery on both breasts.
Due to Langley's high level of physical activity and bodybuilding plans, plastic and reconstructive surgeon Rebecca Garza, MD, put silicone implants over her large pectoral muscles rather than under them, so as not to impact her strength or appearance as a bodybuilder. It also enhanced the physique she sought for competitions.
Garza said her goal for every patient is to make them feel like their body is restored and complete. Langley was definitely pleased with her results.
"These breasts look good! I wanted them to be even bigger than what I got!" she said, laughing. "After everything I went through, they were my consolation prize."
Langley's return to the gym in November 2020 was the next obstacle. Daniel "Bolo" Young, her trainer at ChiTown Fitness in Melrose Park, said Langley would show up and train hard for 90 minutes, four times a week. This was after her long and stressful workdays as the manager of a microbiology lab in the Northwest suburbs.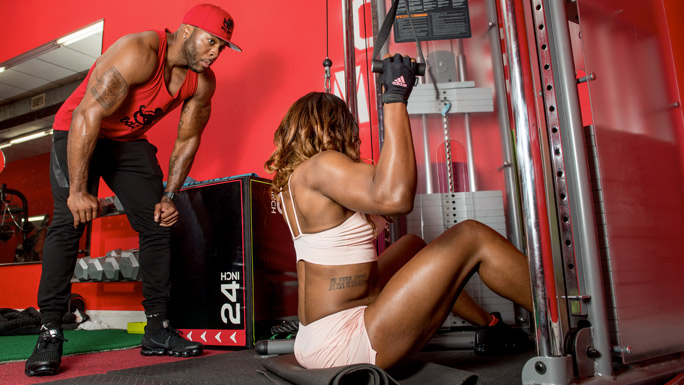 At first, Langley got tired easily and could barely do a 55-pound squat. Within six months, she worked up to a 275-pound squat. She also stuck to a strict low-carb, high-protein diet that included eating plain chicken six times a day. She constantly bargained with Bolo to change the diet, but he'd tell her, "Are you eating for taste, or are you eating for a goal?" So, she stuck with it.
Langley wanted to take bodybuilding supplements like creatine, for building and repairing muscle, and ginseng, for preworkout energy boosts. She brought the supplement bottles to Hahn, who studied the ingredients and researched how they'd interact with her estrogen-blocking cancer drug, Tamoxifen. Hahn ruled out almost all of them.
A few weeks before the competition, Langley decided to take a few of the supplements that posed the least risk. Hahn insisted on monitoring her liver function closely with extra tests.
"It's not necessarily something I recommend for my patients, but I knew this competition was important to her, and it was important in her recovery. After she and I had a discussion, she accepted that there was a risk involved in taking these supplements," Hahn said.
Without supplements, Langley feared that she would not be able to compete with the other female bodybuilders who take them and who also may be enhanced by steroid use. Langley competes as a natural athlete and doesn't use steroids.
By the time competition day arrived, Langley looked just as muscular as her competitors and won more medals than she ever thought she could.
Garza said it's been wonderful to see Langley thrive, and praised her positive attitude and intense focus.
"She knew she was going to get there, even if the journey was going to be difficult," she said. "The most important thing is that her cancer is treated and that she's at decreased risk for another cancer. But she worked really hard to be even better than she was when she started this journey."
Langley credited her parents, Isaac and Alisa Langley; her fiancé, Vermine A. Matthews; and his parents, Vermine D. and Shirley Matthews, for showing love and support throughout her treatment and training.
Bolo called Langley "a true inspiration and hero." He believes her bodybuilding career has a bright future.
"She shows that no matter what you're going through, if you put your mind to it, you can accomplish it," he said.
Langley Continues to Share Her Story
In January 2022, Good Morning America aired an inspirational interview with Langley that also featured Drs. Garza and Hahn.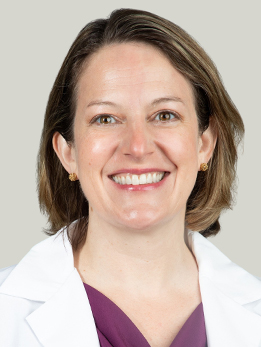 Olwen Hahn, MD
Medical oncologist Olwen Hahn, MD, specializes in the diagnosis and treatment of breast cancer. Dr. Hahn serves as the primary investigator on multiple studies that examine the effectiveness of new drugs in breast cancer.
View Dr. Hahn's physician profile