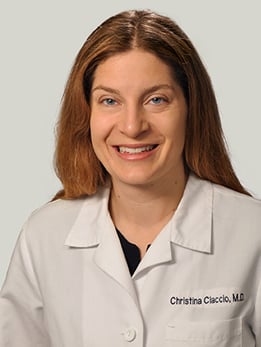 Allergy and Immunology, Pediatric Allergy & Immunology | More
Associate Professor of Pediatrics Chief, Section of Pediatric Allergy and Immunology
Chief, Section of Pediatric Pulmonology and Sleep Medicine
UChicago Faculty Physicians hold faculty positions with the University of Chicago and provide care for patients on the academic health system's main campus in Hyde Park and in care centers throughout the Chicago region.
Close
773-702-6169
Christina Ciaccio, MD, MSc, provides compassionate care for children and adults with food and environmental allergies, allergic rhinitis, urticaria and angioedema, allergic rashes and asthma. She strongly believes in educating patients and their families, and involving them in the care process in a meaningful way.
Dr. Ciaccio is passionate about understanding how nutrition (prebiotics) and microbial exposures (probiotics) affect IgE sensitization. Together with Cathryn Nagler, PhD, and Raoul Wolf, MD, she is building a translational research program that will use research findings to influence preventive care strategies.
Dr. Ciaccio was a 2011 recipient of the Young Faculty Award from the American College of Allergy, Asthma, and Immunology and the 2013 recipient of the Paul Henson Clinical Scholar Award for research in immunology and inflammation. In addition, she is a past president of the Greater Kansas City Allergy Society.