At the Center for Women's Integrated Health, we understand that alopecia (hair loss) is more than just a cosmetic issue. It can affect your overall sense of self-esteem and well-being. Whether you're currently experiencing hair loss or you're concerned about preventing it because it runs in your family, our team can help you understand your treatment options.
What causes hair loss in women?
Women can experience hair loss as a result of many different health factors, such as:
Hormones, including changes associated with pregnancy and menopause

Genetic predisposition

Aging

Underlying health conditions, such as thyroid disorders or autoimmune disease

Stress

Medications

Chemicals in hair products

Hair styling techniques

Nutritional deficiencies, such as iron or vitamin deficiency
Sometimes women have multiple factors contributing to hair loss at the same time. Your dermatologist can help to identify which specific factors are playing a role in your hair loss.
Hormones and Hair Loss in Women
Female pattern hair loss (androgenic alopecia) is the most common form of hair loss in women. It can occur any time after puberty, but women usually start noticing the hair loss in their 40s or 50s. It can also start even later.
For many women, female pattern hair loss is an inherited condition. You may have relatives who are affected on either side of the family.
Women notice a gradual thinning of the hair, particularly at the part. Thinning can worsen with menopause or due to hormonal imbalance from an underlying medical condition.
There are several treatment options for female pattern hair loss.At the Center for Women's Integrated Health our dermatology, endocrinology and menopause experts work together to make effective hair loss treatment a goal within your personalized care plan.
Stress and Hair Loss in Women
Telogen effluvium (TE) is a sudden, rapid hair shedding that can occur when your body responds to emotional, physical or hormonal stress. Some women experience TE during a stressful time at work or at home, after an illness or even after pregnancy. Your dermatologist can work with your obstetrician/gynecologist, primary care doctor or other specialists to diagnose TE and help you understand your treatment options.
Hair Loss in African American Women
Whether your curls are loose and wavy or tightly coiled, women of African descent have unique needs when it comes to hair care, hair styling and the diagnosis and management of hair loss. You will be best served by a dermatologist who understands your styling practices and who has experience identifying and managing the forms of hair loss that you may be more likely to develop, including:
Traction alopecia

Central centrifugal scarring alopecia

Lupus of the scalp
At the Center for Women's Integrated Health, our dermatologists understand your unique needs.
Hair Loss Prevention for Women
It's never too early to talk with your dermatologist about what you can do to prevent or minimize hair loss — especially if it runs in your family or if you have a related underlying condition, such as:
Thyroid disorders

Iron or vitamin deficiency

Autoimmune disease
At the Center for Women's Integrated Health, your dermatologist and other specialists can work together to thoroughly assess your risk and offer recommendations to keep your hair as healthy as possible.
Hair Loss Treatment for Women
At the University of Chicago Medicine, your dermatologist can help you understand the pros and cons of medications, procedures and other interventions that may be effective hair loss treatment options for you based on the type of hair loss you are experiencing, including:
Diet and nutrition

Hair growth supplements

Over-the-counter drugs

Prescription drugs

Steroid injections

Low level laser therapy

Platelet-rich plasma therapy

Hair transplantation
Since hair loss can involve a range of complex health concerns — including hormonal changes, pregnancy, menopause, thyroid disorders, autoimmune disease, anemia or other conditions — our team of specialists will work together to determine an effective treatment option that supports your total health and wellness goals.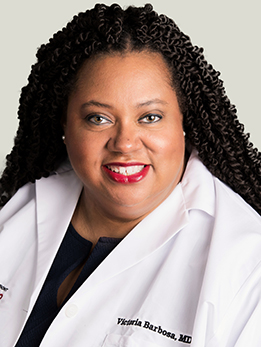 Victoria Barbosa, MD
Victoria Barbosa, MD, is a board-certified dermatologist. She provides specialized care for a broad range of skin and hair conditions.
Learn more about Dr. Barbosa
Request an Appointment
You can also schedule an appointment instantly for in-person and video visits through our online scheduling portal.
The information you provide will enable us to assist you as efficiently as possible. A representative will contact you within one to two business days to help you schedule an appointment.
To speak to someone directly, please call 1-888-824-0200. If you have symptoms of an urgent nature, please call your doctor or go to the emergency room immediately.
Obstetrics and Gynecology Articles