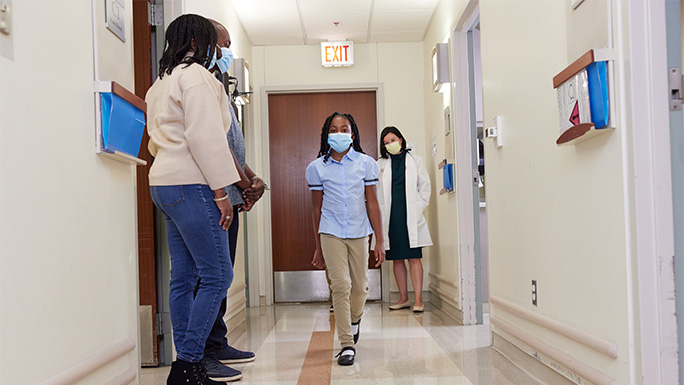 Knee pain and/or deformity is a common aliment in children of all ages and can be related to normal development, injury or through common activities. Our team at University of Chicago Comer Children's Hospital can evaluate and diagnose the cause of our child's knee discomfort and take steps to effectively treat their condition.
Knee and Gait Conditions We Treat
Osgood-Schlatter Disease
Children with Osgood-Schlatter disease are suffering from knee pain due to overuse as their joints grow. Because the joints grow faster than muscles or tendons, your child can experience discomfort while their knee causes stretching in the muscles and tendons around the joint. This particularly impacts children between the ages of 10 to 15 who play sports, especially those with activities that include jumping, running and hard stops or falls.
Common Treatments for Osgood-Schlatter Disease
RICE (rest, ice the area, compressions to the injury and elevate the sore limb)
Physical therapy to expand mobility and flexibility
Anti-inflammatory medication to manage the pain and swelling
Knock Knees
Knock knees, a condition in which a child's knees rotate significantly inward, usually touching, and their feet are wide set. This inward rotation can typically reset itself during puberty, but for children who remain knee knocked, additional stress/pressure may develop on your child's hips and knees, especially kneecaps.
Children who do not outgrow knock knees may have an underlying condition, such as a bone infection, obesity, leg injury or vitamin D deficiency. If both the underlying condition and knock knees remain untreated, the joints can weaken, causing arthritis or even develop more severe damage to the joints, muscles and/or tendons.
Common Treatments for Knock Knees
RICE (rest, ice the area, compressions to the injury and elevate the sore limb)
Bracing to realign the joints
Physical therapy to expand mobility and flexibility
Surgery
Bow Legs
An alternative to knock knees, children with bow legs are defined by knees that rotate outwardly. Bow leg develops before birth, typically due to the baby's position in the womb. Often, the child will outgrow bow legs, but for those who do not, there is usually a medical condition associated with the prolonged condition, such as Blount's disease, rickets (vitamin D deficiency) and abnormal bones.
Common Treatments for Bow Legs
RICE (rest, ice the area, compressions to the injury and elevate the sore limb)
Bracing to realign the joints
Physical therapy to expand mobility and flexibility
Surgery
Gait abnormalities
Some children are born with gait abnormalities while other kids can develop issues as they grow. A gait abnormality is characterized by odd or atypical walking patterns, including:
Limping
Toe walking
In-toeing
Out-toeing
Our pediatric orthopaedic team will work with you and your child to diagnose his/her gait condition and create a treatment plan that will provide the best outcomes for their specific condition. Treatment plans may consist of one or more therapies:
Monitoring
Serial casting
Bracing
Physical therapy
Surgery
Find a Pediatric Orthopaedic Location Near You
Pediatric Orthopaedic Related Articles