At the University of Chicago Medicine Comer Children's Hospital, experts specialize in diagnosing and treating a wide range of pediatric brain and spinal cord tumors. We understand that each child is unique and we take a personalized approach to developing an appropriate, comprehensive care plan.
Our physicians will start by taking your child's medical history and completing a thorough physical examination. We may also use some of the following tools to confirm or rule out the presence of a brain or spinal cord tumor:
Computed tomography (CT), a non-invasive imaging procedure that uses X-rays to study the brain
Magnetic resonance imaging (MRI), a tool that uses magnetic fields and computers to create images of the brain and spine
Magnetic resonance spectroscopy (MRS), which analyzes the biochemical make-up of a tumor
Position emission tomography (PET), which monitors cell activity
Surgical biopsy, to examine the tumor under a microscope and to perform additional tests on the tumor tissue
Brain Tumor Treatments
The goal of treatment is to remove or destroy as much of the tumor as possible while protecting the healthy tissue around it. Depending on the location and severity of the tumor, as well as your child's age and overall health, we may recommend surgery, chemotherapy and/or radiation. Our multidisciplinary team will work with you to find the right solution.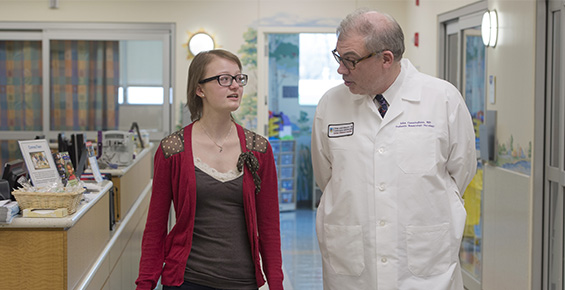 Get a Second Opinion
We provide a second opinion on the diagnosis or treatment plan of your child's cancer or blood disease.
Clinical Trials
Our physicians are committed to offering clinical trials at Comer Children's that give our patients access to new treatment and therapies that are not widely available.
Pediatric Cancer Articles