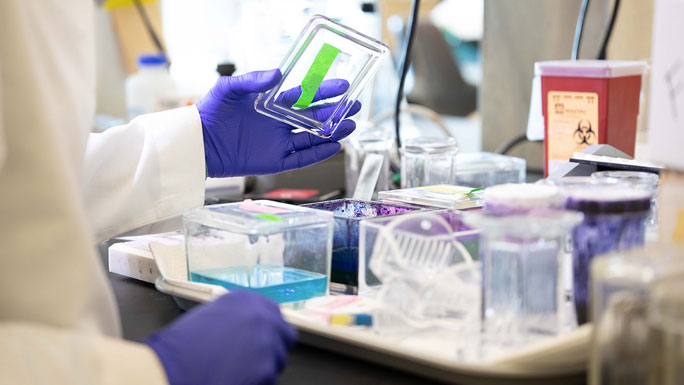 Our internationally recognized, prize-winning biosciences faculty lead interdisciplinary and transdisciplinary cancer research programs spanning numerous disciplines. Research ranges from single-cell omics and small molecule drug development to artificial intelligence and groundbreaking advances in cancer vaccine development and cellular therapies. The goal of the research is to shorten the time it takes to translate important laboratory discoveries into advances in cancer treatment that improve patients' lives. Basic science, animal model and clinical researchers work together, in some cases on the same grant. By bringing together the best minds and cutting-edge technologies, our researchers shape fields and change lives.
Those who are interested in a postdoctoral position could reach out to researchers directly to inquire. Some current opportunities are listed below.
Postdoctoral Position
Kunle Odunsi, MD, PhD
Odunsi's team focuses on mechanisms of tumor immune recognition, immunometabolism, and adoptive T cell therapies in mouse models and humans using state-of-the-art technologies in a cutting-edge, transdisciplinary environment. The appointee will work in close collaboration with leading translational scientists, molecular and systems biologists, and clinicians at the University of Chicago. PhD or equivalent required, experience in immunology is preferred.
Cancer and Research Articles