Skip to content
UChicago Medicine launches Fetal and Neonatal Care Center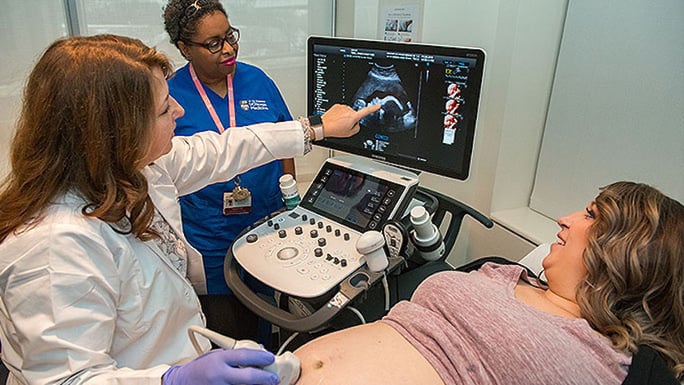 The University of Chicago Medicine announced today the launch of its new program to rapidly assess patients and develop treatment plans for those whose unborn babies were found to suffer from unexpected complications during pregnancy. The Fetal and Neonatal Care Center (FNCC) offers personalized care and one-stop access to established specialists at the hospital's Hyde Park campus and two other office locations in greater Chicago and Northwest Indiana.
"Our team provides personalized attention and offers leading-edge diagnostics and coordinated treatments to ensure you have the best care plan every step of the way," said UChicago Medicine's maternal-fetal medicine director of ultrasound services and director of the FNCC Jacques Abramowicz, MD. "We believe unified coordination of care and communication is the priority when dealing with uncertainty in pregnancy."
UChicago Medicine specialists have more than 150 years of combined experience conducting and interpreting fetal anatomy ultrasounds, echocardiograms and MRIs.
Under the FNCC, Amy Cuevas, BSN, RN a dedicated neonatal care coordinator works with UChicago Medicine's experts in complex fetal anomalies, along with other specialists. Using condition-specific protocols, Cuevas manages many aspects of care including arranging appointments, managing medical records and ensuring that patients understand their care plans.
"Our goal is to have patients seen and counseled within a week of their initial request," said Cuevas. "We work hard to schedule specialists at times and locations that are convenient to each patient family."
A family meeting is scheduled with all the relevant specialists to explain in detail the issues they are facing and how UChicago Medicine's FNCC will help them attain the best possible outcomes for them and their baby,
More than 50 patients have already been seen through the center, which provides access to UChicago Medicine's front-line diagnostic services and an integrated team represented by maternal-fetal medicine, pediatric specialists, genetics, family planning, social work, and palliative care. As the pregnancy evolves, the care plan is seamlessly coordinated to include all those pediatric specialists who begin caring for the baby upon delivery.
To learn more about services offered by the center or to make an appointment, visit uchicagomedicine.org/fncc.
Coordinated Care for Complex Fetal Conditions
Our Fetal and Neonatal Care Center provides prenatal consultations and the highest level of care for babies facing critical health challenges.
Fetal & Neonatal Care Center