Skip to content
Selwyn O. Rogers Jr., MD, MPH, receives first James E. Bowman Professorship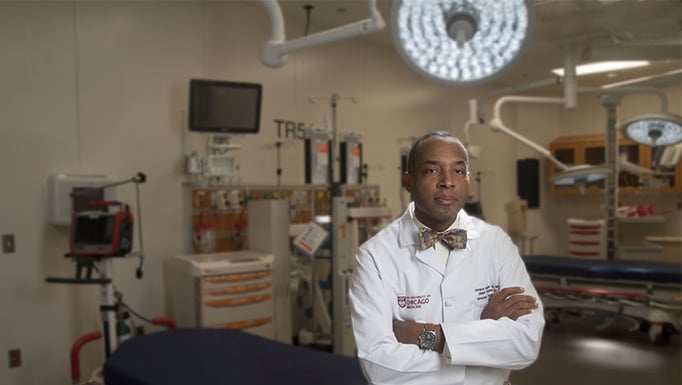 Shortly after receiving the University of Chicago's inaugural James E. Bowman Professorship in the Biological Sciences, Selwyn O. Rogers Jr., MD, MPH, received a congratulatory note from one of his mentors.
David Soybel, MD, who was a medical student when Bowman was on the faculty, recalled how passionate the professor was about the University's responsibility to the South Side community and the diversification of its staff. Later, Soybel would mentor Rogers at Brigham and Women's Hospital in Boston, while Rogers was a surgical resident at Harvard Medical School.
"I know Dr. Bowman would be incredibly proud to have you as the inaugural Bowman professorship," Soybel wrote. "It's such an honor for you to be associated with his name. The passion you have for health equity, addressing social determinants of health and standing up for the trauma center at the University of Chicago — those are the things he stood for."
The gravity of the professorship and Bowman's contributions to African Americans on the South Side and in the field of medicine are not lost on Rogers. He admires Bowman not only for being a pioneer in genetics and bioethics, including sickle cell anemia research, but also for being the first tenured Black professor in the Biological Sciences Division and an advocate for members of underrepresented groups seeking careers in academic medicine.
It's a legacy Rogers has been building upon in his roles as Director of the Level 1 Adult Trauma Center and Executive Vice President of Community Health Engagement and a professor of surgery.
"I can't imagine how it felt for Dr. Bowman to walk the hallways here as literally the only African-American professor. There's no doubt he experienced racism. He pushed through with his sheer excellence," Rogers said. "Dr. Bowman walking through the halls of U. of C. made it possible for me to walk through the halls. To be linked with him through this professorship is an incredible honor."
The diversity we have at the University of Chicago now is a testament to his legacy.
Rogers credits Bowman with being a catalyst that prompted the University of Chicago to embrace diversity and community engagement.
"He was ahead of his time thinking about things like health access, healthcare disparities and equity. Things that we talk about now. But he was actively engaged with it 30 years ago," Rogers said. "The diversity we have at the University of Chicago now is a testament to his legacy."
Since joining UChicago Medicine in 2017, Rogers forged ahead with diversity initiatives, recruiting four Black trauma surgeons. Rogers made it a priority because 80 percent of the trauma center patients at UChicago Medicine are Black males.
Rogers also encouraged UChicago Medicine to recruit diverse candidates from medical schools across the country to do their residency at UChicago Medicine. He teamed up with Dean for Diversity and Inclusion Iris Romero, MD, and other leaders to make the hospital system more inclusive by recruiting more diverse faculty. This will help to improve the health and well-being of people in communities surrounding the hospital.
"I'm doing everything I can to carry Dr. Bowman's mission forward," he said.
Trauma and Violence Recovery Articles